One of the most difficult of all lessons the Christian has to learn is that of self-control. Saying no to self involves clarity of perspective and an exercise of the will, for self-control involves a discipline from which the natural man shrinks.
Who of us is not sadly aware of recurring failures, all because we failed to exercise self-control. Not that self-discipline is accomplished solely by human determination. We Christians know that the control of our lives is possible only as we make use of God-given defenses and directives. We take comfort in the promise, "No temptation has overtaken you that is not common to man. God is faithful, and he will not let you be tempted beyond your strength, but with the temptation will also provide the way of escape, that you may be able to endure it" (1 Cor. 10:13, RSV).
One of our mistakes is unconsciously classifying necessary decisions into "small" and "great," into those we like to think of as "minor" as compared with those we call "major"; major battles against the claims of the flesh are thereby lost in minor concessions we like to think are unimportant.
The Christian's influence is at stake, his health may be involved, and his own serenity of soul may be lost because of a lack of self-control. The primary link of a compromise with self-discipline can in time be forged into a chain that burdens and binds its victim, all because the spirit did not prevail over the body.
Paul was acutely aware of the necessity of leading a disciplined life: "I pommel my body and subdue it, lest after preaching to others I myself should be disqualified" (1 Cor. 9:27). In these days of affluence and soft living, few of us have learned this lesson. Because we lack mastery of self, we pay the price of frustration and ineffectiveness where there should be evidenced the presence and power of the living Christ.
Discipline presupposes a goal other than self. Our Lord outlined man's material needs and then put them in proper perspective with these words: "But seek ye first the kingdom of God, and his righteousness; and all these things shall be added unto you" (Matt. 6:33). When man loses the discipline that is involved in putting first things first, the whole of his life falls into disarray.
Let no one think that self-discipline is easy. It involves a battle, a battle against our natural impulses and against the instigator of evil—the Devil.
Self-discipline involves an act of the will. The Bible describes it in these words: "… let us also lay aside every weight, and sin which clings so closely, and let us run with perseverance the race that is set before us, looking to Jesus the pioneer and perfector of our faith …" (Heb. 12:1, 2). Paid expresses the same thought in Second Timothy 2:5: "An athlete is not crowned unless he competes according to the rules."
True Christianity is not legalistic and the freedom in Christ cannot be bound. Nevertheless, self-control is a vital part of the Christian life. Our Lord is the perfect example of the disciplined life, even unto death; discipline was a part of his perfection. He was subject to all the temptations we encounter, yet was without sin.
Of course self-discipline never reaches perfection even in the best of Christians, but its exercise brings blessings that increase with the experience.
Self-control involves the application of a principle to life. At the same time it carries its own reward: "Blessed is the man who endures trial, for when he has stood the test he will receive the crown of life which God has promised to those who love him" (Jas. 1:12).
Our Lord was very explicit about the matter of self-discipline. On one occasion he said: "He who does not take his cross and follow me is not worthy of me. He who finds his life will lose it, and he who loses his life for my sake will find it" (Matt. 10:38, 39).
This is not asceticism, for it is not withdrawal from the world and its pressures. Rather it is living as a Christian in a pagan setting, saying no to self and yes to the claims of God.
The "denying of self" of which our Lord speaks involves personal responsibility: "So therefore, whoever of you does not renounce all that he has cannot be my disciple" (Luke 14:33). This responsibility has to do with the effect of our actions, not only on ourselves, but also on others who come under our influence. It is not easy to desist from some action of whose rightness we are personally convinced. But Paul recognizes our higher responsibility: "Therefore, if food is a cause of my brother's falling, I will never eat meat, lest I cause my brother to fall" (1 Cor. 8:13).
Self-control was one of the subjects of Paul's defense before Felix: "And as he argued about justice and self-control and future judgment, Felix was alarmed …" (Acts 24:25). To the unregenerate, self-control is alarming. Unfortunately, to too many of us Christians it is distasteful, to say the least. We all need to beware of taking advantage of the grace of God, for at no point does grace relieve us of personal responsibilities. "It is God's will that by doing right you should put to silence the ignorance of foolish men" (1 Pet. 2:15).
The effect of a lack of self-control can be devastating. The Apostle Peter writes: "Beloved, I beseech you as aliens and exiles to abstain from the passions of the flesh that wage war against your soul" (1 Pet. 2:11); this "abstaining" is nothing more or less than self-control. He says further, "Live as free men, yet without using your freedom as a pretext for evil; but live as servants of God" (1 Pet. 2:16).
Lack of self-control is bringing a grim harvest in America. Beginning with parents who fail to lead disciplined lives, the process extends to their children. This is a question not merely of juvenile delinquency—the elongated shadow of adult delinquency—but of a generation that gives increasing evidence of ignorance of God-ordained restraints. We speak of "will power," but what is often needed is "won't power."
We are so accustomed to seeing advertising that appeals to self-gratification that we take it for granted. Nowhere is this more in evidence than in the subtle appeals to young people to take up the smoking of cigarettes. A long overdue warning of grave danger has now come from medical and governmental circles, but great damage has already been done our present generation. The American Cancer Society, for instance, states categorically that one million young people living today will die of lung cancer because of cigarettes. Those who have fostered this habit, by example or for financial gain, now face the herculean task of a reform movement, not based on self-control but for self-preservation.
But self-control extends into every area of life—eating, sins of the tongue, desire for wealth, and all other temptations to which the flesh and spirit are subjected.
A new standard of comparison is necessary. We must ask, not "What are others doing?" but "What would Christ have me do?" In him is found the wisdom and the power of self-control.
Have something to add about this? See something we missed? Share your feedback here.
Our digital archives are a work in progress. Let us know if corrections need to be made.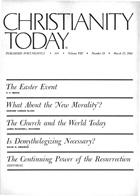 This article is from the March 27 1964 issue.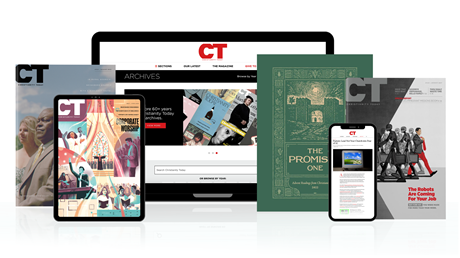 Annual & Monthly subscriptions available.
Print & Digital Issues of CT magazine
Complete access to every article on ChristianityToday.com
Unlimited access to 65+ years of CT's online archives
Member-only special issues
Subscribe
Self-Control
Self-Control