Simplicity alone packs no dynamite. But it has amazing power when God is in it.
The Book of Nehemiah illustrates this truth. The walls of the city of God were in disrepair. Her gates were burned with fire, and, while many who could have helped were too busy with trivial things to care, God's people were suffering grievous affliction. News of these tragic conditions burned deeply into Nehemiah's soul.
A God-fearing layman, Nehemiah assumed the burden of rebuilding the city of God. In carrying out this task, he refused to be daunted by difficulties, dangers, or ridicule. Deliberately and apparently without any distinct call from the Lord other than his heart's utter devotion to God and to the city of his fathers, he laid aside affluent comfort to respond to the appeal of a great need. To do this meant privation and very hard work. There were enemies, too. Their prestige having been challenged, these enemies were angry. Unprincipled in their avowed intent to overthrow the great work of restoration, they scorned and mocked.
Sanballat, the governor of Samaria, was one of them. He was unwittingly playing with dynamite. He scoffed at those he called "these feeble Jews." But his words were an unintended compliment, for he had unconsciously stated the essential qualifications for all truly successful service for God: "feeble" (a sense of human helplessness before impossible tasks that cast men in humble dependence upon the Almighty) and "Jews" (God's people). True "Jewish" lineage or family relationship with the Father now comes by the new birth through faith in Jesus Christ that makes us children of God. When Sanballat asked, "What do these feeble Jews?" he little dreamed of dynamite. And yet these Jews seemed almost uncannily dynamic.
Nehemiah had constant recourse to prayer. How else could the weak have triumphed against the concerted efforts and shameful intrigues of the strong? In spite of all Sanballat and his friends could do to hinder, the city wall was completed. They then realized that the work had been done by God.
About a generation earlier, another Jew, Mordecai of the Book of Esther, refused to bow down before a wicked and ruthless Persian prime minister. Hainan thought that to punish one man alone was altogether too trifling a vengeance for this' slight to his pompous dignity and vast power; he would blot out the entire race. But the dynamite of God's judgment unexpectedly blew up in his face and destroyed him with his whole family.
Seemingly feeble and helpless, but really upright and God-fearing, one man refused to bow before wickedness in high position. The odds were dreadfully stacked against him. Onlookers awaited with expectant interest what appeared to be the inevitable outcome. What earthly chance had Mordecai? But God ever uses the weak to confound the mighty. The despised Jew triumphed, and his people also were saved!
Still earlier by five centuries, a shepherd lad rejected the elaborate equipment that served King Saul so well in battle. It hampered David. The armor was good, but not for him. Though Saul was frankly skeptical, he was wise not to force his ideas on the boy. Goliath disdained the ruddy youth who with a simple sling and stones ran forward fearlessly in response to the champion's haughty challenge. Simple faith in the name of Jehovah nerved David's heart and steadied his hand. Earlier, in apparently defenseless and dangerous situations, the Lord had worked for him. He believed He would do it again. Sure enough, the pride of Philistia was humbled and her mighty hosts were routed because one young man who had courage and simple faith in God dared to go out alone and fight.
Having risen in triumph from the dead, our Lord Jesus gathered his little group around him. He was about to ascend to heaven. But a truly superhuman work remained to be done. His finished salvation had to be proclaimed throughout a hostile world to the end of the age. The challenge was both worldwide and timeless; it was not a one-generation commission. Not only were those who first listened to his words inadequate for such a job; all in whose hearts the Great Commission has burned ever since, regardless of talent, superior knowledge, and scientific equipment or methods, have also been inadequate. But there was and is dynamite in Jesus' words.
Our Lord made no effort at elaborate organization. To a comparatively unknown and insignificant company he gave a simple commission, with the promise of the Holy Spirit's abiding presence, his leading and power. That was all. Then he ascended to heaven.
But that was enough.
It was on Olivet, not far from Bethany, that our Lord gave this seemingly fantastic charge, "Go ye therefore and make disciples of all nations … to the end of the age." Even to this day skeptics object to its apparent folly. But was Jesus beside himself? Did his disciples mishear or misrepresent him? Not at all. The Son of God spoke with supreme authority, and to those who believed him he gave the promised power.
Is there need in the Church today to be careful lest foolishly we trade power for weakness, dynamic simplicity for impotent complexity? Over-extended, costly, and burdensome organization looks impressive but can be dangerous. Its cost is far more than can be counted in money, which, though important, is of lesser consideration. If confidence is misplaced in money, it tends to hinder spiritual vitality; like Saul's armor it burdens and binds.
The Gospel without much organization often looks foolishly inadequate; but it sets free those who believe and enables them to withstand whatever hell may throw against them.
The Gospel is the power of God. Its simplicity is infinitely dynamic.
Fengshan, Formosa
Have something to add about this? See something we missed? Share your feedback here.
Our digital archives are a work in progress. Let us know if corrections need to be made.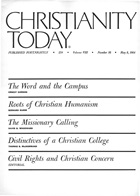 This article is from the May 8 1964 issue.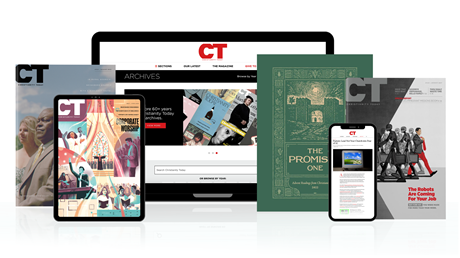 Subscribe to Christianity Today and get access to this article plus 65+ years of archives.
Home delivery of CT magazine
Complete access to articles on ChristianityToday.com
Over 120 years of magazine archives plus full access to all of CT's online archives
Subscribe Now
Dynamic Simplicity
Dynamic Simplicity