The columns of Kristeligt Dagblad, a Christian daily newspaper in Copenhagen, have recently been flooded with letters. A rural dean opened the spillways with a printed sermon on the woman whose sins Christ pronounced forgiven in the home of Simon, the Pharisee (Luke 7:36–50).
Dean Joergen Jensen declared that of course the harlot returned to her street-walking after she was forgiven, and that unless we see it that way we have no understanding of the meaning of the forgiveness of sins. Nor do we understand ourselves. Nearly all the printed letters were in protest. One layman agreed with the dean—but also in agreement was the Bishop of Copenhagen, primate of the Danish church! He is Bishop Haldor Hald, former head of "Kirkens Korshaer," an organization somewhat like the "Church Army."
A long article by Denmark's leading theological light, Professor N. H. Söe, a Barthian well known as a writer in the field of ethics, was evidently meant to be a definitive statement that would quiet the storm. Dr. Söe tried to show that both sides were right and both wrong. But the letters flow on.
The views of Dean Jensen and Bishop Hald are such a radical expression of a tendency that is growing in theological circles that they are worth careful examination. Here is what Dean Jensen said in his sermon:
There have been many discussions in connection with sermons on this passage as to where the harlot went after Jesus had forgiven her many sins. Did she return to the street—that endless street—from which she came, and did she continue in her old trade? And if she did, did she not lose what she had received with the greatest joy only moments before?
If you object that these questions have nothing to do with the text, you are correct in a certain sense, since the story of Jesus' meeting with the woman in the Pharisee's home ends with his saying to her: "Your faith has saved you; go in peace."
Not a word more do we hear about this woman.
Nevertheless it is not only helpful but even necessary to ask these questions. If the secret of the worship service is that Jesus Christ meets us with the word of grace, then these questions concern us, who after hearing the word have to go back to our everyday life, just as the woman had to do.
By our answers to the questions we show whether we have understood what the forgiveness of sins means, and whether we understand ourselves.
Only the man who dares to say that the woman went back to her old trade, yes, only the man who for his own sake is compelled to answer that way, knows anything about the forgiveness of sins and about himself.
Why?
Because there is no gospel unless the harlot can go back to her street with peace from God. I myself go back to the street I came from after having heard the message of the forgiveness of sins. I ought not to do it—just as the harlot ought not to do it—but I do do it. If I demand of the harlot that she should live a different life after meeting Jesus in order to keep the peace of God, I must make the same demand of myself. There is no disguising the fact that a harlot, by her way of life, is disobedient toward God. The God—the only true God—whom Jesus preached makes no distinction between sins. If a distinction is made, there can be no doubt that for Him selfishness and smugness are the worst things a man can be tainted with. But those are my sins. Those qualities—according to today's passage—can make us stone deaf to the word of grace.
The forgiveness of sins is a message brought to us by Jesus Christ that our heavenly Father knows us as we are and where we are. His mercy is greater than our disobedience and faithlessness. That is why the forgiveness of sins is the greatest thing in the world.
Six days after this sermon appeared, so many letters had come in that the Bishop of Copenhagen wrote the following article:
After reading letters from readers to Dean Joergen Jensen in reference to his recent sermon in Kristeligt Dagblad, it is impossible for me to keep silent.
Of course Dean Jensen is right.
If the forgiveness of sins cannot be preached that clearly and that strongly, then we do not have any message for any honest man, but only for those who live on the surface of life.
That it is "cheap grace" is clear. Grace is always free, and it cannot be any cheaper than that.
Bonhoelfer's use of the phrase "cheap grace" is a dangerous expression. It can so easily be used to bring the gospel down to a reasonable, bourgeois level. The truth is that the woman simply had no other place to go than to return to her old trade. That was her way of life, her daily bread. She was placed there by society, and it is not easy to break free from such a placement; besides, there were forces in her that were stronger than she was.
If the forgiveness of sins did not apply to her as she was, God's gift would always be like a bundle of carrots tied to a pole in front of a donkey's nose.
Only a miracle can help her; but only God controls miracles.
No one is to say to her that her life is all right, nor that God approves of that life. No one will know better than she that that would be a lie, for she knows the devilish business that a harlot's life is; but we may, yes, we must say: "In spite of all.…"
So great is the grace of God!
It can never be right or helpful to differentiate between sins that can be hidden and those that cannot.
Not even the most respectable citizen can avoid having to enter the Kingdom of God on the same terms as the harlot.
It seems incredible that responsible churchmen could seriously entertain ideas so completely foreign to the New Testament. Even an elementary understanding of the Christian motivation for godly living says to us that Dean Jensen betrays his spiritual blindness when he says, "If I demand of the harlot that she should live a different life after meeting Jesus in order to keep the peace of God [italics ours], I must make the same demand of myself." Gratitude and love are the motives, not grasping for peace with God.
And of course he must make the same demand of himself. So must we all. Scriptural evidence that the Christian life involves struggle is so abundant that it seems scarcely necessary to cite Paul's description of "pommeling" his body, or James's remarks about "doers" and hearers of the word, or the passage in Hebrews about our "struggle against sin" where we have not yet resisted "to the point of shedding your blood," or Peter's words, "as he who called you is holy, be holy yourselves in all your conduct." Nor is the Gospel less stringent in Matthew 5:48, to mention only one instance: "You, therefore, must be perfect, as your heavenly Father is perfect."
Similarly, Bishop Hald must have been nodding when he wrote: "There were forces in her which were stronger than she was." This is indeed true. But the point is that the power of God is still stronger than these deep-seated forces of lust that all of us know. If our strength to resist were all we had, our state would be hopeless. The whole point of conversion is that the Holy Spirit moves in with power. The Christian life is a new life; "if any one be in Christ he is a new creature."
In connection with the bishop's blaming society, it is worth noticing that it was the sins of the woman, not of society, that Jesus forgave. The whole attempt to avoid responsibility for our own actions by blaming others is an excuse as ancient as the fall of man in Eden.
But the bishop and his dean have company. A good many theological writers today seem desirous of restricting the grace of God to forgiveness, and forgiveness alone. One of the section reports found most objectionable at the meeting of the World Alliance of Reformed Churches at Frankfurt this summer pointed quite clearly in this same direction. When we say, however, that God's forgiveness is without any strings (and this we should say), we are not thereby forced to limit God's grace by refusing to recognize its power to change lives.
Perhaps Dean Jensen has some things he still needs to discover about himself, and perhaps Bishop Hald's message on forgiveness merely skims the surface of God's grace. With their restricted view of one of the most spacious of all Gospel terms, the New Testament teaching so clearly expressed in Titus 2:11, 12 stands in sharp contrast: "For the grace of God that bringeth salvation hath appeared to all men, teaching us that, denying ungodliness and worldly lusts, we should live soberly, righteously, and godly, in this present world.…" God's grace is for a purpose, and its recipients are obligated to holy living.
Have something to add about this? See something we missed? Share your feedback here.
Our digital archives are a work in progress. Let us know if corrections need to be made.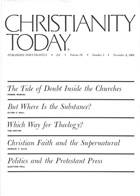 This article is from the November 6 1964 issue.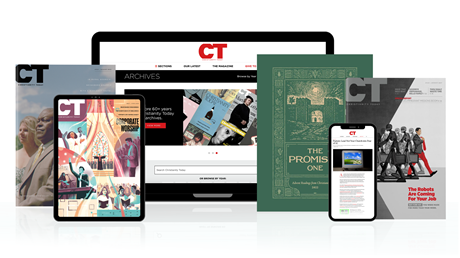 Subscribe to Christianity Today and get access to this article plus 65+ years of archives.
Home delivery of CT magazine
Complete access to articles on ChristianityToday.com
Over 120 years of magazine archives plus full access to all of CT's online archives
Subscribe Now
Beyond Forgiveness
Beyond Forgiveness