The World Congress On Evangelism
Complete coverage of the meeting, a tenth-anniversary project ofCHRISTIANITY TODAY,can be found in the three previous issues.
There was an air of youthfulness at the World Congress on Evangelism; the average age of delegates and observers was believed to be appreciably lower than what is usual at ecclesiastical assemblies. It was a hopeful sign for evangelicalism.
Dominating the lobby of Berlin's Kongresshalle, where the congress was conducted, was an arresting exhibit dramatizing the mushrooming world population. The thirty-foot-high display marked each second with a loud tick and sequential flashings of eleven pictures of babies. The world population was believed to have increased by nearly two million persons during the ten-day session.
An American news wire service widely disseminated the observation of Dr. Clyde W. Taylor that in the United States "for the most part, preaching is passive, unrealistic, and dull." The comment was contained in his "Windows on the World" report on U. S. conditions. Taylor, general director of the National Association of Evangelicals, said "there is little emphasis on the relationship between the individual and his personal walk with God."
More than 70 per cent of the people attending the congress were brought to Berlin by Pan American jet charters from Tokyo, Beirut, Chicago, New York, and London. An Indonesian delegate had to leave home nearly three weeks before the opening day to make connections. An Ethiopian traveled for seven days by truck to the nearest airport.
Several persons who came from a cholera area in India to pick up the charter in Beirut were detained at the Lebanese capital because of quarantine regulations. Because of them the charter had to be rescheduled, and one traveler missed it. Pan Am later flew him to Berlin on a regularly scheduled flight at no extra cost. A travel agency got charter riders a package deal with hotel and meals thrown in.
Jan J. van Capelleveen, a Dutch newspaper reporter, won considerable attention with a piquant paper on the communicative arts. He urged more Christian-oriented news reports on grounds that "he who has seen what God has done is better able to grasp what God wants." He asked churches not to do business behind closed doors, saying "that may seem dangerous, but the church that hides faults and weaknesses is unwilling to take up the cross. Our weaknesses highlight the strength of the Lord."
Many delegates took time out to visit and tour Communist East Germany. Some even got down to Wittenberg, the city made famous by Martin Luther. One East German woman reportedly asked a delegate whether Martin Luther King was in West Berlin for the congress. The answer was no.
One French delegate was detained all night at the East German border. Other delegates traveling by road and rail were turned back because they had not gotten visas in advance. A Nigerian educator who was slated to bring a major address cabled at the last minute that national tensions prevented his coming.
The regularly scheduled commercial plane carrying evangelist Billy Graham back to the United States from Berlin was forced to make an emergency landing at London because of a malfunctioning landing gear. Graham reportedly uttered a prayer in the aircraft as it circled about dumping fuel. The landing was made without mishap.
Nine national presidents of Christian and Missionary Alliance societies around the world were present at the congress. For its officers and pastors in North America the Alliance conducted a follow-through on the congress in the form of a four-day "Leadership Conference on Evangelism" in Atlanta.
Indians and Pakistanis faced special problems. Apart from the requirement of financial guarantees, they were allowed to bring out amounts ranging from four to nine dollars. A Congo delegate came with fourteen dollars, a Kenyan with seventy cents ("for stamps to write to my family").
A man who chauffeured Billy Graham about during his evangelistic crusade in Berlin prior to the congress testified to a commitment he had made. Franz Markard, 34, told Graham a few days after the congress opened: "I have opened my heart to Jesus Christ."
Personalia
Southern Baptist missionary Herbert Caudill, 63, was reported last month as having been given a conditional release from prison in Cuba to seek medical help for failing eyesight.
Former evangelist Charles Templeton declared himself out of the running for the leadership of the Ontario Liberal Party. Templeton, 51, almost won the spot in 1964 and had been regarded as a promising Canadian political figure. He said he declined to run again because of business and family responsibilities.
Dr. Howard Schomer, president since 1959 of Chicago Theological Seminary, will move to New York to become executive director of the National Council of Churches' Specialized Ministries Department. He is a minister of the United Church of Christ.
Nevile Davidson, 67, minister of Glasgow Cathedral and former moderator of the Church of Scotland General Assembly, will retire next spring.
D. George Vanderlip, 39, New Testament professor, is the youngest dean ever appointed at Northern Baptist Theological Seminary.
C. Umhau Wolf, former professor now a pastor in Toledo, Ohio, will direct the new Lutheran Institute for Religious Studies in Austin, Texas, supported by the LCA, the ALC, and Texas Lutheran College.
Focusing on differences between "what the Church of Jesus Christ is doing and what it ought to be doing," a committtee of Philadelphia Presbytery recommended that Dr. Evor Roberts resign as pastor of the prestigious Main Line Swarthmore Presbyterian Church because of his civil rights activities and "some statistical trends in the church."
B. B. Burnett, bishop of Bloemfontein and member of the World Council of Churches Central Committee, has resigned to become secretary of the Christian Council of South Africa.
Yandall C. Woodfin III, professor at Southwestern Baptist Theological Seminary in Texas, will join the faculty of the Baptist Theological Seminary in Rüschlikon, Switzerland, next year.
The Rev. K. L. Stumpf, Hong Kong representative of the Lutheran World Federation, is leading a three-month educational drive against drug addiction.
Miscellany
A Christian news weekly to be known as the Christian Times will make its debut January 1. It will be published by Tyndale House and will carry news and commentary from around the world plus background stories on Christian personalities, homemaker helps, special reports on science and art, and family devotional material. Don Crawford has been named editor.
National Association of Evangelicals will spearhead a year of special evangelism effort from April 1967 to April 1968. It urges all evangelicals "to join us in the major thrust."
Three students were expelled from the St. Charles Borromeo Seminary in Overbrook, Pennsylvania, for organizing an experimental mass in violation of Roman Catholic church law. Eight others reportedly were disciplined. The experimental mass was said to have used English instead of the Latin required in solemn sections. For the Eucharist, ordinary baker's rolls and commercial wine were used in place of altar wine and unleavened bread.
Evangelist Lane Adams and singer George Beverly Shea teamed up in a ten-day crusade in Winchester, Ontario. For Shea, it was a return to the place where he was born and where his father was pastor of a Wesleyan Methodist Church. The final service drew 3,400 persons to the local skating arena.
The American Friends Service Committee opened a day-care center for children among the 87,000 refugees in Quang Nai, South Viet Nam.
Kentucky's attorney general has given the ministers' association in Harlan permission to conduct an objective high school "Bible Literature" course.
Singapore, with backing from several religious bodies, has banned twenty-six nudity magazines printed in California as "crude … vulgar … morally debasing."
A new church in Vall de Uxo, Spain, is the fifty-fourth member of the Spanish Baptist Union. Madrid's Second Baptist Church, which was closed by the government for a decade, has called a new pastor from Barcelona.
Christian Peace Conference leaders met in Sofia, Bulgaria, to plan their third world meeting for Prague, Czechoslovakia, in 1968.
Deaths
JAMES ARCHIBALD JONES, 55, president of Union Theological Seminary in Richmond, Virginia, and holder of a number of key posts in the Presbyterian Church in the U. S.; of a heart attack in Richmond.
THEODORE K. FINCK, 71, who supervised for many years the production of educational material for the Lutheran Church in America; in Germantown, Pennsylvania.
BENSON Y. LANDIS, 69, Moravian layman and veteran National Council of Churches executive who had compiled the authoritative Yearbook of American Churches since 1941; in Scarsdale, New York, of a heart attack.
Have something to add about this? See something we missed? Share your feedback here.
Our digital archives are a work in progress. Let us know if corrections need to be made.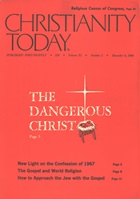 This article is from the December 9 1966 issue.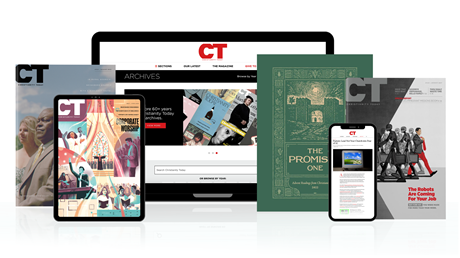 Annual & Monthly subscriptions available.
Print & Digital Issues of CT magazine
Complete access to every article on ChristianityToday.com
Unlimited access to 65+ years of CT's online archives
Member-only special issues
Subscribe
Sidelights On
Sidelights On