"I am a Catholic priest. That, to me, is a great joy. I am not permitted to marry. That, to me, is a great mistake."
So begins an impassioned attack on the celibacy requirement from a priest, writing under the pseudonym Stephen Nash, in the March 12 Saturday Evening Post. The same week that Nash's gnashing of teeth hit the newsstands, the London Observer came up with an educated guess on the worldwide scope of the celibacy revolt. The newspaper says the Vatican has gotten at least 10,000 requests in the past few years from priests who want to renounce their vows and become laymen. Almost all of them want to get married.
Meanwhile, two other rebels in the American priesthood are coming upon rough days. Right-winger Gommar DePauw of the Catholic Traditionalist Movement was barred from celebrating Mass at the University of Notre Dame and from a meeting in Detroit, because of his jurisdictional dispute with Baltimore's Lawrence Cardinal Shehan.
And left-winger William DuBay, who has criticized James Francis Cardinal McIntyre and wants to form a labor union for priests, has been given yet another job transfer and barred from some priestly functions.
The celibacy question cuts to the heart of church authority and tradition. It is so touchy Pope Paul specifically declared it out of bounds for Vatican II discussion. Mindful of mounting priestly requests to marry, the Pope recently urged self-control.
Nash contends that "there is no theological necessity, no doctrinal or spiritual insistence on celibacy. Only the discipline of the Church has made celibacy the mark of the priesthood in the West." It may have been important in "the age of political religion and monastic corruption" such as that which spurred the Reformation, he says, but the practice has also "helped build a wall between clergy and laity" and "created a Church that could at times abandon the people."
The priest counters traditional arguments. Does the dedication of the priest leave no time for marriage? It leaves time "for golf and poker and smörgasbords." Does it keep fly-by-nighters from religious careers? "I found Protestant ministers genuine men of faith."
Birth-Control Omen
The most powerful archconservative in the Roman Catholic Church has been placed in charge of Pope Paul's reorganized birth-control commission, according to reports from Rome. The naming of Alfredo Cardinal Ottaviani, 75, to lead the group was taken as a severe blow to liberals who have been lobbying for a change in the Vatican's traditional ban on the use of contraceptives.
The Pope's reported choice as Ottaviani's deputy was Montreal's outspoken liberal, Paul-Emile Cardinal Leger, which to many observers appeared to be an obvious attempt to balance contrasting viewpoints. But Ottaviani would have a decided edge in influencing the commission's decisions because of his higher rank and his access to the Pope as a Vatican resident.
This month's Ladies Home Journal, meanwhile, provides some inside information on the problems of the original advisory birth-control commission. It says "the conservatives, championed by such powerful Vatican insiders as Ottaviani, fear that the authority of the Church would be shamefully eroded if it treats contraception with less than the most ringing condemnation."
The Journal is sympathetic to the Pope's plight: "Perhaps never has one man faced a decision that so intimately affects so many lives."
Nash, who is 39, describes his own agonies of "examining my motives, increasing my penances, in order that I might live in a way that I do not believe Christ intended." Of striving "to move from a religion of stone tablets and legal decrees to a personal union with Christ." Of not having another person to share things with, finding it hard to get to sleep, driving around at night and stopping for a beer at "some obscure roadside tavern, drinking alone, thinking alone.…"
The Vatican Curia, mindful of the thousands of requests to break the celibacy vow during the past few years, has set up a behind-the-scenes commission on the problem, the Observer reported.
Celibacy is not one of the platform planks for the proposed "American Federation of Priests," but this embryo organization represents a similar spirit of revolt. DuBay, the 31-year-old priest who heads the union drive, says the basic idea is that "employers—the bishop and his chancery officials—have interests distinct from those of priests on the firing line. The administrator's job is mainly public relations and finance, while the professional worker's service centers directly on the needs of persons."
He wants freedom of speech and conscience, and collective bargaining with chancery management on wages, grievance procedures, tenure and transfer policies, and other matters.
Asked what organized labor thinks of the idea, AFL-CIO President George Meany, a Roman Catholic, said such an organization would be turned down and suggested DuBay apply to the Teamsters instead.
DuBay carries the rebellion further in his new Doubleday book The Human Church. According to Time, the book "puts forward a program of reform that makes the ideas of Luther seem positively papalist by comparison." Samples: abandonment of the parochial school system and church tax exemptions; a limited term for bishops; and formation of liturgies and creeds by local congregations.
DuBay is the same priest who cabled Pope Paul in June, 1964, calling for removal of Cardinal McIntyre for "gross malfeasance" and "abuses of authority" in his conservatism on racial discrimination and "repression" of those who were more liberal. DuBay had twice before been transferred, reportedly for his vigorous civil rights stand. After that fuss, he was moved from a mostly Negro parish to a hospital chaplaincy. Once the union proposal hit the headlines, he was moved again (with a cut in pay), on a half-day's notice.
The Vatican's apostolic delegate in Washington, Egidio Vagnozzi, recently criticized those priests in a teachers' union in New York City presently in a dispute with St. John's University. He said unions are for laymen, not clergymen.
Even liberal Pope John XXIII dissolved France's "worker-priest" movement because the priests got too heavily involved in union politics, and several renounced their vows and got married. The worker-priest program has been reinstituted on a cautious scale by Pope Paul.
Vagnozzi has also had some bad news for DePauw, the conservative rebel. He backs Cardinal Shehan in his contention that DePauw is under Shehan's authority. DePauw, who persists in his Traditionalist Movement, says he has unimpeachable documents showing he has been legally transferred.
In a round of speech-making, DePauw seemed at times to be tipping toward the professional anti-Communist role, but lately he has played down politics.
He has called for an alliance between "conservative Protestants" and Catholic traditionalists "to save whatever is left of Christianity." He contends that "the same forces of atheism that have destroyed some of our best Protestant denominations are now attacking the Roman Catholic Church." The Roman church is "finished" in Europe, he says, and America is the "last bastion."
But DePauw's emphasis on Mary's "unique position in the economy of our salvation," the Rosary, statues and crucifixes, the Latin Mass, and other traditions are unlikely to light a fire under the conservative Protestants.
Protestant Panorama
A group of twenty Methodist delegates to the conference scheduled to merge their denomination with the Evangelical United Brethren are raising "grave reservations" over the plan of union. A spokesman said the proposal is "badly out of step" with the ecumenical movement as a whole. The delegates say they will withhold approval until major changes are made.
Southern Baptists reported a record membership of 10,772,712 in 33,797 churches for the end of last year. But 12,784 fewer baptisms were counted in 1965 than in 1964. Total gifts of Southern Baptists through their churches increased by 7.8 per cent to a high of $637,958,846.
The Dutch Reformed Church in South Africa says relocation of Negroes is leaving many of them churchless. A spokesman for the church's mission board reported that it had only thirteen ministers available to tend to "the spiritual welfare of 400,000 colored people."
Personalia
Dr. James D. Bales of Harding College, Searcy, Arkansas, sent a yard-long telegram signed by some 1,000 churchgoers in Monroe. Louisiana, challenging Dr. Thomas J. J. Altizer to defend his "death of God" views in a public debate. Altizer, at Emory University, said he would refuse because Harding has "done so much harm to the Christian faith" by identifying it with "the extreme right."
Duke Ellington, who recently presented a religious jazz concert in New York (see January 21 issue, page 41), did a rerun February 21 at England's historic Coventry Cathedral. The Daily Mail enthused, "Here was jazz, for all its antecedents in the low life, for all its trafficking with the worldly, making the point that it too has a soul, it too has the right to worship."
The Rev. Henry Harvey succeeds the late Dr. Everett Swanson as president of Compassion, Inc., of Chicago, which maintains 170 Christian orphanages in Korea.
Miscellany
In Toronto, the Salvation Army reports its suicide prevention bureau counseled more than 1,000 persons during suicide crises in the past year. Each inquirer was visited, and many were aided in getting psychiatric help or hospitalization.
The 23-year-old Boston Evening School of the Bible will be renamed Boston Bible School and inaugurate an expanded program under new full-time dean Joseph C. Macaulay, former president of London (Ontario) College of Bible and Missions. The school, an outgrowth of Park Street Church, has trained 6,000 laymen.
First official tallies showed that Maine voters had approved a 1965 legislative act to permit limited Sunday liquor sales. The margin was slim, however, and a recount was being demanded.
Baker Book House is moving its religious publishing operation to a $100,000 building in an industrial park outside Grand Rapids.
They Say
"A reaction against the endless expansion of official bureaucracies has resulted in the government's turning to private groups, including the churches, for the performance of welfare and educational services. The churches offer a particularly attractive apparatus for such purposes."—C. Stanley Lowell, acting director of Americans United for Separation of Church and State.
Deaths
DR. CHARLES CLAYTON MORRISON. 91, who bought the Christian Century at a sheriff's auction in 1908 and as its editor for 39 years turned it into the most influential journal of liberal Protestant thought; in Chicago.
DR. BERNARD BRASKAMP, 79, a Presbyterian who was chaplain of the U. S. House of Representatives for the past sixteen years; in Washington, D. C., of a stroke after a long illness.
DR. CARADINE R. HOOTON, 70, former general secretary of the Methodist Board of Christian Social Concerns and longtime temperance leader; in Washington, D. C., of a heart attack.
CESAR DACORSO FILHO, 75, first native bishop of the Methodist Church of Brazil; in Rio de Janeiro.
DR. WALTER N. ROBERTS, 67, president emeritus of United Theological Seminary; in Dayton, Ohio, the day after he returned home from a 4½-month survey of African seminaries.
DR. EUGENE R. KELLERSBERGER, 78, former general secretary of American Leprosy Missions and Presbyterian pioneer in the Congo; after a heart attack caused him to fall off a boat into the ocean off Melbourne. Florida.
Have something to add about this? See something we missed? Share your feedback here.
Our digital archives are a work in progress. Let us know if corrections need to be made.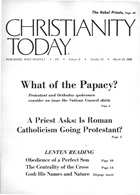 This article is from the March 18 1966 issue.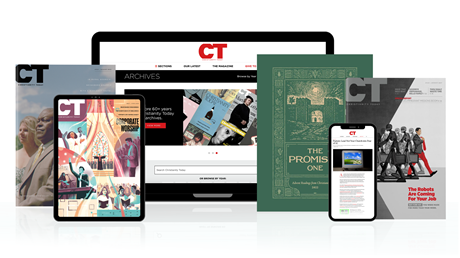 Annual & Monthly subscriptions available.
Print & Digital Issues of CT magazine
Complete access to every article on ChristianityToday.com
Unlimited access to 65+ years of CT's online archives
Member-only special issues
Subscribe
The Rebel Priests
The Rebel Priests