Those who have a low concept of God have rejected the multiplied revelations he has given of himself—in his works of creation and providence, in the person of his Son, in the presence of his Spirit, and in his written Word. He has not left himself without a witness, and the evidence demands that we worship and praise the One thus revealed.
God is infinite—without limits of any kind. Limited as we are by time, space, and circumstances, we find it difficult even to apprehend dimly the fact that for God there are no such limitations. As Solomon said, "heaven, even highest heaven, cannot contain him" (2 Chron. 2:6b, RSV). The psalmist affirms, "Great is the Lord, and abundant in power; his understanding is beyond measure" (Ps. 147:5).
God is omnipotent—all powerful, the master of every situation. Jesus said, "With God all things are possible" (Matt. 19:26b). Some day every Christian will hear the proclamation, "Hallelujah! the Lord God omnipotent reigneth" (Rev. 19:6b, KJV).
God is omniscient; he always knows all of the past, the present, and the future. Eternity lies before him like a vast panorama. Nothing is hidden from his knowledge.
God is omnipresent; there is no place where man can escape his presence. David expressed this in Psalm 139. Truly there is no place where man can hide. Outer space, the depths of the ocean, darkness—all are alike to him. "Even the darkness is not dark to thee, the night is bright as the day; for darkness is as light with thee" (Ps. 139:12).
God is sovereign. Even in the chaos of today's world, he is working out his holy purposes; and they will certainly be fulfilled. Who is man to question the wisdom or sovereign power of God?
We learn something of the nature of God when we pray, "For thine is the kingdom, and the power, and the glory, for ever." We affirm that his kingdom is eternal, that his power is infinite, and that his glory encompasses infinite love, holiness, justice, and mercy. And we affirm that these things are for ever.
God is all this and more. He is the Creator of all things seen and unseen, of the laws that govern the universe, of the perfections in evidence on every hand in nature.
What folly, then, for the creature to question or doubt the Creator! The Apostle Paul pointedly asks, "Who are you, a man, to answer back to God? Will what is molded say to its molder, 'Why have you made me thus?' " (Rom. 9:20).
Nothing is more humbling than to contemplate the infinite power and wisdom evinced in God's works of creation. "The heavens are telling the glory of God; and the firmament proclaims his handiwork" (Ps. 19:1). Only the spiritually blind can fail to see the greatness and the glory of God in his creation.
God is not only the Creator; he is also the Redeemer, returning to the world he made to redeem sinning man back to himself. Exercising his right of choice, man disobeyed God; and sin brought separation. But the love of God would not permit man to continue in a hopeless state. God came in the person of his Son so that once more man could choose and those who believed could be redeemed.
Not only did God create; not only does he redeem; he also preserves by his works of providence. The amazing fact that all things work out for the good of God's children—any possible circumstance of life—is an evidence of his preserving and overruling power. How can we fail to worship such a God!
Yet, despite his majesty, power, and wisdom, God is the God of the individual. He is a personal God to all who receive him. To reject him means chaos in every aspect of life.
He is concerned with the great problems and minute details of our lives.
O, what peace we often forfeit,
O, what needless pain we bear,
All because we do not carry
Everything to God in prayer.
This is not the figment of a pious imagination; it is the statement of a deep and abiding truth.
The psalmist says, "When the cares of my heart are many, thy consolations cheer my soul" (Ps. 94:19). What a loss for those who do not know the privilege of trusting the heavenly Father who is concerned about our personal problems, the Saviour who understands our personal temptations and delivers from them, the Holy Spirit, who is a personal Comforter to those who turn to him! How truly David spoke when he said, "The Lord is my shepherd." This was a personal relationship for life, for death, and for all eternity.
How big is God? He is the God of destiny. It is he who determines the outcome of history and who stands in the shadows keeping watch over his own.
Men and nations may parade grandly across the stage of history, but they do not determine the course of either life or death. The curtain of history will be drawn, not by man, but by God.
How big is God? Look about you and see the evidence of his wisdom and power. If a man claims to be an artist, one has the right to ask to see his pictures. If he says he is an architect, one wants to see something he has designed; if an athlete, to see his prowess; if an inventor, to see his product.
Look at the heavens, the moon and the stars. Look at the earth, all the marvels of God's creative power. Look at his Son and Calvary. Look in his Word and all it reveals. Look into the innermost reaches of your troubled soul and hear him speak peace. You will get an inkling of how great he is.
How big is God? He can never be measured by earthly standards, but on every hand we see signs of his glory. God is a spirit, and we can grasp what this means only when we worship him in spirit and in truth. Although he is nearer than hands or feet, yet he encompasses all of time and eternity.
Staggering? Of course. But, oh, how comforting to those who know him!
God's witness is universal, to be seen and known by all who will. It is continuing, from one generation to another. It is personal; he stands at the door of the human heart, knocking and seeking admittance.
Moses knew this when he said, "Lord, thou has been our dwelling place in all generations. Before the mountains were brought forth, or ever thou hadst formed the earth and the world, from everlasting to everlasting thou art God" (Ps. 90:1, 2).
Man may try to limit God by his own earthbound limitations. He may blaspheme God by saying he is dead. He may defy God by conspiring against him. But "he who sits in the heavens laughs; the Lord has them in derision" (Ps. 2:4). Some day all who have limited him or blasphemed or conspired against him will find to their eternal horror what a "fearful thing" it is "to fall into the hands of the living God," "for our God is a consuming fire" (Heb. 10:31; 12:29).
God has set before us an array of witnesses, inanimate and animate, that combine to tell us as much as the human mind can grasp of infinity. Jesus tells us where faith enters the picture: "Unless you turn and become like children, you will never enter the kingdom of heaven" (Matt. 18:3).
Have something to add about this? See something we missed? Share your feedback here.
Our digital archives are a work in progress. Let us know if corrections need to be made.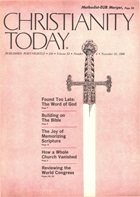 This article is from the November 25 1966 issue.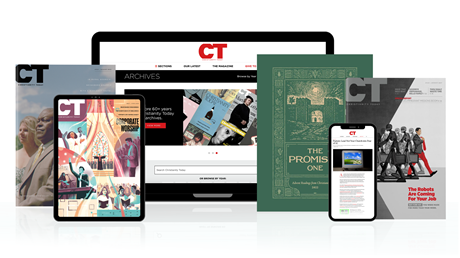 Annual & Monthly subscriptions available.
Print & Digital Issues of CT magazine
Complete access to every article on ChristianityToday.com
Unlimited access to 65+ years of CT's online archives
Member-only special issues
Subscribe
How Big Is God?
How Big Is God?