How should we react if some villain crept into our churches and ripped from our hymnals all the profound hymns of the faith, confiscated the majestic church music of Bach, silenced every note and "Hallelujah" of Handel's Messiah, and permanently erased the religious works of all other great composers?
We should be enraged! We should pound our fists and plead and pray for the return of our heritage.
This very crime has been committed against our heritage of Christian painting and sculpture. Yet few are crying, "We've been robbed!" The situation is more tragic because we are not even aware of our staggering loss.
Through the ages God has enabled men of vision and genius to convey his truth through masterpieces of art. But reproductions of these masterpieces, though available, are unused by our evangelical churches. We use mediocre art to illustrate when we could use great art to inspire.
Even great art is subject to being injured (although never fatally) by overuse. One's appreciation of the "Mona Lisa," for instance, is dimmed by the haze of overexposure. A few evangelical works outside the courts of the great have been further weakened by becoming visual cliches. Sallman's "Head of Christ," although meaningful to many, has been used so profusely that it has become, as one writer recently stated, "an evangelical icon." It is found framed on countless walls, laminated on platoons of plaques; it appears on thousands of church bulletins, bookmarks, key chains, coin-holders, dangle bracelets, and illuminated clocks. One may even buy a silver-plated Sallman-studded Christmas star for the top of the tree.
Meanwhile the marvelous "Head of Christ" by Rembrandt (a 14" by 18" reproduction of which costs $2.95) hangs in New York's Metropolitan Museum, largely unknown to our evangelical churches.
What caused this impoverishment? Who stole our birthright? Certainly the robbery was not premeditated. Was it begun when a sincere Reformation desire to dissociate Protestant theology and methods from those of the Roman Catholic Church carried with it a dissociation with the Catholics' encouragement of art through commissions? Has this de-emphasis of art been continued through allocation of all church funds to areas of seemingly higher dividends—more souls for the money? When modern photography brought reproductions of timeless art within the reach of church budgets, were our tastes so dulled by the trite representations to which we had grown accustomed that we failed to realize the benefits of substituting masterly art for the mawkish? Is habit our villain?
If we persist in our failure to recover the artistic wealth at our disposal, we shall continue to deprive ourselves of the spiritual and aesthetic enrichment the masterworks would provide. The hobbling of our teaching by the disregard of a powerful visual method will continue. And if the illustrations of the flannel board and the Sunday school paper (which fulfill their purpose and do not claim to be great art, yet do serve as tastemakers) are the only examples of "Christian art" to which we expose our children, it may well be this type of work that they will consider representative of the artistic standards of the Church. If this happens, the quality of Christian art will further degenerate.
It must not happen. Our spirits can be nourished, our teaching strengthened, and our tastes developed with the help of such artists as Donatello, Michelangelo, Leonardo da Vinci, Raphael, El Greco, Tintoretto, Rubens, and Rembrandt. Museums, libraries and art publishers provide excellent reproductions that our churches should utilize. The following are some sources of reproductions: The Metropolitan Museum of Art (5th Avenue and 82nd Street, New York, New York); The National Gallery of Art (Washington, D. C.); The American Library Color Slide Company (305 East 45th Street, New York, New York 10017); and The New York Graphic Society (10 West 33rd Street, New York, New York).
We acknowledge our dependence upon our Christian publishing houses and our gratitude for the progress some are making in this area. We appeal to them to include as many prints as possible of the art of the masters, coordinated with other teaching materials.
Christianity demands the best methods of communication. Artistically, we have been playing the magnificent recording of God's involvement with man on a child's phonograph with a scratchy needle, although we own the stereo components. May we use them and improve the tone!
Have something to add about this? See something we missed? Share your feedback here.
Our digital archives are a work in progress. Let us know if corrections need to be made.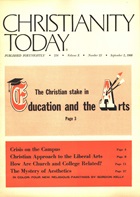 This article is from the September 2 1966 issue.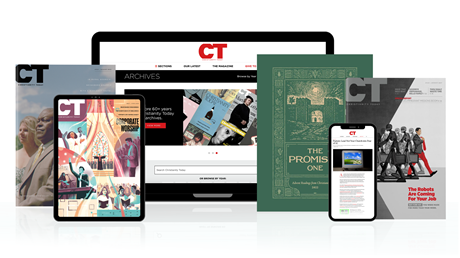 Annual & Monthly subscriptions available.
Print & Digital Issues of CT magazine
Complete access to every article on ChristianityToday.com
Unlimited access to 65+ years of CT's online archives
Member-only special issues
Subscribe
Are We Losing Our Artistic Heritage?
Are We Losing Our Artistic Heritage?