In our world of increasing uncertainties and growing tensions, nothing in a Christian's life does more to commend his faith to others than a serenity and joy independent of circumstances.
Happiness and joy are at times similar, but they can also be very different. Happiness is usually associated with material things or with experiences, but true joy stems from a right relationship with God. Sidney J. Harris has truly said that "pleasure" and "joy" not only are not synonymous but may be as profoundly different as heaven and hell.
In the Psalms particularly there are references to the joy that has its source in man's personal awareness of God and his goodness. We find this same note of transcendant joy in the biographies of God's servants down through the ages.
Why then is joy so seldom seen in the lives of Christians today? Why do we fail to bear this visible witness that could mean so much to us and to others?
Is not the reason—in part at least—our failure to take spiritual inventory? We have so many blessings and privileges that we hardly notice but that should be a source of unending joy. Many of us live as spiritual beggars when we should live as kings.
Let us think of some of the sources of the Christian's joy:
There is the joy of sins forgiven. There can be no real joy in salvation until we sense something of what we have been saved from and the cost of that which made salvation possible.
Perhaps one reason why the Church is weak today is that little emphasis is placed on personal sin and its consequences. Many persons become church members without ever repenting of their sins or confessing them to the Christ who died to bear our guilt and its penalty. Until we realize what Christ has done for us, there can be no real joy.
For the Christian who has repented of his sins, turned to Christ in humble confession, and accepted him as Saviour and Lord, everything is changed. If there is joy in heaven over one sinner who repents, how greatly should that sinner himself rejoice!
Our joy as Christians is not limited to the conversion experience. We rejoice because of our trust in the sovereignty of God. Nearly everyone is acutely aware of the chaos that exists in the world today. But the Christian can rejoice in the fact that God is still sovereign and on his throne.
David put it this way: "Let all who take refuge in thee rejoice, let them ever sing for joy; and do thou defend them, that those who love thy name may exult in thee" (Ps. 5:11, RSV).
In the Thirty-second Psalm, in which David describes the joy of forgiven sin, we read, "Be glad in the Lord, and rejoice, O righteous, and shout for joy, all you upright in heart!" (v. 11). This has become strange language for most of us in the oldline denominations. Can it be that we know too little of the "joy of thy salvation"?
The Apostle Paul's admonition to Christians to "rejoice in the Lord always" (Phil. 4:4) is lost on the Christian who is busy looking inward, downward, or out on a dying world order rather than up to the One who has triumphed, remains sovereign, and is coming again. Such a Christian knows too little of this joy.
Another source of joy for the Christian is found within the pages of God's Holy Word. Only those who have sensed God's nearness as he speaks in the Bible can know this joy. It springs from a wisdom the world knows nothing of, a peace the world cannot give or take away, a hope that looks beyond the horizon of this life into the glorious eternity of the redeemed, a guidance that reaches down to the minute details of daily living. And most of all, it springs from reading of Christ, who lived and died and rose again from the dead to give us eternal life.
Come to God and his Word with a believing heart and ask for an understanding mind and an obedient will, and before long there will come the joy of sharing the study of his Word with others. David tells us: "The precepts of the Lord are right, rejoicing the heart" (Ps. 19:8a), and Jeremiah exclaims: "Thy words were found, and I ate them, and thy words became to me a joy and the delight of my heart" (15:16a). Such joy continues from day to day.
No catalogue of reasons for the Christian's joy can be complete without mention of the joy of communication. God has not left us to drift aimlessly. He speaks to us through his Word, and we speak to him in prayer. His Spirit speaks to the receptive heart day and night. Again and again we get his message: "This is the way, walk in it" (Isa. 30:21b). In the assurance of divine guidance there is great joy.
For the Christian there is also the joy of public worship, of sharing with others in adoration and praise of the God whose we are and whom we serve. How many of us respond with our hearts to David's words, "I was glad when they said to me, 'Let us go to the house of the Lord' " (Ps. 122:1)? Christians living in Communist countries would give much to have the privilege of public worship that we have and perhaps value too lightly.
For the tempted and victorious Christian there is the joy of overcoming. Although the victory belongs not to us but to the One who has provided the way of escape, the joy is ours.
And when we fail and fall into sin, there is the joy of restoration through confession and cleansing. David puts this experience into poignant words in the Fifty-first Paslm.
One of the sublime passages concerning the Christian's victory in Christ is found in Jude: "Now to him who is able to keep you from falling and to present you without blemish before the presence of his glory with rejoicing, to the only God, our Saviour through Jesus Christ our Lord, be glory, majesty, dominion, and authority, before all time and now and forever. Amen" (vv. 24, 25). This is—we say it reverently—a "heads I win, tails you lose" proposition, just as is the promise that "in everything God works for good with those who love him" (Rom. 8:28a). Surely we can rejoice in the victorious, all-wise, and all-loving Christ!
It is impossible to catalogue all the reasons for the Christian's joy. But for each of us joy should be real, very much in evidence, and a means of witnessing to our faith in the living Christ.
In this inventory of reasons for our joy, let us keep our perspective clear. There is always the tendency to judge the Lord's favor in terms of material blessings. When these are present, we should indeed be thankful. But on the other hand, Paul tells us, "The kingdom of God does not mean food and drink, but righteousness and peace and joy in the Holy spirit" (Rom. 14:17). Such joy has a continuing quality because it rests on an immovable foundation. At no time has such assurance been more needed than now, and at no time has it been more available to those who will rest in the Lord.
For all who are overburdened with the buffetings of this world, there is the word of comfort from our Lord: "In the world you have tribulation; but be of good cheer, I have overcome the world" (John 16:33b).
Have something to add about this? See something we missed? Share your feedback here.
Our digital archives are a work in progress. Let us know if corrections need to be made.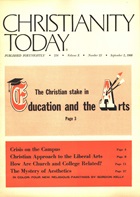 This article is from the September 2 1966 issue.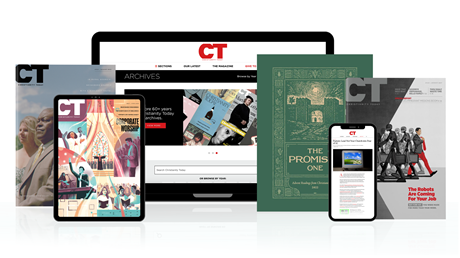 Subscribe to Christianity Today and get access to this article plus 65+ years of archives.
Home delivery of CT magazine
Complete access to articles on ChristianityToday.com
Over 120 years of magazine archives plus full access to all of CT's online archives
Subscribe Now
Joy
Joy