As faithfully as the birds fly south each autumn, flocks of young Canadians stream down across the border onto U. S. campuses. Although their numbers are not staggering, they are enough to nettle Canadian educators and church leaders. Partly to offset educational migration, Canadians are taking a hard look at how well their college opportunities compare with those in the States.
It has been a long time since a major new religious school was founded in Canada. But this year there are live prospects for such undertakings in two of the nation's biggest cities: Toronto, Ontario, and Edmonton, Alberta. The Toronto effort is for an evangelical liberal arts college with a relatively limited enrollment. The Edmonton prospect is by far the more ambitious: it would be an interdenominational university financed by the government and operated by cooperating churches.
After seven months of conferences, agreement in principle was reportedly reached on the desirability of working for an ecumenical campus in the Edmonton area. The discussions have been among Lutheran, Anglican, Baptist, United Church of Canada, and Roman Catholic representatives. Spokesmen for the Alberta Ministry of Education say the government is willing to put up the money for the school if the churches can come up with workable plans.
The idea of an interdenominational university was first suggested by Alberta Premier E. C. Manning, an ordained Protestant minister and an outspoken evangelical. He offered the idea as an alternative to pleas by the churches for independent denominational colleges throughout the province. Some planners have been quoted as saying they want to see the university open for classes by 1972, with 10,000 students a goal for 1975.
Edmonton, capital of Alberta, is Canada's fourth-largest city (behind Montreal, Toronto, and Vancouver), with a population nearing 400,000. Less than 1,000 miles from the Arctic Circle, it is the northernmost major metropolitan area in the Western Hemisphere. Its winters are not so severe as the geographical position suggests, however. The city is located just east of the Rockies in the meadow and aspen-grove country of central Alberta.
From Toronto, appeals are going out for an initial $100,000 to provide for the opening of classes this fall at the proposed new Richmond College. The campus is to begin in buildings owned by the federal government along Lake Ontario and leased to the college for $36,000 a year. Because the Department of University Affairs of Ontario has refused to grant a charter until the college is in actual operation, degrees in arts and science will be given on the basis of a Manitoba charter.
There is considerable opposition to the Richmond College concept, mainly from the Toronto Graduate Christian Fellowship. Crux, the fellowship magazine, argued that Christian students and faculty ought to be witnesses on the secular campus rather than moving into isolation. As an alternate, it was suggested that a Christian research center or Christian college be established as part of a secular campus.
Chancellor of Richmond College is John Wesley White, a Ph.D. from Oxford who is an associate evangelist with the Billy Graham team. His brother, Hugh White, who holds a Ph.D. from the University of British Columbia, is dean of education. The Rev. Elmer S. McVety, a minister of the Christian and Missionary Alliance who has an M.A. from Winona Lake School of Theology, is president. McVety is a brother-in-law to the White brothers.
Personalia
John Leo, associate editor of the liberal Catholic lay weekly Commonweal, will join the New York Times May 1 as a roving correspondent covering sociology, psychiatry, psychology, philosophy, and intellectual trends.
Pacific Lutheran Theological Seminary of Berkeley, California, announced the appointment of Dr. Vernon L. Strempke as professor of pastoral theology and director of field education.
Dr. Mariano Di Gangi will become Canadian Director of the Bible and Medical Missionary Fellowship in mid-June. He is now pastor of Tenth Presbyterian Church, Philadelphia. His new office will be in Toronto.
Miscellany
A proposal to sanction participation in Episcopal communion services by non-Episcopalians "where the discipline of their own church permits" will be brought before the denomination's House of Bishops in September. The proposal by the Episcopal Joint Commission on Ecumenical Relations is in reply to a request from the bishops for a study of communion discipline.
Intercommunion is the primary point at which Protestant denominations might well work toward greater cooperation and unity in "faith and order," according to American Baptist Convention President Carl Tiller. He told a ministerial meeting that American Baptists ought to initiate a program of inviting other denominations to discuss the theology of communion and the prospects for intercommunion.
A new Regional Church Plan commission will spend the next four years framing strategy for the 3,500 Protestant churches in the thirty-one-county New York City area, where nearly one-tenth of America's population lives. Ten denominations and nine church councils are cooperating.
Motive, a monthly published by the Methodist Board of Education and recognized as the publication of the interreligious University Christian Movement, was awarded a certificate of special recognition by Columbia University's Graduate School of Journalism.
Ghana's military government waived stipulations to allow citizens of South Africa to attend a Bible-society meeting at Winneba. When the country was ruled by Kwame Nkrumah, South African visitors were required to sign a declaration repudiating their government's apartheid policies.
Latin America Mission is opening an Office of Worldwide Evangelism-in-Depth. The new agency will offer aid to Christian groups around the world in the saturation-evangelism methods that the mission has used very successfully in Latin America.
Japan's largest Protestant denomination, the United Church of Christ (Kyodan), adopted a statement publicly confessing the church's guilt and complicity in World War II. The declaration acknowledged that the Japanese church actively cooperated in the war, failing thereby to uphold the purity of the faith.
The Korean Methodist Church ended a six-month deadlock over the election of a bishop when, on the 114th ballot, it chose as its new head a 67-year-old pastor and educator, Dr. Hong-Kyu (Fritz) Pyun. The church is Korea's second largest Protestant denomination, with 225,000 members in 1,243 congregations.
They Say
"What I hope is that Protestants who hold to orthodox Christian beliefs will stand with us. You may be sure that Protestants who really don't believe the Virgin Birth is important, who don't really believe that God became Man, who don't really believe Jesus Christ was resurrected, will not care—it is understandable that they should be pleased to see some Catholic theologians coming around to their way of thinking.
"But those Protestants who hold to these fundamental Christian beliefs, who unfortunately have often been farther apart from us than other Protestants, should unite with us to meet these challenges to Christian orthodoxy."—Editor Dale Francis in Our Sunday Visitor, "National Catholic Ecumenical Weekly."
Deaths
GEORGES PHILIAS VANIER, 78, Canada's first Roman Catholic Governor General; in Ottawa.
KENNETH JOSEPH FOREMAN, 75, who taught at Davidson College, Louisville Presbyterian Seminary, and Union Theological Seminary of Richmond, and was widely known for a folksy sermon, "The Engineer's Got to Know Where His Hind End Is"; in Montreat, North Carolina.
HARRY MILTON SHUMAN, 88, retired president of the Christian and Missionary Alliance; in Deland, Florida.
ISAM B. HODGES, 72, co-founder and first president of Golden Gate Baptist Theological Seminary; in San Leandro, California.
Have something to add about this? See something we missed? Share your feedback here.
Our digital archives are a work in progress. Let us know if corrections need to be made.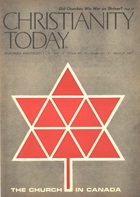 This article is from the March 31 1967 issue.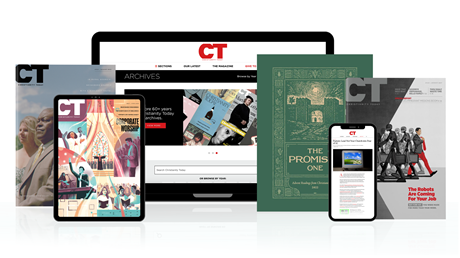 Subscribe to Christianity Today and get access to this article plus 65+ years of archives.
Home delivery of CT magazine
Complete access to articles on ChristianityToday.com
Over 120 years of magazine archives plus full access to all of CT's online archives
Subscribe Now
Canadian Churchmen Plan Two New Colleges
Canadian Churchmen Plan Two New Colleges