Recently i had occasion to go into a house that had been unoccupied for nearly a year. The curtains were drawn, it was dark and damp, and there was a musty odor throughout.
Even though I thought the current had probably been cut off, I flipped a switch on the wall. Immediately the room was filled with light. After I raised the curtains and opened the windows to bring in fresh air, what had been dismal and forbidding became light and pleasant.
In every home there are switches to enable us to make use of electricity. We turn on lights, and perhaps cook with electricity; we use it to run the appliances in our homes, and to provide us with radios and TV entertainment.
What about these switches? We use them so often that perhaps we forget their significance. They are controlled by simple pressure of a finger. Even though the wiring is installed, the power lines and transformers are in place, the power station is ready and the generators are operating, still the switch must be turned to bring the power where it is needed.
Why does one turn a switch? There is first a sense of need. One needs power to operate equipment, or to provide light in the darkness, and he believes that somewhere there is a source of power and light. He knows that the conditions necessary for bringing current into the building have been met, because the necessary outlets and switches are present. By faith, then, he turns the switch. And light and power come rushing in.
In a spiritual sense, this is all true of prayer. When we pray we admit a number of things: that we are in darkness and need light and guidance; that we lack power in our lives and need God's power to operate in us, in the lives of others, and in situations that we desperately need to solve. We pray with the assurance that there is a source of power, wisdom, and guidance beyond us, in the One who created the world and preserves it today.
We believe, too, that the line of communication is open, waiting only for an act of faith on our part—the act of prayer. We pray according to the will of God, and what happens? Spiritual light floods the situation; spiritual power is brought to bear on it.
For the Christian there are four sources of power: the power of the Gospel, the power of the Holy Spirit, the power of the written Word, and the power of prayer. Here we will concentrate on the last of these.
In his infinite love and wisdom, God has given us the privilege, responsibility, and power of prayer. He has seen fit to make prayer the means of releasing his power. But, strange to say, many Christians have never learned to pray. Others have ceased to pray, and some do not even believe in prayer.
In a world beset with dangers, in a time when the Church often seems bent on adding to the confusion, in an age when personal problems conspire to overwhelm—in such a time Christians should pray, and pray with confidence.
Confidence in prayer springs from certain things that we believe about God. First, he is all-knowing. Nothing in time or eternity is beyond his comprehension, whether it be a million years ago or a million years hence—all men and events are within the panorama of his knowledge and understanding.
He is all-loving and kind. He is our Heavenly Father, and we turn to him with no fear of being rebuffed. Furthermore, he is aware of our weakness and is always willing to accept us just as we are, and then to make us what he wants us to be.
He is all-powerful. The psalmist says: "Once God has spoken; twice have I heard this: that power belongs to God" (Ps. 62:11). And our Lord says, "All power is given unto me in heaven and in earth" (Matt. 28:18).
He is all-wise. All true wisdom resides in him: wisdom to see through to the end; wisdom to evaluate things and events in relation to what is right and best; wisdom to see the effect of our prayers on the whole.
He is utterly faithful. That which he has promised he will perform. He never makes mistakes. He never lets us down. Because of his very nature, he is worthy of our complete confidence as we pray.
Like a properly cut diamond with its many facets—each separate but all part of the overall beauty—so prayer has many aspects, all of them important.
There is worship, bowing the mind, the heart, and the will to God, acknowledging him as worthy of all honor and glory. And closely akin to worship is adoration, in which our spirits recognize him as infinite, eternal, and unchangeable, King of kings and Lord of lords (but at the same time as the One who loved us enough to die for us), and our hearts respond. Worship, adoration, and thanksgiving generate praise. In the Psalms praise is uttered in the language of the Spirit, and in the Revelation we find that the major note of the redeemed is thanksgiving and praise.
Then there is petition. Many think of prayer almost solely in terms of asking God for things. This is a perversion of prayer. But petition is a very real element in prayer. We pray about our problems and our needs. We pray for others in the same way. We pray for the work and coming of God's kingdom. And we make all these prayers on the authority of our Lord's words: "Ask, and it will be given you; seek, and you will find; knock, and it will be opened to you" (Matt. 7:7).
We are to pray in faith—faith based on the character of God, his requirements, his promises, and his faithfulness. Our attitude should be that of Abraham, of whom it is said, "No distrust made him waver concerning the promise of God, but he grew strong in his faith as he gave glory to God, fully convinced that God was able to do what he had promised" (Rom. 4:20, 21).
One other element that must not be neglected is confession. Just as a tiny piece of dirt can inactivate an electric switch, so unconfessed sin can obstruct our prayers. "If I had cherished iniquity in my heart, the Lord would not have listened" (Ps. 66:18).
And don't forget the signature! I recently had two checks returned to me because in my haste I had forgotten to sign them. We pray solely in the name of Jesus Christ. He specifically tells us to pray "in my name." It is his name that enables us to come with boldness. It is because of him that we become righteous in God's sight, and through fellowship with him we can "pray without ceasing"—keep on God's wave length.
Finally, we do not pray alone. Jesus prays for us (Rom. 8:34), and the Holy Spirit interprets our prayers (Rom. 8:26, 27).
Amazingly, God often answers our prayers before we utter them: "Before they call I will answer" (Isa. 65:24). As we pray he often speaks to our hearts by his Spirit, and we know that he is saying, "This is the way, walk ye in it."
God has placed at our disposal a two-way system of communication. It is ready, open, and effective. It brings power and light, and in the bringing there is wisdom and understanding.
Any person to whom electricity is available would be stupid to ignore the switch that makes the connection. When we fail to pray on God's terms and in his way, how utterly foolish we are.
Turn the switch and let God work.
Have something to add about this? See something we missed? Share your feedback here.
Our digital archives are a work in progress. Let us know if corrections need to be made.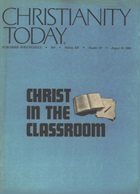 This article is from the August 30 1968 issue.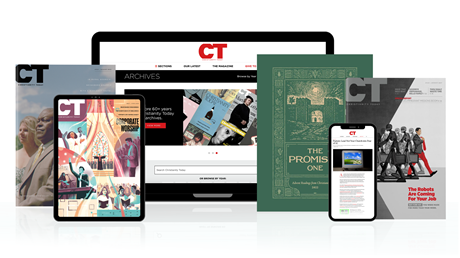 Subscribe to Christianity Today and get access to this article plus 65+ years of archives.
Home delivery of CT magazine
Complete access to articles on ChristianityToday.com
Over 120 years of magazine archives plus full access to all of CT's online archives
Subscribe Now
Turn the Switch
Turn the Switch