Dear Friends And Foes Of Eutychus Iii:
My stint as your bumbling but persistent correspondent ends with this final column of 1968. Following my illustrious Eutychus predecessors, Edmund Clowney and Addison Leitch, I now shed the ill-fitting cloak of anonymity and pass my quill to another phantom writer. Like Eutychus of Troas, who fell asleep during a long-winded, post-midnight sermon by the Apostle Paul, fell to his death from a third-story perch, and then came back to life after Paul embraced him, my successor Eutychus IV and his kin of letter-writers will undoubtedly come to life with lively comments on current ideas.
Service as assistant editor of CHRISTIANITY TODAY under Carl Henry and Harold Lindsell, two of Christ's most able servants and finest men, has been a great experience. But my path this year has led back to the college classroom as a member of the speech faculty at California State Polytechnic College in San Luis Obispo. Classroom teaching offers what I like—direct give-and-take with sharp, uninhibited students—whereas the role of an editorial desk jockey provides very limited feedback. Busy readers rarely "talk back" when a writer has struck a responsive chord, provoked a flush of anger, produced a bored ho-hum, or perhaps evoked a chuckle or two. Furthermore, the college campus provides one of the most fertile fields for Christian witness, and I'm glad to be back.
I'll miss the kicks gained from covering the religious kooks for this column. I have at times found a certain satisfaction in spraying a bit of journalistic gas on the sacrosanct or ridiculous termites infesting parts of the religious woods. But I'm sure the California campus rumpus with Black Panthers Cleaver, Murray, et al challenging Reagan, Rafferty, and the Regents will forestall academic stupor.
My Eutychus III experience has made me realize that evangelicals are not as square as often depicted. We seem to be improving in our ability to laugh at our foibles. I have found, too, that satire is an effective means of deflating phony liberalism and getting under the skin of its reputedly broad-minded, but all too often narrow-minded, advocates. I hope the next Eutychus will sharpen my dull quill and use it deftly to satirize all religious figures who deserve it.
My thanks to you all for putting up with me. Remember to keep those cards and letters comin' in!
Cheerfully and appreciatively,
Communicating Now
I believe that we can meet George Patterson's dazzling challenge about gospel transmission during the "Communications Revolution" (Nov. 22); within twenty years (a conservative estimate) we can raise the millions of dollars required, build and equip all the suggested communications centers, and ready the gospel satellites for blast off.
But I also believe another communications operation can begin tomorrow: (1) Scattered throughout the world, 5,000 Christians commit themselves to win at least one person to Christ every year; (2) each new convert, personally nurtured, commits himself likewise.
Within ten years the circle of 5,000 would increase to five million! In the twenty-first year we could call off the gospel satellite countdown.…
The point: Can we be dazzled as well by the challenge (and potential) of personal communication? (I am not suggesting a boycott of mass-media means.) The problem: Where is our commitment, what are our priorities?
Park Presidio Baptist Church
San Francisco, Calif.
George Patterson, by launching off on the way-out subject of communication satellites, threw an exciting challenge to Christians. In my doctoral dissertation under way concerning the use of communication satellites for education, I have found our materialistic society unable to come to grips with the implementation of satellites for domestic or educational use in the United States.… Perhaps Christians interested in mass communications can agree more quickly on a program of action and get on with what I believe to be the most important use of satellites, namely, proclaiming the Gospel of Christ!
Knoxville, Tenn.
Death And The Church
Thanks for the good article, "Are Funerals Dying Out?" (Nov. 22). I find myself more and more in favor of holding the committal service before the funeral service in the church. The cemetery is a place of death, separation, and sorrow, and no words there are able to overcome these associations.…
Moving from the cemetery to the church is moving from the place of death to the house of the Resurrection. After the ordeal of the grave is past, the mourner may be more open to the hope, peace, and joy, the comfort and the love offered by the congregation and the building itself as well as the service of worship. Having the church service last would also eliminate questions of the open casket … the banks of flowers, and painful processions.
Maysville Presbyterian Church
Buckingham, Va.
Why should anyone (except a mortician) complain if Christians are moving toward "simpler, less expensive funerals"?…
Nothing in the Bible even suggests the necessity of having a funeral "service," much less that this is a function of the Church.…
From a Christian point of view, what is the purpose of viewing elaborately preserved bodies in expensive coffins? Even the traditional flowers are in some cases being replaced by a more meaningful remembrance: a contribution to a favorite charity of the deceased given in his memory. This serves the living as well as the dead.
MRS. KOULA B. HAZELL
Durant, Okla.
A.C.C.C. Response
In your November 22 news article entitled "Rift In McIntire's Movement," I feel that you have misrepresented my position in several areas.
First of all, I am not an "anti-McIntire leader." I regret that Dr. McIntire has misunderstood our motives and has chosen to air administrative differences before the public. It is methods like these that I am hostile to and which, I would hope, those presently in the ACCC and those considering this fellowship would seek to avoid.
Since your article deals with Dr. McIntire's attack on the ACCC in a general way and the Beacon reports it in a biased way, may I suggest that those desiring an official statement from the officers of the ACCC can obtain it upon request from our office, The American Council of Christian Churches, 15 Park Row, New York, N. Y. 10038.
General Secretary
The American Council of Christian Churches
New York, N.Y.
Truth And Deception
Having read with interest "Man's Search for Truth," by Leland Ryken (Nov. 22), I want to make a few comments.
The Bible speaks of those who will not receive a love for the Truth (I believe it means the whole Truth), giving them up to their own delusions so they will even believe a lie. One translation says he will send them strong delusions so they will even believe a lie. Those ministers who are not declaring the whole counsel of God explaining the Scriptures through the power of the mind rather than by the Holy Spirit thereby deceiving many simple souls, will once stand before God in the day of judgment.…
Another great deception is the sin of failing to teach self-denial and the bearing of the cross. Jesus says he that does not take up his cross is not worthy of him. God is going to hold all ministers of the Gospel accountable to believe, practice, and teach the whole counsel of God as it is in Christ Jesus.
Hillsboro, Kan.
Integral Christianity
Thank you for the fine article on missions by Dr. John M. L. Young (Nov. 22). It is the best article I have seen in your magazine. The Christian community needs more such thinking in order to see the integral character of life when viewed from a Christian perspective.
Philadelphia, Pa.
On The Election
In your editorial about Nixon (Nov. 22) you said some good things, but perhaps we can add other thoughts. Mr. Nixon did win by a majority vote. If Wallace had not run, Nixon would have won overwhelmingly. The Nixon vote plus the Wallace vote shows that the conservatives far outnumber the liberals in this country. There is no need for a coalition government. We ought to rejoice and be exceedingly glad.… God has vindicated Mr. Nixon, and he who laughs last laughs best. It was not for nothing that I fasted and agonized in prayer until victory had been assured.… We had a victory dinner at our house. Yes, all things work together for good to them that love God and do his will. Our ecstatic exuberance over this colossal defeat of left-wing politics should know no bounds. With God's help we can work for, and be assured of, not only four, but eight years of the fresh air of freedom. Thanks for the good things you mentioned about Nixon.
Trinity Methodist Church
Ashland, Ky.
Controlling Birth
Your November 8 issue on the subjects of sex, birth control, abortion, and the like is excellent and worth the price of renewal.
Zion Lutheran Church
Houston, Tex.
I consider such plebeian, flesh-featured, and sex-oriented subjects are wholly alien to a periodical supposedly dedicated to evangelical emphasis and to the exaltation of the Word of God and testimony of Jesus Christ. Such articles serve no fundamental purpose no matter by whom they are authored.
Philadelphia, Pa.
Why was the question of God determining and limiting the number of children in a given family of believers not mentioned even once in the articles on contraception and abortion?
Is the answer, in fact, that we cannot trust that he has that much interest and care for us? He can redeem and nurture our eternal soul, but would not truly make his power effective in deciding if our sex life should bring forth offspring.
I am personally convinced that the question of bearing and rearing children has always been, and is still, the direct gift and prerogative of God, not of man.
Tigard, Ore.
It is one thing to write an article concerning this subject, but to place the title in big black letters [on the cover] does not allow one to place it on the arm of one's chair.…
I shall certainly take mine to a sheltered place for keeping. It is knowledge that all should have.
MRS. IVAN L. LEECH
Modesto, Calif.
Dr. Waltke reaches a conclusion on God's attitude toward sterilization based on Deuteronomy 23:1; however, he might wish to alter his conclusion in later publications if he considers Acts 8:38 and Isaiah 56:3–5.
At least one should point out that salvation is offered to sterilized persons.
North Augusta, S. C.
In "The Relation of the Soul to the Fetus," Paul K. Jewett swatted at the ball many times, but the best he hit was a foul tip.…
God made man in his own image.… According to Genesis 2:7, God breathed into man "the breath of life." This same verse reads on that upon this act of God man became "a living soul".…
God gave man his soul once, for all. When a child is conceived, along with the elements which will bring the formation of a body is his soul from God's original act. The soul never dies. As life is passed in procreation, so is the soul.
Philadelphia, Pa.
Dr. Walters's article "Contraceptives and the Single Person" is a good piece of work, and I think he has addressed himself constructively to an important issue.
Dept, of Church History
Asbury Theological Seminary
Wilmore, Ky.
I was shocked at the permissive attitude toward abortion expressed in "A Protestant Affirmation on the Control of Human Reproduction." I cannot agree that "the risk of severe defect in the child should constitute a fetal indication for abortion."
What gives us the right to say that the thalidomide babies, for instance, should not have been born? I'm sure that many of them, when fitted with artificial limbs, will be able to live useful lives.
Maplewood, Mo.
Have something to add about this? See something we missed? Share your feedback here.
Our digital archives are a work in progress. Let us know if corrections need to be made.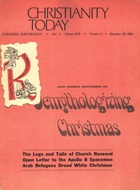 This article is from the December 20 1968 issue.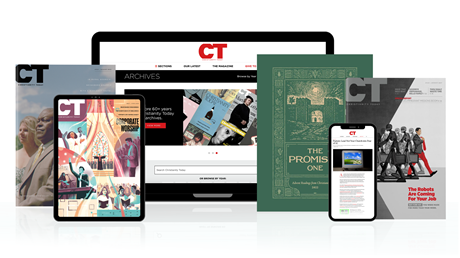 Subscribe to Christianity Today and get access to this article plus 65+ years of archives.
Home delivery of CT magazine
Complete access to articles on ChristianityToday.com
Over 120 years of magazine archives plus full access to all of CT's online archives
Subscribe Now
Eutychus and His Kin: December 20, 1968
Eutychus and His Kin: December 20, 1968