Dear Viewers of the Future:
Once again it's time to consider the annual prophecies of our "Fearless Forecaster," the Rev. Richard Buchman. This ingenious Congregational minister has migrated from Brooklyn to Milwaukee, but he's still issuing predictions. Here are some of the religious events he foresees for 1968:
In March: "A college chaplain, invited to deliver a Lenten sermon at a union service in suburban Detroit, will tell his listeners to 'tear down their bourgeois idols, close up their irrelevant churches, and give their tainted money to the poor.' Moved by his oratory, they will do just that, thereby depriving the chaplain of 98 per cent of his salary."
In April: "The new bishop of the Roman Catholic Archdiocese of New York will be installed by the Reverend Doctor David H. C. Read, Rabbi Balfour Brickner, and Muhammad Ali. Questioned about this unique arrangement, the bishop will reply: 'This is just what Cardinal Spellman would have wanted.' "
In June: "A commission of the National Council of Churches will advocate urban rioting as 'a Christ-act against the pagan and self-deluded power structure in these apocalyptic times.' Reached later at his summer home in northern Vermont, the chairman of the commission will say: 'We are simply trying to follow Jesus.' "
In September: "Fifteen denominational magazines will publish editorials condemning one of the candidates for the Presidency as 'a thoughtless, insensitive Neanderthal mired in the slime of pre-Christian, inhuman reaction.' Asked about their tax-exempt status, the editors will argue that 'it would be inaccurate and misleading to assume that our rejection of one candidate implies our acceptance of the other. We are simply trying to follow Jesus.' "
1967 was a boffo year for clerical antics: pouring blood on public records, proposing homosexuality as an answer to the population explosion, offering churches as sanctuaries for draft-evaders, staging hippie happenings, showing films of go-go dancers at a church conference. It's hard to see how they can be one silly millimeter more outlandish in 1968. But, along with our Fearless Forecaster, I predict they'll try.
EUTYCHUS III
Prognostically,
ECHOES FROM THE TRUMPET CALL
After reading "Blow the Trumpet" (editorial, Dec. 22), I thought it to be good to write and tell you that I am, for one, giving my life in its totality for the "long charge" of which you wrote. I am convinced of the need to unite our spirits into one "global evangelical voice," and I want you to know that whatever that entails in the future to count me in.
D. WILLIAM BERRY
Vaux-sur-Seine, France
CHEERING THE POETS
Many have written to the editor about articles they liked and didn't like. But it seems to me they just take the Christian poet for granted.
Three cheers for the excellent poetry published, especially "Hiding Place," by Margaret Clarkson (Dec. 22). Would that more of us preached like that.
L. A. KICKASOLA
The Methodist Church
Friendship, Minotola,
Forest Grove, N. J.
TWO SIDES OF THE COIN
The December 22 issue gives considerable publicity to the dispensational interpretation of the Bible, viz., Dr. Gaebelelein in the panel discussion, Dr. Smith's essay on the second advent, and the news article "Israel: Things to Come."
Does CHRISTIANITY TODAY endorse the dispensational view as the only valid approach to biblical interpretation? If so, would it not be proper to inform readers that there are millions of Christians who agree with the late Dr. J. Gresham Machen that premillennialism "is coupled … with a false method of interpreting Scripture which in the long run will be productive of harm" (Christianity and Liberalism, p. 49) and who dissent from equating dispensationalism with the biblical view of history and Christian eschatological expectations?
TH. N. SCHULZ
Amsterdam, Holland
In the issue arriving five days before Christmas, what to my wondering eyes should appear but an actual non-condescending word relative to a dispensationalist, i.e., Dr. Charles C. Ryrie ("Israel: Things to Come"). And, believe it or not, there are others in the dispensational camp who share his moderation.…
Your kind word was long overdue, but a sincere word of appreciation for being objective.
HOWARD PARK
Birmingham, Ala.
PROFITABLE DEBATE
In your December 22 issue I notice a short article from the debate between Playboy's spokesman and Dr. William Banowsky of Lubbock, Texas.
I have a copy of this debate, and I found it all very interesting and very profitable. I feel that it is material that should be in the hands of every religious leader today to help combat this anti-Christian philosophy.… It is printed in booklet form and may be obtained from Christian Chronicle, Box 4055, Austin, Texas 78751.
C. A. FEENSTRA
Evangelist
Sioux Center, Iowa
MOSTLY EUTY-CUS-ING
I have appreciated CHRISTIANITY TODAY through the years.… I been encouraged by the evangelical conservative position the paper has taken.
However, I was deeply disappointed in the December 8 Eutychus III letter and "What if …" cartoon. I feel that this type of sarcasm is completely out of keeping with the Spirit of Christ.… It is this type of attitude that has given the evangelical cause such a black name in the eyes of people that we, as ministers, rub shoulders with every day.
JOHN J. DEYOUNG
Clarksville and Olive Branch Methodist Churches
Clarksville, Ohio
I take strong exception to the tasteless statements of Eutychus III about the Christmas street kettles of the Salvation Army. Your columnist ought to personally experience what it means to stand for days at one of these stations and he would be a little more charitable and a little more appreciative.
CHARLES DOWDELL
The Methodist Church
Malvern and Pleasant Grove, Ohio
I have just renewed my subscription to what I thought was the finest paper of its kind, when I read what Eutychus III had to say about Dr. McIntire. I think it was unchristian, and entirely uncalled for. I have listened to him, and never did I hear any "baloney." I pray God may send us a few more like him before it is too late.
CLINTON FRITSCH
Hendersonville, N.C.
I always read Eutychus first. He reaches me. Theological journalism, by and large, today reminds me of a snowstorm—you know something is falling but you never can quite get your teeth into it! Forty-dollar words, new words, coined words, undefinable words, redefined words. Eutychus says what he means frankly, bluntly, and honestly. When I disagree with one of his remarks, at least I know why I want to hit him in the mouth. So, Eutychus, you keep on coming through loud and clear and perhaps we can convince some of these theological "geniuses" that your kind of dialogue would reduce the total amount of dialogue.
WILLIAM SOLOMON
St. Elmo Presbyterian Church
Chattanooga, Tenn.
WORDS ON FAIRNESS
As a subscriber and careful reader I was gratified at your firm opposition to the misnamed "Fairness Doctrine" ("Should the Critics Be Stifled?" Editorial, Dec. 8). Like so many sociological "liberal' coercive measures, it is another sad milestone on the road of our descent into the morass of federal thought control.…
However, I must enter a gentle and good-humored objection to my daily news-analysis program ("The Voice of Americanism") or to me personally being referred to as of the "extreme right," or "free swinging," or as using "slam-bang attacks." These epithets are neither accurate nor fair, about my approach at least.
I meticulously document from authoritative and original sources my indictment of anti-Christian Communist or socialist movements or persons. Further, I am given to understatement rather than overstatement in what I say. Please don't mistake angry opposition to the leftists, particularly among the clergy, as irresponsibility. As a graduate of two colleges and three seminaries, all accredited, I hope I have earned the right to be considered a careful student if not a scholar.
W. S. MCBIRNIE
Director
Center for American Research and Education
Glendale, Calif.
There are many of us who feel that "independent broadcasters" exercise not a legitimate right to free speech but rather take every occasion to air personal views and even deride those who disagree. This constitutes not free speech but an abuse of the same, and we can only rejoice twice over at the new FCC "personal attack" rule.… We feel no personal injustice being done to curb the right to use the airways freely by men who put personal views above those of the Church. The public is often unable to distinguish the views of the Church at large or even of various groups which represent it from those who proclaim endlessly that the Church has failed to conform to their own opinions. The views of such men are often divisive, ill-informed, and usually "against" rather than "for" some particular doctrine. As far as I can discern, the new ruling does little more than protect against the image of a divided church (it often is, but not in the way or extent as portrayed on the air) … The FCC ruling simply recognizes that a freedom for one man is not a freedom if those who would disagree have no effective way to answer back. The FCC thus speaks for the "freedom of the listener," which should be as valid as that for the broadcaster.… We welcome the decision: it is at least a start toward radio broadcasts that truly "minister" to the listening public rather than occupy the airways for personal power or prestige.
RICHARD B. LAWSON
First Presbyterian Church
Salida, Colo.
A MATTER OF NO MATTER
Was Christ really black or was he white ("Black Christ," News, Dec. 8)?
What in the world does it matter? The most important thing in the world is that God so loved the world that he gave his only begotten Son, that whosoever believes in him should not perish but have everlasting life.…
Mr. Clege says there is no escape for the Negro. Mr. Clege, let me remind you that there is no escape for black or white except through the blood of Jesus Christ, and that means that [color] does not matter.
CHARLES E. BURGESS
Heflin, Ala.
ON COMMUNICATING CHRISTIANITY
I would essentially agree with Dr. John Montgomery's analysis of the content of the major presentations made at the McMaster Teach-In on Christianity (Letter to the Editor, Jan. 5; cf. "Montgomery Versus Pike," News, Dec. 8). Furthermore, I would emphasize that Dr. Montgomery's own paper was a serious scholarly contribution of importance. The others were talks, not papers, and in the case of Bishop Pike, disjointed with little internal logic. If I were a professor grading seminar contributions there is no question but that Dr. Montgomery would get a high honors mark, while Pike would be failed. But I was a reporter commenting on a news story, and the occasion was not a seminar but an attempt to communicate to students the relevance of Christianity in today's technological society.…
A few of the students probably appreciated as I did the significance of the material presented by Montgomery and Pollard. However, many of the evangelical students spoke with evident distress of the adverse impression made on their friends by the conservative presentation. Some new Christians and seriously seeking students were simply "turned off" by Montgomery. Liberally oriented theological students were confirmed in their impression that they could dismiss conservative scholarship as pre-Kantian rationalism with no heart for contemporary human problems and, therefore, irrelevant. Pollard's inability to "hear" questions confirmed the caricature of the conservative held by many. These are characteristic reactions given to this reporter in questions put to over 10 per cent of the students present selected at random. (The actual student audience was no more than 300, emphasizing an initial failure in communication by the student sponsoring committee.)
This massive failure in communication, despite the excellence of the material, was, I still believe, the essential news story—and it turned on precisely the issue of relationships which Dr. Montgomery dismisses.
H. W. SUTHERLAND
General Director
Inter-Varsity Christian Fellowship
Toronto, Ont.
THE BEST OF BOTH
I must confess that the personalities of so many ardent fundamentalists are so abrasive whereas the personalities of many liberal churchmen are so amenable that I sometimes have a tendency to think that the more rational and pleasant liberals might be more nearly correct than are the repulsive and sometimes ignorant fundamentalists. Somehow your publication always helps me to distinguish between truth and passion.
PAUL R. HOLLINGER
Station Manager
WDAC-FM
Lancaster, Pa.
I read every issue with ever-increasing interest because CHRISTIANITY TODAY changes with the times but is anchored to the Rock.
LANEY L. JOHNSON
Throckmorton, Texas
Have something to add about this? See something we missed? Share your feedback here.
Our digital archives are a work in progress. Let us know if corrections need to be made.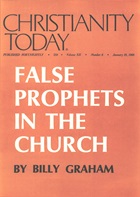 This article is from the January 19 1968 issue.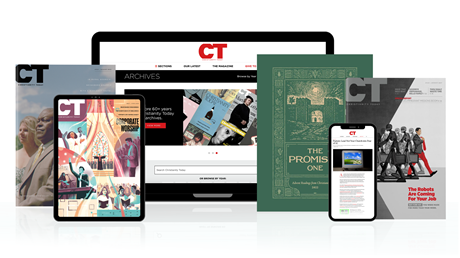 Annual & Monthly subscriptions available.
Print & Digital Issues of CT magazine
Complete access to every article on ChristianityToday.com
Unlimited access to 65+ years of CT's online archives
Member-only special issues
Subscribe
Eutychus and His Kin: January 19, 1968
Eutychus and His Kin: January 19, 1968