"My people are destroyed for lack of knowledge" (Hos. 4:6a). "Fools despise wisdom and instruction" (Prov. 1:7b). These words from the Bible apply both to individuals and to nations; they explain the cause of personal misery and national disorder. It is still true that by sowing the wind of folly we reap the whirlwind of chaos.
There must be an explanation for the phenomenon of a world gone mad—and there is; there must be a cure—and there is. Men have rejected God's way and gone their own. They have rejected God's wisdom in favor of man's. "Claiming to be wise, they became fools," because they "exchanged the truth about God for a lie and worshiped and served the creature rather than the Creator …" (Rom. 1:22, 25).
Basic to true wisdom is the recognition of God as Creator, the Source of all things. Rule him out of his universe and one has taken the road to folly. God has placed before every man irrefutable evidence of his wisdom and power. David speaks of this in Psalm 19. And the Apostle Paul neatly wraps up the truth in these words: "What can be known about God is plain to them, because God has shown it to them. Ever since the creation of the world his invisible nature, namely, his eternal power and deity, has been clearly perceived in the things that have been made. So they are without excuse" (Rom. 1:19, 20).
What then has happened? Is it not that men have accepted the wisdom of this world rather than the wisdom that proceeds from a reverential faith and trust in God?
True wisdom, for man, is adjustment to and acceptance of God's revealed truth. It lies in seeing himself, the creature, in right perspective to God, the Creator, and in acting accordingly. The wisdom of the world denies or ignores God, but true wisdom gives him top priority in every area of life.
The words "wisdom," "knowledge," and "understanding" are often confused and used synonymously. Wisdom has to do with a right apprehension of God; knowledge, with the multiplicity of facts about the universe and the process of discovering them. Understanding may be said to be the proper evaluation of wisdom and the correct use of knowledge.
Without true wisdom, one may go far afield in any one of a thousand directions. God-given wisdom is the anchor of both knowledge and understanding.
It is clear from the biblical definition of wisdom that one may have great knowledge of facts about nature, history, all branches of science, art, sociology, economics—the entire gamut of knowledge—and yet be a fool in God's sight. For many, this idea is hard to take. We all admire intellectual ability. It is a compliment to be called a "brain." And we are all indebted to the accumulated knowledge of those who have excelled in learning. But knowledge without God-given wisdom can lead men and nations into chaos. Like an engine without a governor, a car without brakes, a ship without a rudder, knowledge that is not controlled by wisdom leads to folly.
We like to think we are smart and sophisticated. True, we live in a time of staggering discoveries in every area of learning. But we also live in a time of uncertainty, frustration, and despair. Apparently knowledge is not the answer to our problems.
Many people—the young in particular—look on the Bible as outdated. They think it speaks only to a time and culture far different from our own. But I believe that if anyone will take the Book of Proverbs and read it consistently—a chapter a day for a month, then repeat—he will be amazed to find in that ancient book the answer to every moral and ethical problem confronting men today. It is particularly relevant for young people living in the second half of the twentieth century.
In the first chapter of Proverbs, after a series of reasons for taking this compilation of wise sayings and riddles at face value, the basic message of the book begins. Two courses are open to man: "The fear of the Lord is the beginning of wisdom; fools despise wisdom and instruction" (Prov. 1:7).
Why is the proper attitude toward God the beginning of wisdom? First, because he is the Creator of all things and is therefore sovereign. In this he has demonstrated his wisdom—so deep and wide and high that man can only wonder and worship in his presence.
Because he is also the Sustainer of all things. Speaking of Christ, the one to whom creation power was delegated, the Apostle Paul says, "He is before all things, and in him all things hold together" (Col. 1:17). He created not only the universe but also the laws that govern it, and his control is so complete that he can cause all things to work out for the ultimate good of his own.
Because he is our Redeemer. He comes first because he saves from the guilt of past sins, gives power to overcome sin now, and promises a future free from even the presence of sin.
He has first priority because he is the ultimate Judge, and his judgment is based solely on the righteousness of his Son.
We put God first because he is King of kings and Lord of lords, the one who will rule for ever and ever. It is to him that man must ascribe all honor, power, and glory.
The second question is, How? How can man come into this relationship with God?
The first four verses of the second chapter of Proverbs tell us that top priority must be given to the search for God. Isaiah tells us to "seek the Lord while he may be found, call upon him while he is near" (Isa. 55:6). And this portion of Proverbs speaks of the urgency of the quest. We are told to "receive," "treasure up," be "attentive," "incline" our hearts, "cry out for insight, "raise [our] voices" for understanding, "seek" it "like silver," "search for it as hidden treasures"; all these express the idea of seeing in God and his wisdom the most precious thing to be had.
But we live in a world of things, people, and problems. How can we practice the way of wisdom? How can we bring all this down to the level of everyday living?
The third chapter of Proverbs provides the answer, and with it gives a promise. On the one hand we are warned against a do-it-yourself approach to life: "Trust in the Lord with all your heart, and do not rely on your own insight" (Prov. 3:5). How many decisions have you made today based solely on your own understanding of the situation? How many have been dictated by ignorance or prejudice?
Then the promise: "In all your ways acknowledge him, and he will make straight your paths" (Prov. 3:6).
God has told us what the source of wisdom is, why we should put him first, how this may be done, and what blessings will follow. So that we will not miss the point it is repeated in Proverbs 9:10: "The fear of the Lord is the beginning of wisdom, and the knowledge of the Holy One is insight."
Have something to add about this? See something we missed? Share your feedback here.
Our digital archives are a work in progress. Let us know if corrections need to be made.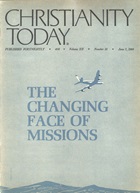 This article is from the June 7 1968 issue.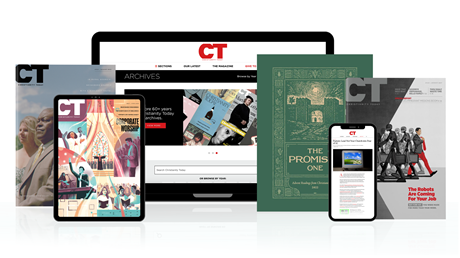 Annual & Monthly subscriptions available.
Print & Digital Issues of CT magazine
Complete access to every article on ChristianityToday.com
Unlimited access to 65+ years of CT's online archives
Member-only special issues
Subscribe
Wisdom
Wisdom