Evangelical Christianity is in need of a genuine religious revival. It has been adversely affected by the currents of the times more than it suspects. The process of decline may go unnoticed for some time among believers who consider themselves spiritually fit.
The causes of spiritual deterioration are many, and they differ somewhat from age to age. In our day, at least in the Western world, unprecedented affluence has become a major cause. It affects spiritual health in several ways. Affluence often lessens one's sense of dependence on God for the supply of material needs. It produces a spirit of self-sufficiency that impairs the normal relationship between God and his people. Selfishness and self-centeredness easily develop, and more and more money is spent on self. Moreover, frequent weekends away from home, resulting in spasmodic church attendance, reduce the margin of safety for all except those few who can maintain a high degree of spirituality on their own without the support and nourishment found in congregational worship.
Apathy and loss of zeal also takes a terrible toll among evangelicals. It is accompanied by a spiritual smugness based on mental adherence to doctrinal orthodoxy. In the Revelation, John indicts the church at Ephesus, a toiling church of patient endurance, for having "abandoned the love you had at first" (Rev. 2:4). All too often we who are evangelicals have little zeal and less passion, and a great need to repent.
Another contributor to spiritual decline is the failure to cultivate the Christian life. In an untended garden, weeds are certain to choke out the good flowers. We have time to watch TV, to care for and adorn our bodies, to sail and jog and tend our rose bushes. But we do not have time for the ardent pursuit of holiness, for immersing ourselves in the Word of God and prayer. Our cars are polished, our houses are spotless, our refrigerators burst with food. But our souls are starved, and our hearts are garnished with cobwebs. The power of the Holy Spirit is rarely manifested in our home and office life and in our random efforts to communicate the good news of God's salvation in Jesus Christ. The burning question is: Do we really care that God's dynamic is absent and are we willing to pay the price to possess it again?
We rightly protest theological heresy, and we continually cry out against those who replace the demand for personal faith in the Saviour with a call for social justice. Needed though our protest may be, it loses its biblical character when it is done lovelessly and when the rejection of a social gospel is accompanied by disengagement from the world and by a lack of personal concern for needy people. We preach love for all and especially for those of the household of faith—unless his skin happens to be black. We forget the simple fact that God is color blind. And we forget that silence and inaction can be as reprehensible as the overtly evil deed.
To make matters worse, we tend to be defensive and to gloss over spiritual sickness. "I am rich, I have prospered, and I need nothing" we smugly feel, when in reality we are "wretched, pitiable, poor, blind, and naked" (Rev. 3:17).
Israel experienced recurring times of spiritual sloth. There were periods of spiritual famine when the people did not feed themselves on the Word of God. There were occasions when they bowed the knee to Baal and offered animal sacrifices on strange altars. Time and time again their hearts were turned away from God, until at last his divine anger was visited upon his people and they were dispersed among all the nations of the earth.
Neither has the Church been free from the curse of backsliding during the last two millennia. The saddest pages of church history are those that record the countless times when Christian churches and communities have manifested the works of the devil more than the works of God. The redeeming aspect of the Church's history, however, has been seen when the Spirit, by his quickening and renewing power, has broken through man's recalcitrance and revitalized vast sectors of the Church in an amazing way.
Even now there are many evidences of the Spirit's working around the world. But these are isolated instances at a time when the general tone of the Church—particularly in the West—is abnormally low. Evangelicals would like to believe they are the exception. But they have not distinguished themselves by displaying the kind of power that marked previous awakenings.
We who claim to be evangelicals must become aware of our plight and convicted of our need. We must beseech God to do a new thing in us and through us. We must repent and turn from our sins. The Scriptures assure us that if we will do this, then our sins will be blotted out and "times of refreshing" will come from the presence of the Lord (Acts 3:19). How desperately the Church needs refreshing!
Have something to add about this? See something we missed? Share your feedback here.
Our digital archives are a work in progress. Let us know if corrections need to be made.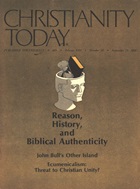 This article is from the September 12 1969 issue.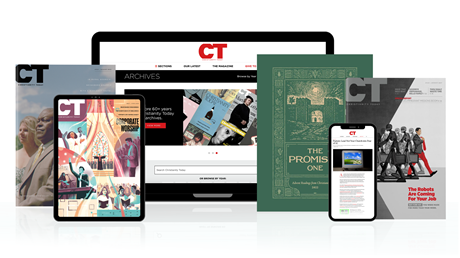 Subscribe to Christianity Today and get access to this article plus 65+ years of archives.
Home delivery of CT magazine
Complete access to articles on ChristianityToday.com
Over 120 years of magazine archives plus full access to all of CT's online archives
Subscribe Now
Times of Refreshing
Times of Refreshing