In Part I, which appeared in the August 22 issue, Dr. Moffett pointed out the widespread difference of opinion on what constitutes evangelism. In seeking a biblical definition he concluded that first of all evangelism is preaching and that secondly it is preaching with power. He asserted that there is an indispensable link between witness and service.
3. This, however, carries us beyond the preaching and the power to a third point the Bible makes about evangelism. Evangelism in the Bible is not only preaching and preaching with power. It is preaching with power for a purpose. Its purpose is to turn men to Jesus Christ.
This is the purpose both of the signs and of the preaching. When John recounts the signs and wonders, the mighty acts of Jesus, he adds, "Many other signs truly did Jesus … but these are written that ye might believe that Jesus is the Christ, the Son of God, and that believing ye might have life through his name" (John 20:30, 31). In Peter's sermon at Pentecost, he is not just presenting truth about Jesus Christ, but presenting that truth in order to secure a decision for Christ. He begins with the facts, but the facts lead to an appeal: "Repent and be baptized in the name of Jesus" (Acts 2:38). Paul and Barnabas at Iconium "spoke to such purpose," says Luke, "that a large body of Jews and Greeks became believers" (Acts 14:1, NEB).
John Oman of Cambridge comments, "No discourse is really edifying unless all of it is concerned with stirring the heart and touching the conscience and moving the will, and the final word should be to clench the nail." Don't try to impress, he says. Seek only to persuade. And James Black puts it quite bluntly. "Your business," he says to preachers, "is serious gunfire with a target." Yes, evangelism is preaching with power for a purpose.
The Amsterdam Assembly of the World Council of Churches stated that purpose in no uncertain terms: "So making Christ known to men that each is confronted with the necessity of a personal decision, Yes or No." And the Evanston Assembly repeated it just as clearly: "[Evangelism is] the bringing of persons to Christ as Saviour and Lord that they may share in His eternal life. Here is the heart of the matter. There must be a personal encounter with Christ.… For on his relationship to God in Christ depends the eternal destiny of man."
This and this alone is the purpose of evangelism. I must insist at this point, with Dr. Chalmers, that we keep our axes sharp, our definitions straight. We are talking about evangelism. There are other equally important things Christians can and must talk about, such as what the person who has come to God in Christ must do in the Church and in the world, but it only confuses the matter to call everything evangelism. The 179th General Assembly of the United Presbyterian Church did great service when, in partial contradiction of World Council statements at Tambaram and Amsterdam, it recognized a distinction between mission and evangelism. "All evangelism is mission," the assembly said, "but all mission is not necessarily evangelism."
There is a broad view of the task of the Christian Church that is perfectly legitimate. That is mission. And there is a focus on the cutting edge of that mission. That is evangelism.
The Church's mission is to do God's will in the world. It is as broad as that. It exists to do his will and to accomplish his purpose. Anything that serves to accomplish his purpose is the mission of the Church.
It will be arrogant for me, coming as I do from overseas, to try to define your mission in America for you. But when I apply that yardstick to an analysis of my mission in Asia, which is my part of the world, I am drawn inescapably to some very broad and sweeping conclusions:
Most of the people in Asia will go to bed hungry tonight. That kind of hunger cannot be the complete will of God. Therefore, it is my mission to feed them.
Most of the people in Asia live in grinding poverty. The average factory wage in the U.S.A. is about $2.60 an hour. In Korea it is 8 an hour. That kind of poverty cannot be the complete will of God. It is my mission to help them.
Most of the people in Asia are sick. A Korean dies of tuberculosis every ten minutes. That kind of sickness cannot be the complete will of God. It is my mission to try to heal them.
All this is the mission of the Church in Asia. It is God's will, and the Christian who forgets this broad view of his task is in peril of being only half a Christian.
But the Christian who does only this is in far more deadly peril. He is in peril of being no Christian at all. It is not enough to say:
Asia is hungry; feed it.
Asia is poor; help it.
Asia is sick; heal it.
All this is true, and it is an important part of our mission. But Communists, too, feed and teach and help and heal. That does not make their mission a Christian mission. What makes our mission Christian is a response to a deeper, more insistent, more urgent need. Most of the people in Asia have never known salvation in Jesus Christ, and to meet this deepest need of the human soul demands the focusing of the Christian mission at the purposive point of evangelism, which is preaching with power to make Christ known and to persuade men to receive him.
When the preaching combines the right power with the right purpose, it will have results. At Pentecost, "there were added that day about three thousand souls." I am reminded of an African parallel. I once saw the report of a black evangelist: "We did not begin to preach," he wrote, "until we had called for the power of God. That power came. We took it and went forth to preach. And people came confessing Jesus like the fish of the sea in number."
But if your ministry is anything like mine, you know as well as I that it is not always like this. People do not always come "confessing Jesus like the fish of the sea in number," even when the preaching is with power and purpose. There is a fourth point the Bible makes about evangelism which we must note carefully.
4. Biblical evangelism is more than preaching with power and purpose. It is preaching with a strategy.
Perhaps "preaching" is the wrong word. It does not quite catch all the rich variety of what the Bible means by the word "evangelize." Granted that euaggelidzo is usually translated "preaching," the word is too stiff. The angels did not preach; they sang as they proclaimed. Perhaps a more inclusive word would be better. "Communicate" is overworked, I know, but it is more flexible. Biblical evangelism is communicating the Gospel with power, and purpose, and more, with a strategy.
When the strategy calls for it, evangelism is nothing more dramatic than personal conversation. Jesus evangelized the woman at the well not by standing up on it and preaching to her but by asking her for a drink of water, then talking with her. When he evangelized Nicodemus, the great evangelistic phrase, "You must be born again," was not thundered from a pulpit. It was said in secret, to a young Pharisee who came to him by night for a very private conversation.
This was my father's method. "Talk, eat, sleep and think the Gospel all day and every day," he said, "in natural, informal contact with anyone and everyone.…" To the end of his life he refused to buy a car. "It will take me too fast, past too many Koreans I want to talk to," he said. This is personal evangelism. It is strategy, method. Remember how Jesus called his first disciples. Remember how he converted Zacchaeus.
But it is not the only strategy. Jesus also had a dramatic ministry to multitudes. So did Peter at Pentecost, and Finney, and Moody, and so does Billy Graham. Jesus was mobbed and surrounded and crowded and pushed and adulated by the multitudes. So beset was he by the crowds that at times he had to escape from them by boat. But he evangelized them. He spoke to 4,000 at a time. Again to 5,000. Mass evangelism is as biblical as personal witness and vice versa.
There is a direct integrating relationship, I believe, between the two. Before Jesus spoke to thousands, he spoke to twelve. Before Palm Sunday he had spoken to a woman at a well, to a publican up a tree. Before the great ingathering at Pentecost, the apostles had gone out two by two into the quiet villages. Before revival fire swept Pyengyang in 1907, missionaries had been living with the people for fifteen years. "I am situated just … as I have long wished to be: in direct contact with the people …," one of them wrote in 1892. "[I am] living in their midst, meeting them every day and all day … sometimes in ways not easy to endure. [But] I am making friends and … doing a great deal of personal work …" (S. A. Moffett, in Annual Report of the Board, 1894). "It is obvious that he loved the people he had gone to live with," adds a historian. In fact, that same historian, Roy Shearer, credits the wildfire growth of the church in Korea more to personal witness than to revivals. In the history of the Church more people have been won to Christ by such quiet ways than in great mass meetings. But both are evangelism. The strategy of evangelism determines the method; the method does not define evangelism.
In the biblical pattern, personal witness usually precedes public proclamation and the great mass ingatherings. Much of the success of the Billy Graham campaigns lies in the fact that he follows this pattern. The campaigns are preceded by months of preparation and witness. All this belongs to the strategy of evangelism.
To sum up, the strategy of pulpit evangelism, "preaching to the multitudes," and the strategy of personal evangelism, "winning them one by one," are both biblically sound, and neither should be discounted or neglected.
In the five dramatic years of the Korean revival, 1903–08, the membership of the churches in Korea increased fourfold. No better argument had ever been made for the Christian faith than the cleansing change that revival wrought in the lives of the believers. Christians went from house to house, confessing their sins to those they had wronged. Stolen goods were returned, wrongs made right, lies and slanders confessed and corrected. Wives brought their husbands, sons their parents, families brought whole villages to Christ.
But don't call any strategy "evangelism" if you are not willing to try it. For evangelism is not a theory. It is not a concept. It is not a definition. It is more than all of these put together. In the New Testament, the word is a verb, and a verb spells action. The greatest word of all is still, "euaggelidzo"—to evangelize!
Have something to add about this? See something we missed? Share your feedback here.
Our digital archives are a work in progress. Let us know if corrections need to be made.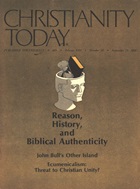 This article is from the September 12 1969 issue.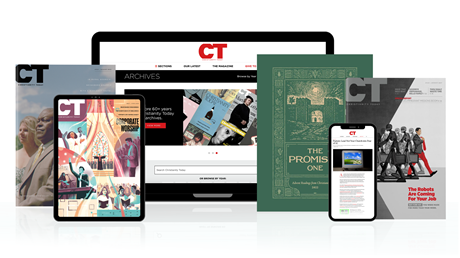 Annual & Monthly subscriptions available.
Print & Digital Issues of CT magazine
Complete access to every article on ChristianityToday.com
Unlimited access to 65+ years of CT's online archives
Member-only special issues
Subscribe
What Is Evangelism?: Second of Two Parts
What Is Evangelism?: Second of Two Parts