One night about two years ago my phone rang and a voice said, "Raymond Berry has hurt his shoulder."
A group from the Fellowship of Christian Athletes was visiting a local college, and I, with several hundred others, had listened to some of them give their testimonies. Then they had gone on to the gym to play a game of basketball with the college team and I had gone home to bed.
Berry was one of America's most brilliant professional football players, top pass receiver for the previous year. His name was known to all sports-lovers and had been since his college days. He was now at the very top in professional circles.
I had years before retired from the practice of surgery, but this was an emergency, and I dressed as quickly as possible and drove to the gymnasium. There I found Berry, with a small group, in one of the dressing rooms.
Obviously he was suffering considerable pain, although he was stoical. His left arm hung useless, supported by his right hand, and both arm and shoulder were in an unnatural position. A superficial look could have led one to think this strong-looking man was in exceptionally fine shape; but he no longer was. He was suffering pain and was unable to move the arm, and his shoulder showed a depression where it should have been well rounded.
I could have said, "Raymond, you look fine and will soon be all right. All you need is some rest, a bath, and clean clothes. You are the victim of this rough environment. I will give you something to ease the pain. Then I will put a pad on your shoulder and cover it so it will look like the other, and no one will notice the difference. You can go ahead and use your right arm."
But would that have helped? His trouble was that his shoulder was out of joint—dislocated! The head of the humerus was where it did not belong. It had torn through the ligaments surrounding the shoulder joint. Only one thing would remedy the situation: the shoulder had to be reduced, the head of the bone returned to the socket. That bone had to be "reconciled" to the place from which violence had torn it.
Reducing a dislocated shoulder on a muscular person without an anaesthetic is very difficult. In this case the common method of holding the elbow close to the body and then twisting the lower arm outward and upward did not work, as it had done for me many times in the past. So I laid Berry on the floor, took off my shoe, put a folded towel in his axilla (armpit), put my heel in his axilla, and pulled the arm, while another athlete held me. After a while the muscles relaxed and there was a sudden "pop," and the dislocation was reduced. The pain was relieved, and I knew that within a week or so the shoulder would function normally.
Why this story? Let me add another. Many times during my years as a surgeon I was confronted by a person who was experiencing abdominal pain that often had begun in the pit of the stomach and later settled in the lower right quadrant of the abdomen. Often there was elevation of temperature, and pressure over the region caused considerable pain. The right knee would usually be flexed to ease muscle tension, and usually there was a look of anxiety on the patient's face. Laboratory examination would show a rise in the leukocyte count with a shift to the left (showing that the body was manufacturing white blood cells to attack the inflammation).
I could have said, "Don't worry, you've eaten something that does not agree with you. An injection of Demerol will ease the pain and a good dose of castor oil will take care of the undigested food." In fact, I occasionally saw patients who had been so "treated," only to find at operation a ruptured appendix and spreading peritonitis.
In the practice of medicine and surgery the physician is confronted with an unending parade of patients who come to him because they are experiencing symptoms. He is trained to discover the cause behind pain, dysfunction, and abnormalities, and then to treat the cause. One who treats symptoms only will ultimately find his patients seeking a more competent and honest doctor.
What about a world—a social order—convulsed by every form of evil? There is no "social order" that is not made up of people. The demonic antics of men separated from God are all about us and are indicative of a cause, a disease of the human heart that makes beasts of men and in so doing pollutes the whole world.
On every hand we see the results of man's alienation (dislocation) from God. The symptoms vary from man to man and from generation to generation, but they all are rooted in sin, and the cure is theological, not sociological, spiritual, not secular.
Our world is desperately sick. America is faced with crime upon crime, crisis upon crisis. There are also countless millions with deep personal problems unknown to those about them. Sorrow, frustration, and uncertainty dominate the lives of many who seem carefree. All have needs that only God can remedy, for which Christ has the answer, to be applied by the Holy Spirit. The healing must be God's, not man's, and he offers that healing in the Gospel of his Son.
But there are "new physicians" abroad in the land, and their number is on the increase. There are social activists whose "cure" is sociological. One of their number, the moderator of one of the most prestigious presbyteries in his denomination, speaks of the "mission" of the Church in these terms: "I see the ministry in terms of social action, not in terms of preaching or the rest of the nonsense we went through years ago. In our day, we are more concerned about man than God. God can take care of himself."
True concern for man as a person, and for the social order as a whole, begins with the recognition that man does not have the solution for his problem, that the answer is found in the cross and in no other place. God's loving concern and his all-sufficient solution are found in the gift of his Son. The "folly" of that message, and a willingness to preach it against seemingly insurmountable odds, continue to be God's way of solving the problems of this generation—and there is no other way.
Many seminaries are now graduating sociologists, not preachers. Many "ministers of the Gospel" are ignorant of the Word of God, the sword of the the Spirit. Many do not know the source of man's problem and the nature of the enemy ("principalities, powers, the world rulers of this present darkness, … the spiritual hosts of wickedness in heavenly places"—Ephesians 6:12), and therefore they cannot wage a victorious battle.
What is desperately needed is faithful preaching of the Christ and his cross. There is no other Name, no other Way!
L. NELSON BELL
Have something to add about this? See something we missed? Share your feedback here.
Our digital archives are a work in progress. Let us know if corrections need to be made.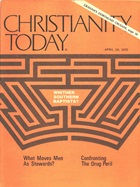 This article is from the April 24 1970 issue.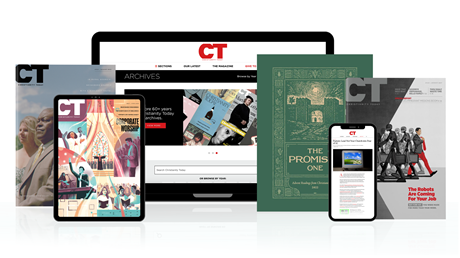 Subscribe to Christianity Today and get access to this article plus 65+ years of archives.
Home delivery of CT magazine
Complete access to articles on ChristianityToday.com
Over 120 years of magazine archives plus full access to all of CT's online archives
Subscribe Now
Palliative or Curative?
Palliative or Curative?