And it shall come to pass afterward, that I will pour out my spirit on all flesh; your sons and your daughters shall prophesy, your old men shall dream dreams, and your young men shall see visions (Joel 2:28).
We cannot say for sure whether the "end times" have begun. But whether they have or not is immaterial to the Christian, who is called by God to be faithful, and whose distinctive life style is to be lived out in every age. Many believers are now living victoriously for Christ, and the fruits of their labors suggest that we may be on the verge of a great spiritual awakening in America and around the world. This possibility must be considered despite the claim of some that we live in a post-Christian era, despite the tumult and uproar that could lead us to conclude that the barbarians are coming. What gives us reason to hope for an awakening in the seventies?
We are encouraged by the many congresses on evangelism that have been and will be held. Since 1966, when the World Congress on Evangelism was held in Berlin, congresses have convened around the world. Africa, Latin America, Asia, the United States, and Canada have had them. An all-Europe congress will take place in Amsterdam a year from now.
Billy Graham's mass meetings and radio and TV outreach are bearing a rich harvest as are the ministries of a number of other evangelists. Millions of people have responded to the Gospel and millions of believers have committed themselves to the task of world evangelism. Besides Dr. Graham's radio ministry we have that of the "Lutheran Hour," the "Bible Study Hour," the "Joyful Sound," the "Radio Bible Class," plus the programs sponsored by the Christian Reformed Church, the Mennonites, the Assemblies of God, and the Free Methodist Church, and many others, including the new radio outreach of United Presbyterians under the auspices of the Presbyterian Lay Committee.
Another sign of an approaching awakening can be seen in special ministries that God has blessed significantly. Youth for Christ has come of age and is getting results in a variety of outreaches. Young Life, year in and year out, sees thousands of high schoolers come to Christ and commit themselves to Christian service. The Inter-Varsity Christian Fellowship has helped to revolutionize the disturbed college campuses; between seven and ten thousand collegians will assemble at Urbana, Illinois, after Christmas for a missionary conference to consider again the command of Christ to evangelize the world. Campus Crusade for Christ, with 2,200 staff members, is working in the college and high-school worlds here in America and increasingly around the globe. Campus Crusaders confidently expect 100,000 delegates to come to Dallas for their Explo' 72, and from this they hope to enlist 10,000 men and women for God's Great Commission Army.
A third sign that presages an awakening is Key '73, an inter- and intra-denominational effort begun a short time ago in the Key Bridge meetings. Several dozen denominations are committing themselves to cover America with the Gospel in 1973 in an effort to bring millions to a saving knowledge of Christ.
A fourth sign of awakening is what is happening in local churches around the country. Hundreds of congregations have experienced renewal. At the same time these churches have been winning the lost for Christ and have been bringing into their fellowship hundreds each year who never were members before. One church in California recently baptized 253 converts. A church in Fort Lauderdale, Florida, has added hundreds of converts in the past few years. The Roman Catholic Church has been stirred also. Many of its people have shown a great interest in studying the Bible, and literally thousands of them have come to a true knowledge of God and are sharing their faith with others in the church. The renewal in the churches has included a new interest in the person and work of the Holy Spirit. Tens of thousands are now living and witnessing in the power of the Holy Spirit and are seeing men and women come to Christ as a consequence of their Spirit-filled witness. Bible classes meet weekly in thousands of homes, and intercessory prayer is mounting as multiplied numbers of God's people plead for revival.
A fifth indication of spiritual stirring has been revival on the Christian college campuses. Begun this year at Asbury, it has spread from school to school, state to state, and across oceans. Moreover, enrollment in evangelical schools is at an all-time high.
Still another development that inspires hope is the emergence of evangelical fellowships in a number of large denominations (see News, p. 23). These are bringing together like-minded Christians, both clerical and lay, in the interests of biblical orthodoxy. They are encouraging churchmen concerned over the liberal drift not to cop out but to stay in their churches, and to try not only to preserve accumulated resources for authentic Christianity but also to retrieve sectors of the institutional church that have fallen prey to humanistic error.
Other ministries and movements could be mentioned, but time and space would not allow for listing all of them even if we knew them. God alone knows the full scope of what is happening. What we can be sure of is that something is happening, and that it is broader and deeper than we sometimes see.
The whole world has a stake in this, because true revival is not simply a matter of more people attending fancier churches. If the next great awakening has an effect like those of the past, it will profoundly influence all of society. Lives will be changed, wrongs redressed, motives elevated, and compassion extended. Justice and equality of opportunity will be advanced, and we will be that much closer to a genuinely free society. In short, the globe will be more inhabitable.
Murdering Hostages
A few weeks ago Dan A. Mitrione, an AID employee, was murdered by Uruguayan leftist terrorists who had kidnapped him and demanded in return for his release the liberation of some 150 prisoners. Mitrione's only offense was his American citizenship—the fact that led his captors to believe that choosing him for their victim would guarantee that their outrageous demands would be met. When they were not, the kidnappers shot him. Mitrione left a widow and a large family; they deserve the compassionate sympathy and the prayers of us all.
Still unanswered, however, is the question of how to deal with this nasty and recurring type of crime. The Foreign Service Journal has suggested that governments refuse to submit to ransom demands either for money or for the release of prisoners. Capitulation to the demands of terrorists will simply increase the number of incidents. Contrariwise, once terrorists learn their capture of hostages is nonproductive, they will give up the tactic.
This kind of policy means that Americans in Latin America must be willing to risk their lives, if necessary. Missionaries' exposure to martyrdom over the centuries hasn't kept valiant soldiers of the cross from filling in the ranks decimated by disease and premature death by murder. Civilians engaged in foreign service in this age can learn a lot from missionaries.
'Having A Wonderful Time …'
This summer we got remarkably few postcards from vacationers, and none of the ones that did come pined, "Wish you were here." What to make of this, we're not quite certain. It may be that those who got away were having too good a time to miss us, but we prefer to think there is some other explanation. Perhaps the venerable device for convenient communication was just too old to make it. After all, the English postcard celebrates its centennial next month. It has had a useful life, and if it totters a bit with age, who can blame it?
Or maybe people are using postcards less in an effort to enjoy privacy more. It was part of George Jean Nathan's American Credo in the twenties "that the postmasters in small towns read all the postcards." Now that intrusions into what people once considered private matters are becoming commonplace, maybe Americans have conspired to make at least some news personal. If so, we're inclined to cheer a bit in anticipation of possible new vitality for evangelism. While the combination of human curiosity and public postcards may sometimes be useful for communicating Christianity, it can never stamp out a personal witness to "things into which [even] angels long to look."
Tortoises For Truth
"I only took the regular course," the Mock Turtle told Alice in Wonderland. It included "Reeling and Writhing, of course, to begin with, and then the different branches of Arithmetic—Ambition, Distraction, Uglification, and Derision."
Maybe no one read Lewis Carroll to contemporary students when they were youngsters, so they grew up expecting more than "Distraction" from their "regular course" of education. Yet they learned something well: though completely turned off by "the different branches of Arithmetic," they reel and writhe at the injustices of an imperfect world.
That lesson they have had to teach their teachers. But unlike the psalmist who had "more understanding than all my teachers [because] thy testimonies are my meditation," most students of the seventies have found their inspiration anywhere but in Scripture. Still, truth is truth, and they might be surprised to discover that many of their concerns—love, peace, fairness, and justice—are biblical. Wise Christian teachers and students will take that knowledge to those reelers and writhers back in school this month. Even tortoises can be winners.
In Pursuit Of Peace
Much of the world was gratified when the Arab-Israeli ceasefire took effect. Many hoped it would lead to a permanently peaceful settlement of a complex and deplorable situation that could touch off World War III. The ceasefire was based on the principle, assented to by the various parties, that no change would take place in the military situation that would disadvantage either Egypt or Israel.
Subsequently it became quite clear that Egypt, presumably with the help of the Soviet Union, had installed more missiles in the Suez Canal region after the ceasefire took effect. This violation of the ceasefire agreement constituted a military threat and created a substantial change in the balance of military power. The Israelis had every reason to be alarmed, and the United States' failure to demand immediately a return to the status quo ante gave them further cause for fear. Worst of all, the violation was a breach of faith that seemed to show that Egypt and the Soviet Union cannot be trusted to keep their word.
The situation in the Middle East deteriorated still further in a rash of airliner hijackings and Israel's break-off of peace talks. Some dared to hope that a visit to the United States by Golda Meir would help to shape a better strategy for peace.
In the end, however, all agreements between men and nations have little validity if they are not made with integrity and if there is cause to suspect that they will be breached. The experience of those who have done business with the Soviet Union indicates that this nation operates on a purely pragmatic basis, keeping its agreements only as long as they serve its purposes. In the philosophy of Communism the end justifies the means. The Egyptians seem to have learned this lesson well from their sponsors, and so it appears likely that the Israelis will still have to maintain a substantial war machine even if a peace treaty is signed, against the possibility that the Soviets and the Egyptians might annihilate them if they leave themselves vulnerable.
Any lasting peace agreement will have to be guaranteed by power structures. Unfortunately, the United Nations seems unable to perform this role. Therefore Israel has only the United States to look to for adequate support and defense, and it is highly unlikely that the Israeli government will agree to any settlement that does not carry with it the assurance of U. S. help and protection. Even Senator Fulbright, an ardent Viet Nam dissident, has recognized this; he has called for a treaty arrangement that could lead to U. S. involvement in the Near East beyond anything we have done in Viet Nam. If the United States does make such a commitment, and it appears inevitable, we should remember that it may someday require the use of our manpower and vast resources. If the United States were to decide against such a commitment, Israel would be doomed, for the combined power of the Soviets and Egypt would bring them military victory.
Mcintire'S Unholy Alliance
Carl McIntire, organizing another pro-war rally for October 3, billed South Viet Nam vice-president Nguyen Cao Ky as the main speaker. No one can overlook the implications of this move, coming as it does at election time, and Ky's involvement clearly has explosive possibilities. Moreover, McIntire has seized the initiative from the National Council of Churches and has upstaged them at their own game on the Washington scene, though his stance is opposite to theirs.
McIntire's October 3 effort must leave thoughtful Christians a bit dazed. This is the man who consistently labels Billy Graham and other leading evangelicals "compromisers" because they work with evangelicals in denominations that McIntire calls apostate. Yet here is McIntire bringing together masses of people who share his war views but who could not possibly be in agreement with his theology. Is it not "compromise" for him to hold hands with those who are hostile to the Gospel or indifferent to it?
The most appalling aspect of this political venture, however, is that McIntire seeks to cloak it with the blanket of the Gospel. As a citizen, McIntire certainly has every right to hold a rally. But to identify such an unholy alliance with the cause of Christ, to seek to commit churches to it, and to give the impression that it has the support of deity is carrying things much too far.
We are not approving or disapproving his stand on the war itself. This is not the issue. We are saying that he does the Church a terrible disservice when he tries to tie it to a political goal.
Now'S The Time To Give
Call it what you will: recession, economic downturn, mini-depression, anti-inflationary drive, or temporary adjustment. Whatever it is, it is here, and giving to Christian causes has slowed down. Churches and particularly Christian institutions have serious financial problems at a moment when opportunities are numerous, expansion is called for, and inflation still takes a heavy toll. It is certainly the wrong time for Christians to retrench in their giving and to allow economic uncertainty to hinder the expression of their faith.
Scripture everywhere encourages believers to give and to do so liberally. While we would not advocate the tithe as a legal requirement, yet it seems to be an appropriate response for those who have experienced the grace of God in Jesus Christ. A tithing people of God will provide adequate finances for the support of every Christian endeavor. Paul lays down the spiritual principle that "he who sows sparingly will also reap sparingly, and he who sows bountifully will also reap bountifully." Those who give cheerfully ("hilariously") will find that "God is able to provide you with every blessing in abundance, so that you may always have enough of everything and may provide in abundance for every good work." Paul also says, "You will be enriched in every way for great generosity" and "under the test of service, you will glorify God by your obedience" (2 Cor. 9:6–15).
Fear and a lack of faith in God keep many of his children from tithing. Their failure to give adequately keeps them in bondage, stifles their better impulses, hinders spiritual growth, and prevents them from reaping the great blessings God promises to those who sow bountifully in faith, looking for a rich harvest.
Many Christians have little because they give little. They are afraid to risk what they have by accepting God's challenge. God says, "Put me to the test—bring in the tithes, and see "if I will not open the doors of heaven for you and pour down for you an overflowing blessing" (Mal. 3:10).
Christian missions, churches, Christian colleges, and other Christian enterprises need money. They need it now! Why not put God to the test today?
Have something to add about this? See something we missed? Share your feedback here.
Our digital archives are a work in progress. Let us know if corrections need to be made.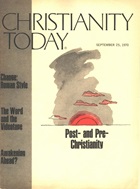 This article is from the September 25 1970 issue.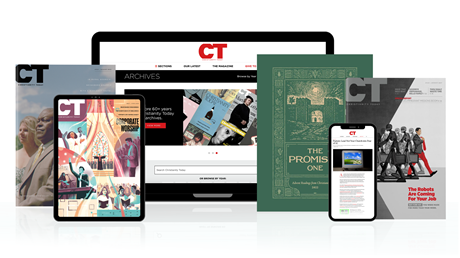 Annual & Monthly subscriptions available.
Print & Digital Issues of CT magazine
Complete access to every article on ChristianityToday.com
Unlimited access to 65+ years of CT's online archives
Member-only special issues
Subscribe
Awakening Ahead?
Awakening Ahead?