A Missouri Synod Lutheran official is being asked to lead what is intended to be the most intensive and far-reaching evangelistic effort ever attempted in North America.
He is the Reverend Dr. Theodore A. Raedeke of St. Louis, who has been secretary of evangelism for the Lutheran Church—Missouri Synod. Members of the Key 73 Central Committee chose Raedeke in a unanimous standing vote during a St. Louis meeting December 7.
Key 73 is the name given to the varied, year-long evangelistic project planned for 1973 all across the United States and Canada. Most of America's leading denominations are officially represented in preparational meetings.
"We feel that a coordinated, concerted focus on evangelism is long overdue and that the right time has come," Raedeke said. "A climate for evangelism has been established. People are becoming more and more concerned."
As executive director of Key 73 Raedeke will head a newly established national office in St. Louis. He is to assume the new job as soon as he can work out a transition from his duties with the Missouri Synod.
The Key 73 idea grew out of a series of consultations inspired by an editorial in the June 9, 1967, issue of CHRISTIANITY TODAY. The "key" comes from the locale of the first consultations—a motel on the Virginia end of the Key Bridge across the Potomac River from Washington, D. C. (the bridge was named after Francis Scott Key, author of the "Star-Spangled Banner"; he was a devout evangelical who had an important role in the spread of the Sunday-school movement during the nineteenth century).
Raedeke said that "under God Key 73 could be the greatest thing that has happened to our churches in this generation. Our goal is to confront people more fully and forcefully with the Gospel of Jesus Christ, by proclamation and demonstration, by witness and ministry, and by word and deed."
Raedeke, a native of Holloway, Minnesota, is a third-generation clergyman. Before coming to the Missouri Synod headquarters thirteen years ago, he served as a pastor in Oklahoma City, and in Duluth, Deer River, and Wayzata, Minnesota. He is a graduate of Concordia College in St. Paul, Minnesota, and Concordia Seminary in St. Louis. He is married and the father of five children.
Spiritual Bomb At Dallas
Dallas, Texas, will fairly explode with young people and non-stop spiritual training June 12–17, 1972. EXPLO '72, the student congress on evangelism sponsored by Campus Crusade for Christ International, is expected to draw 100,000, and perhaps as many as 250,000 for a closing outdoor rally.
Some 20,000 downtown hotel rooms have already been booked, and dorm space is being arranged at nearby colleges. Crusade president Bill Bright says the six-day congress is designed to "launch a strategy to train 500,000 people during 1972 for a spiritual explosion across America and around the world."
Mass meetings will be held nightly in the Cotton Bowl, with Billy Graham speaking; the sessions will be televised nationally. Morning workshops will be held in fifty spots around the city. The congress budget is $4 million. (Campus Crusade's national budget for 1970 climbed $3 million from the previous year to more than $15 million.)
Following the congress, month-long institutes of biblical studies will be held around the country to "train people in … spiritual revolution," according to Bright.
"EXPLO '72," the energetic former candy manufacturer said, "is a springboard to Operation Penetration, which will seek to train hundreds of thousands of college students who could reach all 3,000 college campuses in the United States and generate a movement for Christ that would sweep our country and the world."
If EXPLO '72 is no dud, Bright anticipates Crusade will have 10,000 staff members and a "Great Commission army" of 5 million volunteers by 1976, and the saturation of the entire world with the Gospel will be possible by 1980.
Crusade started when Bright and his wife, Vonette, began inviting college students into their home near the UCLA campus in 1951. The movement is now active on 450 college campuses in the United States and forty-five other countries. Growing at a rate of 35 per cent a year, the full-time staff now numbers 2,200. Workers raise their own salary support. Crusade's headquarters is a former luxury hotel at Arrowhead Springs in the San Bernardino foothills of southern California.
Paul Eshleman, 27, a Crusade staff member for five years, will head a thirty-man preparation team for EXPLO '72. Thousands of students are now leading a sign-up drive.
More than thirty denominations have committed themselves to participation in Key 73. About forty additional para-ecclesiastical organizations such as the American Bible Society and Campus Crusade for Christ are also involved. The projected evangelistic operation will mark the first time that denominations as diverse as Lutherans, Baptists, Methodists, and Pentecostalists have agreed to coordinate such an activity on a national scale.
Key 73 calls for the promotion of Christian witness at the individual and congregational as well as national level. Churches that join will decide the precise form of their own participation.
Key 73 leaders hope a depth of saturation can be achieved comparable to that aimed for in the Evangelism-in-Depth movements conducted in Latin America.
The St. Louis meeting of the Key 73 representatives heard Methodist evangelist Joe Hale say that a tentative calendar is emerging: 1971 is to be a time of presentation and interpretation; 1972 follows as the year of preparation. "There are some things we cannot do alone," he said. "We need one another. A united purpose in Christ is imperative if we are to arrest the attention of literally tens of millions of persons who do not attend churches or relate their lives in any way to God."
Hale called not only for prayer in behalf of Key 73 but also for training programs in prayer: "If 'Sesame Street' can teach a two-year-old the alphabet, why can't the Christian Church use this means to turn man to God, to teach a person to say 'Our Father'?"
The St. Louis meeting heard a finance committee report indicating that direct funding has begun. A number of denominations have already contributed.
United To Oppose Union
Emboldened by the recent unofficial poll that showed strong Anglican opposition to the proposed merger of the United, Anglican, and Disciple denominations in Canada (see November 20 issue, page 52), the Council for the Faith has accelerated its efforts to secure Anglican withdrawal from the union scheme.
The council, composed of evangelicals and Anglo-Catholics within the Anglican Church of Canada, was formed two years ago. Its chairmen are Dr. Carmino de Catanzaro (Anglo-Catholic), and Dr. D. C. Masters (an evangelical).
The council has challenged the contention of the Anglican negotiator, Canon R. R. Latimer, that an overwhelming number in that church support union. "We believe that if he were to conduct a secret ballot among Anglican congregations, he would find that a majority actually stand in opposition to the plan of union," Masters and de Catanzaro declare.
Speaking of the unusual alliance in the council, Masters says: "It seems to me important that people of diverse backgounds and from different schools of churchmanship have been able to achieve mutual sympathy and understanding." His Anglo-Catholic counterpart agrees and adds: "Whether you are an evangelical or an Anglo-Catholic, liberalism is the enemy."
No one discounts the possibility that a large body of Anglicans will stay out of the proposed new church to maintain a continuing Anglican Church in Canada.
LESLIE K. TARR
Chile'S New President Declares Attitude On Religion
Roman Catholic priests in Chile this year worked for the election of a Marxist, a professed atheist, as the country's new president. Yet several days before his inauguration November 4, President-elect Salvador Allende gave complete assurance that he will maintain religious freedom in the country, according to a report by the editor of the Chilean Evangelical Press.
In a dispatch to CHRISTIANITY TODAY last month, C. Peter Wagner translated Mario A. Gutierrez's article quoting Allende as telling a representative of the Catholic News Agency: "Father, you can inform your readers that religious liberty will be maintained during my government."
Twenty evangelical dignitaries attended a Thanksgiving service sponsored by the Catholic Church to celebrate Allende's inauguration. The event took place in Santiago's Metropolitan Cathedral a few minutes after the swearing-in.
Chilean Catholic Church leaders agreed a year ago to begin disposing of stocks, urban real estate, and agricultural land—all holdings except buildings used for worship. Church operations would be paid for by contributions, they said. Some young Catholics wanted to be still more radical, and supporters of the "Iglesia Joven" (Young Church) movement recently seized Santiago's cathedral to protest church policy and capitalism.
Backers of this movement, described in a U. S. News and World Report story last month, seek a church of "real believers," letting others slip into other faiths or no religion. The Iglesia Joven "community of faith" would be largely lay-led, with a few priests, who could marry.
Iglesia Joven supporters campaigned for Marxist-Socialist Allende, said U. S. News, despite his personal atheism and the fact that his two opponents were known as devout Catholics. Allende presented himself as a coalition candidate for the Popular Unity party, gaining support from Communists, the Radical party, and dissidents of the Christian Democratic party (MAPU).
During the campaign, Raul Silva Cardinal Henriquez, archbishop of Santiago, told Catholics it was entirely permissible for a Catholic to vote for a Marxist candidate. And Iglesia Joven members said Allende's promises to convert Chile into a socialist state and make other reforms were more important than his attitude toward religion.
Against this backdrop, then, what Allende said when Cardinal Henriquez presented him with a copy of the New Jerusalem Bible shortly before the inauguration takes on special significance. "In my opinion," said Allende, "the needs of an unbeliever are the same as those of Catholics, evangelicals, or Protestants. During my thirty years of public life I have known many believers who will testify to my respect for religion."
When asked his reaction to the celebration of a Te Deum Mass after the swearing-in, Allende said, according to the Chilean Evangelical Press, that he and his cabinet would attend but that representatives of all religious groups in the country should be included. The Te Deum was thus changed to a Thanksgiving service.
Those taking part in the service included Methodists, Pentecostals, Anglicans, Lutherans, and members of the Salvation Army. Presbyterian minister Joel Gajardo represented the "Protestant corps" of Allende's Popular Unity party.
Wagner's dispatch noted that the occasion marked the first time that the Chilean Protestant Church as a whole had been included in public government ceremonies. In past administrations, headed by persons who professed to be believers, no evangelical dignitary had ever been invited to participate in an important public gathering, the Chilean Evangelical Press Service report concluded.
Worth Every Penny, Too
Students at Loyola University-Marymount College in Los Angeles can get spiritual help on campus at a bargain rate: five cents. And they also get trading stamps, yet, at the spiritual-advice booth patterned after Lucy's psychiatric-help booth in the "Peanuts" comic strip.
"I went into it for the money," explains the Reverend Thomas Higgins, S. J., the new assistant chaplain at Loyola. (He raked in $2.10 for the four hours he spent the first two days at the booth.)
Seriously, Higgins added, he thought it would be a good way to get to know the students (it was) and a gimmick to get kids to sign up for a weekend retreat (some did). And some real spiritual problems surfaced, too.
Then, too, Higgins noted: "I don't have an office here … which I think is interesting."
Have something to add about this? See something we missed? Share your feedback here.
Our digital archives are a work in progress. Let us know if corrections need to be made.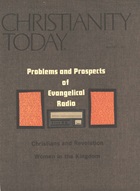 This article is from the January 1 1971 issue.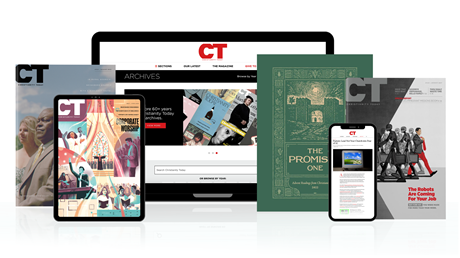 Subscribe to Christianity Today and get access to this article plus 65+ years of archives.
Home delivery of CT magazine
Complete access to articles on ChristianityToday.com
Over 120 years of magazine archives plus full access to all of CT's online archives
Subscribe Now
Unlocking Evangelistic Potential
Unlocking Evangelistic Potential