Referring to his ten-day campaign held last month at the Minnesota State Fairgrounds, Billy Graham asked, "Is the crusade over? If it is, it really shouldn't have begun." For many, the crusade certainly did represent not a completion but a beginning, a beginning of a new life as a new creature in Christ. Out of an aggregate attendance of 318,350, a total of 16,520 stepped forward at the evangelist's invitation. Appropriately enough, they stood on the track about where the starting line is for car races that are held there.
Behind the statistics lie moving stories of such matters as young people reconciled with their parents, or the profound compassion shown by a number of Christians in reaching those without Christ. One youth came to a School of Christian Writing sponsored by Graham's organization but also responded to the invitation to acknowledge Jesus Christ as Saviour and Lord.
As one who went forward at Graham's 1966 crusade in Earls Court, London, I was delighted to see, in another part of the world, so many converted in previous crusades whose lives demonstrated dramatically the lasting impact of trust in Christ. One was the Reverend John F. Anderson, pastor of Central Baptist Church, St. Paul. Another was Allen Palmquist, now a clergyman and a drug-educated specialist for the Minneapolis police, who showed his gratitude by chauffeuring Graham during the crusade.
The crusade itself was a panorama of activity. A Youth Evangelism Seminar dubbed YES 73 attracted 2,400 young people. Atheists picketed the opening service, and YES members made a peaceful counter-demonstration by forming a circle around some of the sign-carriers and singing "Amazing Grace."
As is true in most of Graham's crusades, the turnout of young people at the nightly meetings was remarkable. Some 40,000 were present for a youth night while "FOCUS," a Dutch rock group, played to a half-empty Orpheum Theater in Minneapolis.
Some 700 ministers and other Christian leaders enrolled in a school of evangelism held in connection with the crusade, and another 200 took the Christian writing course.
How does one account for Billy Graham the phenomenon? Any attempt to answer this question on a purely naturalistic basis is not sufficient. First and foremost, God the Holy Spirit seems to dominate this man. As Dr. Gordon Johnson, dean of Bethel Seminary, sees it, people flock to Graham because "somehow God has put his hand on this man in a unique way." Then there is the singleness of purpose. "Woe unto me if I do not preach the Gospel." Graham's ambition is to preach Christ and him crucified. He is an evangelist, one who tells the bad news about sin and the good news of the grace of God in the Gospel. He is not a teacher, though his evangelistic sermons contain teaching. He makes it his aim to confront every man with his responsibility to repent and believe the Gospel.
The crusade itself is a great educational experience. A minister never goes away without learning something about preaching, and that something may well be that his own preaching is overburdened with theological clichés and theoretical pronouncements. A minister learns that though Billy Graham may be speaking to thousands, he somehow seems to speak to each hearer personally. This direct presentation is not simplistic but reflects the very way our Lord reached his hearers.
Graham is not an expository preacher; rather, he interrelates biblical themes and "earths" them in contemporary events. His illustrations, whether biblical, historical, or topical, explode in the mind with a freshness of new morning.
His preaching has authority because he rests on the firm base of Christian theism and holds to the inspiration of the Scriptures. He does not echo the relativities of theological opinion but declares the absolutes of biblical revelation.
He also asserts the fundamental doctrines of Christianity—creation, fall, and redemption. The cross is never far from his lips, and the resurrection is never far behind, In his preaching the New Birth is given great emphasis, but it can be given this emphasis only when it flows from an orthodox framework that holds all this together.
Further, his approachability is evident. He is Billy, and he immediately generates love and concern for all with whom he comes in contact.
Dean Robert Roth of Northwestern Lutheran Seminary accounts for Graham's popularity in these terms: "People are afraid and he gives them reassurance. His message is very comforting, and puts a kind of divine stamp of approval on the American way of life." I disagree. Graham does question the direction of American life, and unlike most people he is able to communicate effectively to the majority of Americans.
Graham's team rejects the notion, popular in some quarters, of rejecting organization. (Some Christians say it is more spiritual just to let things happen.) The team is composed of men and women with various gifts that are exercised to the glory of God.
Walter Smyth, director of crusades, quotes Graham as saying that with the organization anyone could preach and God would bless. He disagrees, but there is a certain amount of truth in the statement. When Christians in many churches are mobilized, great things can be accomplished. The Billy Graham Upper Midwest Crusade, as it was called, involved the help of perhaps 70,000 people.
In an interview, Graham said that reports of his impending retirement were false. He did admit that he found outdoor crusades very strenuous. Television, he added, puts on even more pressure; but though he loses some liberty with the medium, the rewards are great. Graham said he plans to concentrate on auditorium crusades, where he has closer contact with the congregation.
I asked him about evangelical church unity: crusades seem to bring believers together for a short time, and then they retreat behind denominational walls again. Graham said he hoped that the evangelism congress in Lausanne, Switzerland, next summer would give high priority to this issue, especially as it touches the third-world countries.
Graham also expressed renewed concern for Africa and in fact announced that the offering taken in the final meeting in Minneapolis would go to alleviate famine conditions there. Graham personally gave $1,000 to the cause and urged the crowd to do all they could to help. The total was $71,454.49. It will be administered by one of Graham's associates, Howard Jones, who has ministered in Africa many years.
The Reverend Amos Brown, president of the Minnesota State Baptist Convention and pastor of St. Paul's Pilgrim Church, said he was heartened by the announcement. Brown, who closed in prayer at the final meeting, had had discussions with Graham before endorsing the crusade.
Have something to add about this? See something we missed? Share your feedback here.
Our digital archives are a work in progress. Let us know if corrections need to be made.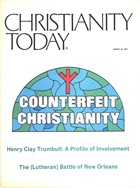 This article is from the August 10 1973 issue.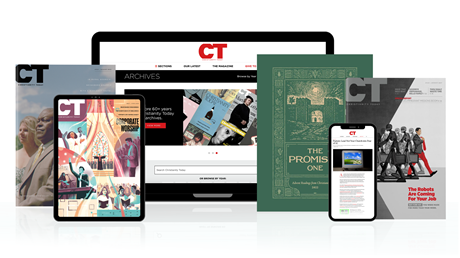 Annual & Monthly subscriptions available.
Print & Digital Issues of CT magazine
Complete access to every article on ChristianityToday.com
Unlimited access to 65+ years of CT's online archives
Member-only special issues
Subscribe
Souls on the Starting Line
Souls on the Starting Line