While the Commission on World Mission and Evangelism of the World Council of Churches was in Bangkok debating the meaning of "Salvation Today" (see February 2 issue, page 37), the World Student Christian Federation (WSCF) quadrennial assembly in Addis Ababa, Ethiopia, had no doubt about the answer: salvation today is the creation of a socialist society.
In unanimously approving a resolution to make "liberation" the theme for the coming quadrennium, the delegates declared:
The liberation struggle is one which is to be found in all our societies. Although it has various forms—for example, the struggle against sexism and racism—we suggest that these are all inter-related in the common class struggle against capitalism and its psychological consequences.
The ten-day meeting, the WSCF's twenty-sixth, drew fifty-five delegates from member movements around the world, and about one hundred alternates, staffers, and observers. The 78-year-old organization has participants in more than eighty nations. Founded by John R. Mott, it was originally Protestant but now includes Eastern Orthodox and some Roman Catholic student groups.
Reports from each of the six regions (North America, Latin America, Europe, Middle East, Africa, and Asia) gave analyses of the political realities in the regions and of the role of the various Student Christian Movement organizations in those political contexts. In general, that role appeared to be expressing solidarity with "anti-imperialist revolutionary liberation movements." The question of "Christianity identity" in this role—how the Christian movement is distinguishable from other groups on the left—was raised but never clearly settled.
Bible study, core of traditional WSCF activity, was reported as part of their programs by the African and Asian groups, but appeared to be a controversial matter in the other regions, and was not part of the assembly agenda.
In rapping U. S. policy in Indochina, the assembly affirmed its "solidarity with the heroic struggle of the freedom fighters in Viet Nam, not least the students of the Democratic Republic of Viet Nam, the Provisional Revolutionary Government, and South Vietnam." Other statements called for independence for Puerto Rico, expressed solidarity with the Palestinian liberation movement, opposed French colonialism and nuclear tests in the Pacific, and endorsed black liberation movements in white-controlled areas of Africa.
In its final hours, the assembly elected Feliciano Carino of the Philippines as general secretary, the top WSCF staff post. He replaces Risto Lehtonen of Finland. Carino has been the Student Christian Movement secretary in the Philippines and in recent years was on the staff of Commission on Ecumenical Mission and Relations (COEMAR) of the United Presbyterian Church. He is completing his doctorate at Princeton Seminary.
The assembly in a close vote elected Dr. Mercy Oduyoye of Ghana as chairman, replacing Princeton professor Richard Shaull. Dr. Oduyoye studied theology and history at Accra and took her doctorate at Cambridge. She has been head of the youth department of the Methodist Church of Ghana and a staff member of the WCC and of the All Africa Conference of Churches. Her nomination was contested ostensibly because of her absence (she was a delegate to the Bangkok consultation), but the opposition was led by European and Latin American delegates who wanted the chairmanship to go to a person more sympathetic to a "radical Marxist-Christian" stance.
Outgoing general secretary Lehtonen had observed in his report:
I believe we have now to wrestle much more seriously than in the past quadrennium with questions of the explicit witness to Christ, the meaning of the Gospel, and the significance and role of the Christian community, "the ecclesia." We have lived through a period of concerted emphasis upon the implicit Christ present anonymously in the world, upon the work of God outside the church, especially in political upheavals. With the desire to discern the signs of God's presence in the world and with the intention to become identified with it, we have been tempted to neglect his unique intervention in Jesus Christ and to fail to let it become the decisive factor in our own personal lives and in the lives of our movement. We have now to recognize that our work in the Federation at all levels is a response to God's call in Jesus Christ and therefore part of the witness and service of the wider church.
But his words seemed to fall on deaf ears.
Calmer Now
The tone is somewhat calmer, but the American Jewish Committee (AJC) is still upset over Key 73 evangelism efforts. Last month the AJC again asked Key 73 leaders to "respect the convictions and feelings of Jews," but it avoided inflammatory charges that Key 73 will lead to a new era of anti-Semitism, as has been suggested in the past.
The AJC also asked Key 73 leaders to disavow intentions to proselytize the Jewish community and to avoid implications that Christianity and America "are synonymous." The statement, approved by the organization's board of directors, complained that missionary approaches to Jews present Judaism as an incomplete or obsolete religion that has been replaced by Christianity. "Such a view is offensive to the dignity and honor of the Jewish people," said the AJC statement. It also acknowledged "the inherent right of all religious communities to propagate their faith in our pluralist society."
Carpenters' Children
Not since 1904, when the founder of the Zionist movement, Dr. Theodore Herzel, met with Pope Pius X, had there been a Jewish-Catholic encounter of such consequence. On Monday, January 15, Israeli Premier Golda Meir met for an hour with Pope Paul VI at the Vatican. The meaning and tone of the meeting became a matter of considerable dispute.
Arab and Communist sources saw the meeting as a Jewish bid for additional Catholic support and argued that Mrs. Meir's mission had failed. Conservative Catholic spokesmen were also eager to give the impression that the meeting did not represent any changes in Vatican policy.
Jewish leaders, on the other hand, generally saw the visit as a sign of increasing Vatican recognition of Israeli causes. For one thing, they would like the Vatican to abandon its support of the internationalization of Jerusalem. Perhaps out of deference to millions of Arab Catholics, the Vatican has never extended diplomatic recognition to Israel, though relations have been increasingly cordial in recent years. Some Jews, however, are opposed to such rapprochement. Among them are Mrs. Meir's political opponents in Israel, who characterized her visit to the Vatican as a "violation of dignity of the state." They demanded a discussion in the Knesset (parliament).
The most candid description of what went on in the papal apartment came from Mrs. Meir herself in an interview published several days later by the Tel Aviv newspaper Maariv: "I didn't like the opening at all. The Pope said to me at the outset that he found it hard to understand how the Jewish people, which should be merciful, behave so fiercely in its own country."
She was quoted as having replied: "Your holiness, do you know what my earliest memory is? A pogrom in Kiev. When we were merciful and when we had no homeland and when we were weak, we were led to the gas chambers."
According to the interview, the pope and the premier had an eye-to-eye showdown. "His eyes bored deep into me," she said, "and I looked back with an open, strong, honest gaze, and I decided I would not lower my eyes under any circumstances. And I didn't." She also described a colorful prelude to the meeting: "Before we went to the audience I said to our people, 'Listen, what's going on here? Me, the daughter of Moshe Meibovitz, the carpenter, going to meet the Pope of the Catholics?' So one of our people said to me, 'Just a moment, Golda, carpentry is a very respectable profession around here.' "
Religion In Transit
Drug-related deaths continue to climb. They reached 1,350 in 1972 in New York City, a record high, according to official sources. The figure is 1,000 higher than in 1960 and an increase of 100 over 1971.
THE MISSIONARY TOLL
Two American missionaries died in captivity in Viet Nam, according to data the Communists turned over to U. S. officials after the signing of the ceasefire agreement in Paris last month.
Both were taken prisoner at Ban Me Thuot during the Tet offensive that began in late January, 1968. Betty Olsen, a nurse who served under the Christian and Missionary Alliance, reportedly died on September 26 of that year at the age of 33. The date of death of Henry Blood, who worked with Wycliffe Bible Translators, was given as October 17, 1972. No other details were provided.
Miss Olsen was the daughter of missionaries working in Africa. Blood, 53, leaves his wife and four young children, who have been serving recently with Wycliffe in the Philippines.
Still unaccounted for are three missionaries seized at a CMA leprosarium in the Ban Me Thuot area in 1962. They have not been heard from since, and they did not appear on the lists of prisoners provided by the Communists in Paris. They are Dr. Eleanor Ardel Vietti, 45, the Reverend Archie Mitchell, 54, and Dan Gerber, 32.
Two Plymouth Brethren missionaries were taken captive by the Communists in Laos during a raid on Kengkok last October. Colleagues of Lloyd Oppel, 20, have told his family in Courtenay, British Columbia, that he was taken to a prison camp. There has been no word about the other, Samuel Mattix, 19, of Centralia, Washington.
In all, at least fourteen missionaries are known to have been killed in the Indochina war.
Churchgoing in the U. S. leveled off in 1972 after a rather steady five-year decline in attendance, according to a Gallup poll which found that 40 per cent of adults attended church or synagogue in a typical 1972 week.
The nation's divorces and annulments now equal more than one-third of all marriages each year, according to findings of the Department of Health, Education, and Welfare. Last year 2,196,000 couples got married; 768,000 got divorced. Last year there were 8.7 million children under eighteen in fatherless homes, says the HEW report.
Personalia
Pastor Stephen F. Olford of Calvary Baptist Church, New York City, has resigned after nearly fourteen years to become "minister at large" of Encounter Ministries, a radio and video project.
United Methodist minister Jim Coppedge of Eugene, Oregon, was fined $32 for shoplifting. He says he took the items as a protest action after failing to get the district attorney to act on a consumer complaint.
California State College science dean Robert Fischer and Stanford professor Richard Bube, both past presidents of the evangelically aligned American Scientific Affiliation, were named to the committee to edit evolutionary "dogma" from the state's science texts. Other members are Fuller Seminary professor David Hubbard, Seventh-day Adventist physician John Ford, and schools administrator Clarence L. Hall, all members of the state's board of education.
Historian W. Roland Foster will succeed Bishop Stephen F. Bayne as chief administrator of the Episcopal General Seminary in New York. A story by New York Times religion editor Edward B. Fiske says the school's current deficit is $175,000 (it has a $14 million endowment). There are a dozen Episcopal seminaries with about 900 enrolled; many leaders see consolidation ahead.
United Church of Christ minister William R. Johnson, the first self-identified homosexual ordained by a major denomination, was appointed executive director of the San Francisco-based Council on Religion and the Homosexual.
Radical Episcopal priest Richard York of the Berkeley Free Church has been forbidden by Bishop C. Kilmer Myers from giving any more sacraments "until further notice." The ban came after York presided at the marriage of anti-war personalities Jane Fonda, a divorcee, and Tom Hayden. Episcopal law dictates that divorced persons must have a bishop's permission to remarry. Miss Fonda did not.
A Churches of Christ in Christian Union minister, Thomas H. Hermiz, will become executive director of the Christian Holiness Association, succeeding O. Dale Emery.
World Scene
Twenty-seven doctors in Holland admitted practicing euthanasia after two others, a husband and wife, were brought to trial for giving the wife's mother a lethal dose of tranquilizer. The pair said the woman was incurably ill and "her suffering had become intolerable."
Soviet police forced an Associated Press photographer to destroy his film after he took pictures of Tricia Nixon Cox and her husband visiting a cathedral in Leningrad.
Professor Yigal Yadin of the Hebrew University in Jerusalem theorizes in a new book that the early Christians based many of their beliefs on a contrived theology held only temporarily by the Essenes, the people of Dead Sea Scrolls fame. Yadin's work is about the Temple Scroll, found in 1967.
Bishop Wenceslao Bahamonde, head of the 3,000-member Methodist Church of Peru, says the top priorities for his people are evangelism, a revitalized youth ministry, and an urban social program. He says many young people in his land are now involved in Bible study groups.
President Idi Amin of Uganda announced that all schools, churches, and mosques that belonged to the deported non-citizen Asians and British will be turned over to the respective national church bodies.
The thirty members of the Ghana Church Union Committee, representing Ghana's seven major Protestant churches (Anglican, Evangelical Presbyterian, Presbyterian, Methodist, African Methodist Episcopal, Mennonite, and Evangelical Lutheran), have approved a plan for merger. Target date: 1976.
Rhodesia's first "native" African Roman Catholic bishop, Patrick Chakaipa, 40, a tribal-language scholar, was consecrated before 20,000 in Salisbury.
Independent Pentecostal missionary Arnold Butler of San Jose, California, and his family have been deported by Israel, allegedly for inability to support themselves and for endangering the peace. Butler was arrested and fined $100 for causing an uproar when he handed out New Testaments at the Wailing Wall on Yom Kippur.
The World Council of Churches says it has sold all its holdings (market value: about $1.5 million) in 650 companies in the United States, Britain, Holland, and Switzerland that have investments in South Africa. These stocks are said to represent nearly 40 per cent of the WCC's holdings. Banks will be boycotted next. Meanwhile, the WCC granted another $200,000 to black-liberation movements in Africa through its Program to Combat Racism.
Concern is mounting for the well-being of missionaries and other Christian workers in the southern Indian state of Andhra Pradesh, scene of violent clashes over government policy in which dozens have been killed and hundreds injured.
Jordan has asked the Soviet Union to end Soviet Jewish emigration to "occupied Palestine" because the migration "constitutes a great danger to the Palestinian issue."
Western radio broadcasts, many of them with religious themes, were attacked in an article in the Soviet trade-union newspaper as "purposeful propaganda of militant anti-Communists striving to undermine socialism from within." It mentioned broadcasts of Trans World Radio, Far East Broadcasting Company, and other mission stations in addition to those of government-backed agencies.
Bishop Lesslie Newbigin of the Church of South India says the church ought to give up its constitutional rights to run its educational institutions without government control so that action can be taken against cases of malpractice and corruption that crop up. If not, the government will take over, he warned.
Two Catholic priests in custody in Mozambique for more than a year were to stand trial before a military tribunal for alleged anti-Portuguese activities (they claimed Portuguese soldiers in the northern war zone had committed atrocities). Meanwhile, United Presbyterian executive William P. Thompson, head of the World Alliance of Reformed Churches, appealed for U. S. State Department intervention on behalf of the many other national church leaders and members detained there.
Have something to add about this? See something we missed? Share your feedback here.
Our digital archives are a work in progress. Let us know if corrections need to be made.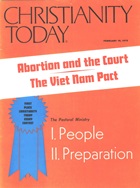 This article is from the February 16 1973 issue.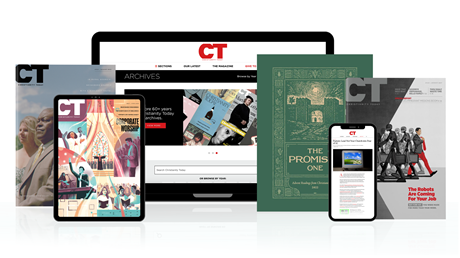 Subscribe to Christianity Today and get access to this article plus 65+ years of archives.
Home delivery of CT magazine
Complete access to articles on ChristianityToday.com
Over 120 years of magazine archives plus full access to all of CT's online archives
Subscribe Now
Saved from Capitalism
Saved from Capitalism