Dissident Russian author Alexander Solzhenitsyn says he would like to use his $79,000 in Nobel Prize money—if he ever gets it—to build a church.
Such is the mood these days among an increasing segment of the Soviet Union's population. After more than fifty years of atheistic indoctrination and outright harassment, religion hasn't gone away as Lenin predicted it would. Indeed, evidence indicates a recent upsurge in spiritual activity not only in the U.S.S.R. but throughout Eastern Europe. Worried Communist leaders are speaking out more often in reaction, and some are cracking down harder. They allege that religion tends to revive nationalism (the Soviet empire comprises scores of nationalities and language groups, many of whom dislike each other), and is bad for man's dignity, social awareness, and intellect.
It is difficult to assess the situation. Although the entrenched bureaucracies cling to the status quo, wide-ranging changes are taking place. Conditions differ from nation to nation. Some allow more religious freedom than others—but almost always with strings attached. Most countries allow the printing or importation of Bibles—in severely limited quantities. Poland allows the Catholic Church to flourish but does not permit the construction of badly needed new church buildings or the existence of a Catholic press.
In Hungary, where foreign books are sold openly and Western music is popular, a strong strain of the Jesus movement has emerged among the young. Transient workers have carried it to East Germany, where it has attracted many adherents, according to Bishop Kurt Scharf of the Evangelical Church of Berlin-Brandenburg. Scharf, after a recent visit to East Germany, said that despite much communist repression a number of congregations show "a resurgence of vitality." The quality of preaching is higher than ever and deeply Bible-centered, he said, and many people are "flocking to the Gospel." The government's anti-church policy (advance approval is required for Bible studies and other meetings, young people are warned they will be barred from university if they persist in their faith) is the best witness of the church's significance, he added.
Interviewed at a political rally in Munich, several youthful Marxists indicated they were frustrated over politics and bothered by a sense of deep emptiness. "Peace must begin in me and spread to the world," one reflected. "It cannot be imposed." Spiritually, multitudes of young Marxists like him are at the threshold of a new revolution.
Several informed observers insist that Romania and the U.S.S.R. itself are the two countries in all of Europe where Christianity is making its most spectacular strides. Romanian-American church leader Emmanuel A. D. Deligiannis a few months ago addressed packed-out large churches in Romania where nearly half in the audiences were under thirty. In an interview last month, a retired Baptist pastor from the Ukraine acknowledged that many young people in the Ukraine have been caught up in a spiritual revolution, with numerous conversions and baptisms recorded in the churches. (Youths under eighteen are forbidden by law to be church members or receive religious training. Nevertheless, some get baptized secretly.)
Pravda and the Red Star, an armed forces newspaper, have editorialized against the spiritual movement. The latter has carried several stories on Christian activity in the army, including one about a "Baptist sect" responsible for the conversion of many wives of officers and enlisted men. Another story named soldiers who apparently belonged to the Initsiativniki, or "unregistered" Baptists (many are pacifists). (Some have chosen to be unregistered for separatist reasons, others as a protest against strictures on religious freedom. Also, said the retired Ukrainian pastor, the state refuses to register many simply because it doesn't want the growth known.)
Reporter Paul Wohl in the Christian Science Monitor said that local newspapers in the southern and eastern soviet republics frequently report the activity of unregistered Baptists, Pentecostals, and Seventh-day Adventists and the sentencing of their leaders to long prison terms.
The unregistered believers do a lot of printing too—of Bibles, hymnbooks, and even a magazine, Fraternal Leaflet—on a clandestine press. A group known as the Council of Baptist Prisoners' Relatives regularly releases letters and documents containing precise information about persecution and imprisonment of believers. (Hundreds of evangelicals are in Russian jails.) These accounts in turn are often picked up and widely disseminated by mission agencies in the West.
One of the most recent of these is about the death of a soldier named Ivan (Vanya) Vasilevich Moiseyev, 20, a member of an unregistered Baptist Church near Moldavia. The army said the youth, an outspoken witness for Christ who kept a tape-recorded journal of his spiritual encounters, had drowned accidently in the Black Sea. But an autopsy ordered by the parents showed he had been beaten and tortured; there were large burns on his chest and deep punctures near the heart (see photo). Witnesses saw an army commander and men in civilian clothes kill the youth, say the parents. They published the report and excerpts from Vanya's journal in order, they explain, to call the guilty to repentance and summon the Church to increased zeal.
Sergei Kourdakov, 22, knows how tough it must have been for Vanya to stand up for Christ. Kourdakov says that as a Soviet naval cadet he worked for the police, leading drunken hooligans to break up Christian meetings, beat the believers, and bum their Bibles. Once they killed a pastor, he says. But the persistence of a teen-age girl despite repeated beatings and threats, a copy of the Gospel of Luke salvaged from a bonfire, and missionary broadcasts got him thinking. He listened to the broadcasts while serving as a radioman aboard a fishing trawler in the Pacific. (Hundreds of broadcasts are beamed weekly to Iron Curtain countries from six missionary stations.) The youth jumped ship off British Columbia in 1971, was granted refuge by the Canadian government, and on a visit to a Toronto Pentecostal church prayed to receive Christ.
MARRIAGE IN MOSCOW
Baptist writer Denton Lotz of Vienna, Austria, tells of an afternoon wedding he witnessed recently in the Moscow Baptist Church. First there was a two-hour worship service. Then, after a hymn, the young couple emerged from a room behind the pulpit and faced the congregation. Pastor Michael Zhidkov greeted them and gave a short sermon on the significance of Christian marriage. After an anthem by the choir, the couple knelt and prayed spontaneously, with fervor and clarity. Finally, the pastor issued the marriage pronouncement, and the entire congregation broke into a hymn of thanksgiving. The aisles filled with hundreds of well-wishers carrying bouquets of flowers, waiting while the pastors and elders offered their congratulations.
The joy of the occasion was heightened, says Lotz, because the groom had been converted and baptized in the Moscow church only a year ago.
Soviet watcher Michael Bourdeaux of England estimates that the unregistered Baptists have published at least 40,000 Bibles and New Testaments on their illegal press. Thousands more have filtered in from the West, but Bibles are still scarce and are thus hot items in the black market. (The Baptists have about 3 million members, Roman Catholics number 3.5 million, and the Russian Orthodox Church claims 30 million.)
Dozens of mission agencies, including some long-standing ethnic ones, work at getting the Gospel into the U.S.S.R. The shortage of Bibles has spawned a glamorous—and competitive—Bible-smuggling operation among a few agencies. In its December issue, Eternity magazine noted the hostility between L. Joe Bass's Underground Evangelism and Richard Wurmbrand's Jesus to the Communist World, examined a few questionable practices, and counseled readers to check carefully before sending dollars. Iron Curtain borders are so tight now that virtually every mission advises tourists not to engage in smuggling attempts, the article says.
Meanwhile, the religious activity and tension is building up in the U.S.S.R. Thousands of Jews have emigrated to Israel to escape the pressure, but the evangelicals have nowhere else to go. All they're asking is that their government abide by its own constitutional decree of religious freedom and the United Nations article it signed. That article states: "Everyone has the right to freedom of thought, conscience, and religion; this right includes freedom … to manifest his religion or belief in teaching, practice, worship, and observance."
Solzhenitsyn couldn't have said it any plainer. EDWARD E. PLOWMAN
The Bible In Bangladesh
In recent months about three dozen agencies have administered a multimillion-dollar relief effort in Bangladesh. But in contrast to this infusion of concern for material needs, the number of missionaries has dropped from 160 to fewer than 100, bringing the curtailment of many evangelistic activities.
However, International Christian Fellowship (ICF) last month dedicated a new evangelism center in Dacca. In addition to serving as mission headquarters, it houses the rapidly growing Bangladesh Bible Correspondence School. ICF official Phil Parshall says the school has received thousands of requests for an initial lesson and a copy of the Gospel of Luke, traceable to a vast literature-distribution program by Operation Mobilization.
Return To Cambodia
Less than eight months after he conducted the first evangelistic crusade in Cambodia's history, World Vision head Stanley Mooneyham returned to Phnom Penh in late November for a second series of meetings. As in the April crusade (see May 26, 1972, issue, page 32), there was spectacular response, with 2,600 professions of faith, many by college students. (In early 1972 there were only about 600 Protestants in the entire land.) At least 100 workers were on hand distributing literature and helping with follow-up—a glaring void in the earlier crusade. Few of the April converts have found their way into the Khmer Evangelical Church, the Protestant body in the land. This time, church members were better prepared, say officials, and converts will be contacted at least twice.
World Vision, which is building a hospital in the Cambodian capital, also announced an evangelistic plan for the Philippines, utilizing some of the manpower potential of the Jesus movement. Fifty volunteers, traveling at their own expense, will spend ten months in the islands in outreach and follow-up work. Co-sponsoring the effort is Duane Pederson's Jesus People International of Los Angeles.
The Pope'S Accident-Prone Publicity
Pope Paul suffers from an "accident-prone publicity department," according to a prominent Canadian Catholic bishop. In a special issue of the Catholic Register that dealt with Vatican II and the subsequent decade, Bishop Alexander Carter of Sault Ste. Marie cited the "needless irritation" caused when the Pope's declaration on the ministries of women was released. The Vatican publicity department, he suggested, seemed "determined to present the wrong image."
Bishop Carter's otherwise glowing picture of the state of the Catholic Church in the post-Vatican II era was the lead article in the issue.
Malcolm Muggeridge's Canadian Catholic daughter-in-law saw things differently. In a blistering article she asked, "What do you do when your Church leaves you?"
Mrs. John Muggeridge contended that the Protestant Reformation had actually triumphed within the Catholic Church. The tragedy, she added, was that the Protestantism toward which the Catholic Church is rushing is itself in "philosophical, ethical, and moral disarray."
Turning her acerbic pen to the bishop of Sault Ste. Marie, Mrs. Muggeridge notes, "Many bishops are working from within to destroy their church's unity. They assembled in October, 1971, at the Synod in Rome, these modern Cranmers, Latimers, and Ridleys, winning kudos from a world-full of approving liberals rather than the privilege of martyrdom. No slow fire for the Bishop of Sault Ste. Marie."
That and other turn of phrases must have warmed the heart of her father-in-law. One wonders, however, whether she would have been permitted to make her withering attack a mere ten years ago. And in the 143-year-old national Catholic weekly?
LESLIE K. TARR
Have something to add about this? See something we missed? Share your feedback here.
Our digital archives are a work in progress. Let us know if corrections need to be made.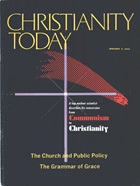 This article is from the January 5 1973 issue.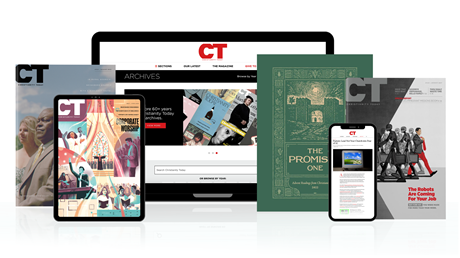 Annual & Monthly subscriptions available.
Print & Digital Issues of CT magazine
Complete access to every article on ChristianityToday.com
Unlimited access to 65+ years of CT's online archives
Member-only special issues
Subscribe
Deep in the Heart of Eastern Europe
Deep in the Heart of Eastern Europe