Something New, Something Old
In this issue of CHRISTIANITY TODAY the editors are calling to your attention umpteen thousand new significant books. So as a sort of antidote I'm calling to your attention one old significant book.
Don't be scared by the title: Orthodoxy. It has a certain thundering quality that doesn't really characterize the book.
Orthodoxy was written about 1909 by the magnificent G. K. Chesterton. It is the story of Chesterton's discovery and embracing of Christianity—"not an ecclesiastical treatise but a sort of slovenly autobiography," he says. The book is a joke on himself, he points out, as
… the man who with the utmost daring discovered what had been discovered before. If there is an element of farce in what follows, the farce is at my own expense; for this book recounts my elephantine adventures in pursuit of the obvious.… I am the fool of this story and no rebel shall hurl me from my throne.
Chesterton offers brilliant insights in a pithy way that makes Orthodoxy a priceless quotation source. These will give you some of the flavor and scope of the book.
On the mischief of misplaced virtues:
But what we suffer from today is humility in the wrong place. Modesty has moved from the organ of ambition. Modesty has settled upon the organ of conviction; where it was never meant to be. A man was meant to be doubtful about himself, but undoubting about the truth; this has been exactly reversed.… We are on the road to producing a race of men too mentally modest to believe the multiplication table.
On rebels and rebellion:
The Jacobin could tell you not only the system he would rebel against, but (what was more important) the system he would not rebel against, the system he would trust. But the new rebel is a sceptic, and will not entirely trust anything.… By rebelling against everything he has lost the right to rebel against anything.
On legends and history:
It is quite easy to see why a legend is treated, and ought to be treated, more respectfully than a book of history. The legend is generally made by the majority of people in the village, who are sane. The book is generally written by the one man in the village who is mad.
On democracy and tradition:
Democracy tells us not to neglect a good man's opinion, even if he is our groom; tradition asks us not to neglect a good man's opinion, even if he is our father.
On purpose in nature:
So one elephant having a trunk was odd; but all elephants having a trunk looked like a plot.
On naturalism and supernaturalism:
If it comes to human testimony there is a choking cataract of human testimony in favor of the supernatural. If you reject it, you can only mean one of two things. You reject the peasant's story because the man is a peasant or because the story is a ghost story.… It is we Christians who accept all the evidence—it is you rationalists who refuse actual evidence being constrained to do so by your creed.
And through all the book one senses the presence of the "tremendous figure who fills the Gospels," who "towers … above all the thinkers who ever thought themselves tall."
Long out of print, Orthodoxy is scheduled to be reprinted in March by Image Books, a division of Doubleday and Company. Blessings on their heads.
There you have it. It's my one old book against their umpteen thousand. Your priority is clear.
EUTYCHUS V
SPATIAL ENCOURAGEMENT
I wish to express to you my deep appreciation for the Key 73 articles in the January 19 issue. They are well written, positive, constructive, practical, and encouraging. The amount of space you have given to Key 73 is indeed very generous. I think it helps to underscore the importance of this great evangelism movement for Christ.
LOUIS C. MEYER
Chairman
Key 73 Metropolitan Planning Group
New York, N. Y.
The renewal is on! Praise God—1973 is already becoming a year of great spiritual awakening! We have many exciting Key 73 projects city-wide in Great Falls, and our local congregation is buzzing with renewed spiritual excitement. Weekly witnessing teams of lay people sharing Jesus Christ and more than 100 enrolled in adult education of Bible study and small-group discussions add to the spiritual enthusiasm. As a pastor, I am most grateful for the special Key 73 articles.
INGOLF B. KRONSTAD
Faith Lutheran Church
Great Falls, Mont.
In God's sovereign timing of things, the nation's flags will be flying at half-mast for the first two months of 1973. In God's timing it was also permitted that Key 73 is only now being launched across the country. What an excellent time for the Church to speak to the heart of a nation and call its people to search their souls and turn unto the Lord. By removing two of our beloved leaders in so short a span of time, is not the Lord giving America another opportunity to look unto him?
Translation
WM. CAREY MOORE
Editor
Wycliffe Bible Translators
Santa Ana, Calif.
To correct a possible misimpression, I appreciated Ralph D. Winter's Key 73 article very much on "Existing Churches: Ends or Means?," but I don't think that Jews for Jesus are a good case in point. We are very likely to join churches. Of our core group in Corte Madera, California, three-fourths are church members.
Our real problem is to maintain our Jewishness while becoming members of the church. We feel that we have an apostolic example. The early Jewish-Christians were certainly members of the existing church, but they also felt that they were part of the Jewish community and attended Jewish worship in the synagogue and in the temple. We feel we have something to give to the church in our own Jewishness. We refuse to consider ourselves separate either from the body of Christ or from Jewish communities. We are truly part of both.
Corte Madera, Calif.
MOISHE ROSEN
EASY, SWEET SIREN
When Reo M. Christenson states that "Hitler was staunchly opposed by many churchmen" ("The Church and Public Policy," Jan. 5), is he not slanting history a bit to his bias? Hitler's theme of the superiority of the northern white man was a sweet siren to most Protestants. The Catholics, with a broader racial constituency, endeavored to make an advantageous deal with Hitler. With Mussolini they succeeded.… Change for the better is difficult. Most of Christenson's article would lead us to forget and drop the difficult confrontation with the problems of society. Again the sweet siren of easy Christianity.
How many churchmen would have followed Jesus into Samaria, lived with the common people, denounced the orthodox and liberals (Pharisees and Sadducees), or dared to call Herod "that fox"? How many would be the suffering servant, daily fatigued by the crowds demanding to be healed, fed, and taught?
At least two-thirds of all Americans claim church affiliation. If this majority were to inject social justice or just plain honesty into government, most any system would work, especially democracy. But the churches cannot do that—they themselves are corrupt.
Elkhart, Ind.
CLAUS H. GEISEL
Since I have written occasionally in times past when I have been disappointed or in disagreement with articles you have published, I am pleased this time to write you of my great appreciation for "The Church and Public Policy." It expresses my personal view very well, and furthermore it represents equally well the historic and predominant attitude of the Mennonite Church. Needless to say, I was particularly gratified to read Mr. Christenson's forthright testimony against war.… I hardly expected to find an article like this in your pages.
I read also with much interest the lengthy interview article by B. P. Dotsenko. I note that you say in an editorial note that Dr. Dotsenko "belongs to a Mennonite church." Undoubtedly readers will be confused by his clearly nonpacifist views. It would have been more accurate had you said that Dr. Dotsenko belongs to a Mennonite Brethren church.… Needless to say also, I noted the differences of judgment between Dr. Dotsenko and my own article in Eternity on Bible smuggling, not to mention also Edward Plowman's report in the same issue. There is certainly room for such differences of opinion, but I do hope it is a service to the Christian readership to attempt to document and illustrate the issues to be weighed.
GERALD C. STUDER
Scottdale Mennonite Church
Scottdale, Pa.
WELL DONE
Thank you indeed for Letha Scanzoni's "The Feminists and the Bible" (Feb. 2). How exhausting it is as a Christian woman to know that in following Him one automatically encounters the displeasure of men who also say they live to do His will. Accepting this disapproval "in advance" does seem one way of carrying on—the difficulty being, however, wanting all the while for their fellowship now, without giving up hope of hearing one day His "Well done." Thank you for this start toward peace in the seventies!
ROBERTA GUNNER
Director of Education and Youth
House of Prayer Lutheran Church
Minneapolis, Minn.
WITNESSING TOURISTS
In "Deep in the Heart of Eastern Europe" (Jan. 5) you indicated that many groups involved in "Bible-smuggling" discourage tourists from taking Bibles [into Iron Curtain countries]. Our experience shows that within careful limitations, tourists carrying Bibles are one more effective manner of sharing God's Word with believers in Russia and other Communist lands.
L. JOE BASS
President
Underground Evangelism International
Los Angeles, Calif.
ALL THERE IS
You do me a grave injustice in your issue of November 24 ("Behind the Battle Lines: Missouri Synod's Troubled Campus").… If my response seems late, let me quickly add that Kenya, where I am now serving as visiting lecturer at the University of Nairobi, is a "fur piece." Copy gets here some two months after publication date.
[There is] a statement about surviving the Cleveland Convention of 1962. In point of fact, that question never came up. It certainly was farthest from my mind. The issue was, "What is the best course of action to take in a situation that had become totally irrational?" I know of no resolution which came before the convention calling for my removal from the faculty.The removel resolution is number 319 of the 1962 LCMS proceedings.—ED. That is sheer fabrication.… In the rest of the article [you are] certainly careless about truth or incredibly superficial in research. As late as September 20, 1972, students were coming to my office to provide information on doctrinal aberrations which disturbed them right then and there in the classrooms.
Professor Klein is quoted as saying that "forty-five faculty people stand together." But the full reason is not given. They stand together because they were politically compromised on April 16, 1970, to the extent that they could not possibly act on their own conviction now. Only a handful of men stood up on that day to resist one of the most outrageous totalitarian tactics ever perpetrated in the history of Lutheranism. Your story said nothing of this.… [You] quote Professor Klein as expressing an interest in confessional loyalty. That is, indeed, a new development. Four men in systematics who know something of what this involves deny that there is this interest. Did [you] ask?
Five of us have opposed the course taken by the administration of Concordia Seminary for the simple reason that we want no part in the political corruption which prevails there and in the fraud that is being perpetrated on our Synod. That's really all there is to it.
MARTIN H. SCHARLEMANN
Professor of New Testament Interpretation
Concordia Seminary
St. Louis, Mo.
*The removel resolution is number 319 of the 1962 LCMS proceedings.—ED.
Have something to add about this? See something we missed? Share your feedback here.
Our digital archives are a work in progress. Let us know if corrections need to be made.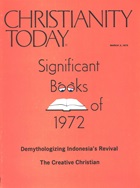 This article is from the March 2 1973 issue.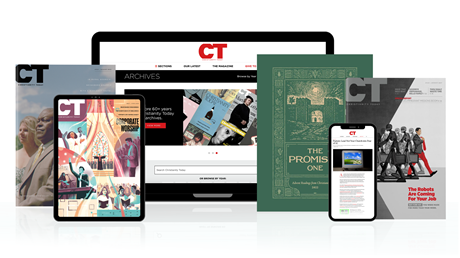 Subscribe to Christianity Today and get access to this article plus 65+ years of archives.
Home delivery of CT magazine
Complete access to articles on ChristianityToday.com
Over 120 years of magazine archives plus full access to all of CT's online archives
Subscribe Now
Eutychus and His Kin: March 2, 1973
Eutychus and His Kin: March 2, 1973