With twenty-five years of lawsuits, elections, lobbying, and propagandizing behind it, Americans United for Separation of Church and State (AU) is still not convinced that its message is getting through. At its silver anniversary celebration in St. Louis last month, the group's first and only executive director, Glenn L. Archer, warned that AU plans to exercise "eternal vigilance" in the coming twenty-five years to keep church and state segregated.
Primary issues for group members are parochaid and prayer in public schools. In both they see religious liberty at stake. They want religiously minded people to run their own shop without government involvement or finances—a principle they believe is inherent in the first amendment to the Constitution.
Archer, a native of Kansas, joined the fledgling group shortly after its founding in 1947. He was then a lawyer and budding politician. Much of the St. Louis convention was a tribute to Archer's efforts over the years; the tribute culminated in the presentation to him of a $6,500 Cadillac on the last night of the convention.
Now claiming support from nearly 90,000 members and 4,000 supporting churches, AU is a conglomerate of evangelicals, liberal Protestants, Christian Scientists, Seventh-day Adventists, atheists, and humanists, all united around the church-state separation cause, said a staff member. The organization works out of its own modern building in suburban Washington, D. C., a far cry from the early days when it had only $19 worth of furniture in a rented downtown garage.
Over the years, Archer said, the group has concentrated on legal activities: testing parochaid laws in court and forcing strict interpretations of the first amendment's establishment-of-religion clause. A secondary effort of the group has been vast distribution of pamphlets and books and publicity-garnering on radio and television. AU's programs, says Archer, "have definitely made an impact on the thought of the nation. The controversies which surrounded our activities have caused the American people to rethink what is good and bad regarding church-state separation."
Gone, he said, are the days when AU (formerly Protestants and Other Americans United) was charged with being anti-Catholic, anti-religious, anti-American, and pro-Communist. "We no longer get the barrage of emotional slogans thrown at us the way we used to," said Archer.
Delegates and staff members at the convention agreed the success of the organization is directly tied to Archer's unwavering belief in the cause. Once tagged as a possible state supreme-court justice and even a possible successor to Alf Landon as governor of his home state, Archer gave up everything to take over the new group. "I went through my own dark Gethsemane" in a struggle over "my career and the cause," Archer recalls. At the time he was dean of the law school at Washburn University.
In the years since, Archer has raised more than $12 million to fund the organization and fight its battles in the courts and at election time. In recent months, AU money and workers helped defeat proposed parochaid legislation in Maryland, Idaho, and Oregon. Later, AU won the right to fight removal of its tax-exempt status in court. (The IRS removed the exemption because AU used most of its $800,000 budget for lobbying—contrary to IRS rules. AU claims other, richer groups spend more but keep their exemption because lobbying money represents less of their budget, thus making the AU case discriminatory.)
Archer believes the Supreme Court has already made unambiguous decisions blocking direct federal aid to parochial schools. "The Court has said 'no' to taxation for religion … not 'no' maybe, but 'no' period." He is angered now, however, by attempts to get around the court rulings by "indirect" methods, such as proposals for tax credits. (Under a tax-credit scheme, parents with children in parochial schools would be allowed to deduct certain tuition costs from their federal income taxes.) Said Archer: "The courts are going to shut that off too," and AU will be there, briefs in hand, to help them.
Bishops For Disobedience
America's Roman Catholic bishops have come out for civil disobedience. In a pastoral message last month they advised disobedience of "any civil law that may require abortion" and threatened excommunication of any of the faithful who "undergo or perform an abortion." The civil-law part was directed primarily to medical personnel, said a spokesman. (Wisconsin is considering a law that could threaten the license of a doctor or nurse who refused to perform an abortion.) The recent Supreme Court pro-abortion decision, he said, places more pressure on women—especially the poor—to undergo abortion.
Humbard Bankrupt?
Rex Humbard's Cathedral of Tomorrow in Akron, Ohio, was hit by two potentially crippling blows last month. In separate suits filed the same day, the Ohio state commerce department and the federal Securities and Exchange Commission (SEC) asked two courts to severely restrict the television preacher's financial operations. Both allege that Humbard violated state and federal securities laws, and the SEC action in effect asks that the Cathedral be declared bankrupt.
The state was granted a temporary injunction freezing Humbard's assets and prohibiting him from spending more than $1,000 without state approval. The SEC asked the court to put the Cathedral into the hands of a receiver.
Humbard has been under investigation by both bodies as a result of unregistered securities sales in several states (see February 2 issue, page 39). Both suits charge that the Cathedral and its "lay ministers" (unlicensed securities salesmen) used "schemes and artifices to defraud." Specifically, the SEC complained, prospective investors were never told of the Cathedral's deteriorating financial condition. (The SEC said that the Cathedral sustained a $7.3 million loss in the eighteen months ending December 31, 1972, during which time securities sales amounted to $8.2 million, and that liabilities exceeded assets by $4.2 million at the end of the year.) Hearings on the SEC suit were scheduled for early March in Cleveland.
The state's injunction, granted in a county court, stops Humbard from selling securities, disposing of assets, soliciting donations, borrowing money, mortgaging properties, or giving salary raises to Cathedral employees.
Humbard declined to comment on the case because, said Cathedral lawyer Bruce Bower, "statements create more confusion." However, he added, the Cathedral expects the issues to be resolved "to the satisfaction of the state and the SEC" within a short time.
Ohio officials said they filed the suit in frustration over the failure of negotiations with Humbard to provide a fund for repaying securities holders who want refunds. They said Humbard was vague and wouldn't answer direct questions. The suit will force Humbard to answer those questions in court.
Outstanding
After Pastor Larry Rohrman of First Baptist Church, Jackson, Mississippi, was named one of the nation's "ten outstanding young men" by the U. S. Junior Chamber of Congress, two groups of blacks were denied entrance to the church's worship services. The church said it is open to all but "demonstrators and publicity-seekers." Black mayor Charles Evers of nearby Fayette called on the Jaycees to revoke their move, accusing Rohrman of racism.
Key 73'S Empty Hat
While many Key 73 officials are optimistic about the year-long evangelism program, they are also gloomy about the present financial state. "Financially, we're in a bad way—a real bad way," says Executive Director Ted Raedeke. Under the Key 73 set-up, operational budgets are covered by contributions from participating denominations and organizations while the programming budget is met by outside donations. As it is, only $100,000 of the $150,000 operations budget was met last year. "Some groups have not yet paid a cent towards Key 73," Raedeke complains.
Although it has engaged a fund-raising firm to get money for continent-wide projects such as television specials and films, the executive committee has declined to plan further programs. "Faith in Action," seen on more than 600 television stations last Christmas, cost almost $70,000 and was nearly canceled for lack of funds. Some bills are still unpaid.
The committee gave tentative approval to putting the Key 73 name behind an upcoming Pat Boone TV special but hedged on any definite financial commitment. The Boone show, "Come Together," was to be taped this month with an audience-cast of 19,000 in California. In the meantime, said Raedeke, the main thrust of Key 73 is in the hands of the local church and—as finances now stand—will get little or no further nation-wide exposure.
Churches In Court
The latest tug-of-war between a defecting congregation and denominational authorities involves the Tabb Street Presbyterian Church in Petersburg, Virginia. Hanover Presbytery filed suit to prevent members who voted to withdraw from the parent church body from keeping the property. The presbytery wants a court ruling to nullify the withdrawal action taken last summer by the congregation in an 87–26 vote.
Two Southern Presbyterian churches in Hopewell, Virginia, and another in Hampton have also been severing denominational ties. Both Hopewell congregations have tried to go "through channels," and the presbytery has been sympathetic to their withdrawal requests. The Hampton church, like Tabb Street, simply asserted its independence, and civil litigation ensued.
In Illinois, an appeals court overturned a lower-court ruling that what is now Forest Park Bible Church in suburban Chicago must return its property to the United Presbyterian denomination. The Presbyterian congregation was dissolved in 1968, and dissident members carried on as an independent church.
Best-Sellers: Bible And Bird
The Living Bible, a paraphrase by Kenneth Taylor of Tyndale House, topped the nation's non-fiction bestseller list last year, according to a report about hardbacks in Publishers Weekly. More than 750,000 copies of Doubleday's edition were sold to secular outlets, and Tyndale House sales of the $9.95 hardback edition reached the five-million-copy level. (Company spokesmen say that Doubleday hit the one-million mark this month, and that Tyndale has ten million copies of the Bible, including paper editions, in print.) Harper and Row's four-year-old I'm O.K., You're O.K. by Thomas Harris was second, with sales of 531,000 in 1972.
In fiction, three religiously oriented books made the top ten. First place went to two-year-old Jonathan Livingston Seagull (1.8 million copies sold), a positive-think book in which author Richard Bach—of Christian Science background—speaks through a bird's beak (see editorial December 22, 1972, issue, page 23). The Word by Irving Wallace placed fifth with sales of 123,000 copies. The recently published Two From Galilee, a love story about Joseph and Mary by Marjorie Holmes (see editorial, February 2 issue, page 25), made eighth place with sales of 93,000 for Revell in the last three months of the year. (The figures don't include book-club and direct-mail sales.)
Prayer Request
Alberta's opposition Social Credit party will again be led by an evangelical, maintaining a tradition dating back almost forty years. The new leader is Werner Schmidt, 41, academic vice-president of Lethbridge Community College. Schmidt, a member of the Mennonite Brethren, succeeds retiring Harry Strom, an active member of the Evangelical Free Church. Strom inherited the premiership of Alberta in 1968 when Ernest Manning stepped down after twenty-five years in the post. Strom's government was defeated by the Progressive Conservative party in 1971.
The Social Credit party first came to power in Alberta in 1935 under the leadership of William "Bible Bill" Aberhart, a Baptist who was well known for his evangelical radio broadcasts. Aberhart stayed in power until his death in 1943. Manning then took over both the premiership and the broadcasts, known as the "Back to the Bible Hour" (not to be confused with a U. S. broadcast with the same name). Manning, also a Baptist, is now a senator.
Schmidt has been widely quoted as saying that faith in himself, the party, and the wisdom of God will help him march Social Credit back to a role as "the people's government." He says his religious beliefs come from "studying the Bible and accepting what that book teaches." In his acceptance speech upon being elected party leader, Schmidt said: "For all of you who understand what it means to pray and for all of you who know how to pray, I have two requests. First, I would ask you to help me pray for the wisdom that we so desperately need and secondly, would you help me pray to be a humble man."
WALLY KROEKER
Dutch Windfall
More than 250,000 people swarmed over Holland recently, canvassing the homes of Dutch church members—both Protestant and Roman Catholic—for donations to missionary and relief projects not included in normal denominational or local budgets. Goal: 1 per cent of a family's annual income. Just past midnight on collection night, the organizers announced on national television that Dutch Christians had given over 52 million guilders (nearly $18 million) and more was coming in. Final results were still being tabulated last month, but it appears the fund drive overshot its 50-million-guilder goal by about $1 million.
At the request of Dutch missionary organizations, overseas churches had listed programs and projects they wanted to set up. The intent was to discover and delete white-imposed projects that third-world churches did not want or need; this would strengthen the national churches. Indonesian churches alone asked for over $10 million, a figure that was finally cut by two-thirds. In the end, 744 projects were accepted for the total cost of 50 million guilders.
At least one-third of this money will be used for missionary projects in which proclamation of the Gospel is the central aim. The rest of the money will be used for inter-church aid, construction of schools, hospitals, and agricultural centers, and support of mass-media projects and social-justice causes. Some of the money was earmarked for projects to increase communion among people of different races, cultures, and ideologies.
The gigantic fund drive was originally planned by the Protestant churches, but then the Roman Catholic Church asked to be included. The synods of the Protestant churches agreed. Only a few hyper-Calvinistic groups backed out over Catholic participation; such groups as the Baptists and the Evangelical Free Church gave full cooperation.
The organizing committee sent fifteen newspaper reporters, about ten radio journalists, and three television teams to Asia, Africa, and Latin America to talk to church leaders and members there. Their assignment was to find out why the requested money was needed. The visits resulted in many articles and broadcasts. Only one planned television program had to be canceled: when a TV team entered Indonesia, the Muslim-dominated ministry of religious affairs refused a working permit, apparently because of concern over the support that would be generated for the Christians.
Despite the cost of the news tours and of hiring at least eight persons to work on the campaign for a year, total expenses are not expected to exceed 7 per cent.
The theme of the fund drive was "Come across the bridge," an idiom that can be translated "Loosen your purse strings." In this connection, the most publicized remark of the fund drive came from a woman who knocked on a door and was offered five guilders (less than two dollars). She said: "Sir, I haven't come for a tip. I asked you for an offering. Keep your money."
Perhaps the most remarkable aspect of the drive was that Protestants and Roman Catholics were able to cooperate without getting into fights over theology—or money.
JAN J. VAN CAPELLEVEEN
Sailing, Sailing … Zap!
Chartered Caribbean cruises often are swinging affairs. But a recent one aboard the Norwegian M.S. Starward was "very unusual" and "very quiet," according to Captain Kjell Anker, the ship's master. During the two-week cruise, the ship's casino was locked. Heaped around its silent slot machines were boxes of religious books, cassettes, and records, which sold like hot cakes whenever they were brought out by a representative of Augsburg Publishing House. The ship's bars were open on a restricted schedule, but business was so slow fewer than half the regular number of bartenders were needed.
In the ship's Venus Lounge, songs like "Amazing Grace" and "Blessed Assurance" poured forth, and dancer Marge Champion, half of the famous dancing team of Gower and Marge Champion, gave rhythmic interpretations of "The Lord's Prayer" and Scripture readings at a contemporary worship service. Theologians, religiously oriented psychologists, and other scholars lectured as the ship sailed on. In the traditional "crazy hat and costume masquerade," participants dressed as biblical characters or wore costumes reflecting modern theological jargon.
The occasion for all this was an interdenominational "Seminar on Sea" (SOS), billed as a cruise that also provided a program of Christian renewal and continuing education. The seminar theme, "The Adventure of Being Human," was planned by a non-profit board headed by a Scottsdale, Arizona, Lutheran pastor, Conrad S. Braaten, Sr., who had nurtured the idea of a ship seminar for several years. It was subsidized by the ship's operators and the Lutheran Brotherhood insurance society. The latter gave seminar scholarships of $300 each to 100 pastors.
The 534 participants, faculty, and staffers came from thirty-nine states, Canada, and Guyana. About half were Lutherans, though a dozen denominations were represented. Two Lutheran bishops and one Roman Catholic bishop were among the 140 clergymen in the group. The faculty included Bruce Larson, a Presbyterian minister and president of Faith At Work, Columbia, Maryland, as dean; Episcopal clergyman Reuel Howe, director of the Institute for Advanced Pastoral Studies, Bloomfield Hills, Michigan; author-psychologist Keith Miller, an Episcopal layman; and Lutheran theologian Alvin N. Rogness, president of Luther Seminary, St. Paul, Minnesota. Topics ranged from personal faith, sex, family life, and new forms of worship to death, ecology, and "Caribbean Colonization and Development."
In a workshop on "Devotions and Sensory Awareness," participants learned from Howe how to use their bodies to show affection: practicing a kind of Christian sensitivity, they massaged each other's backs and feet while praying for their partners. To the beat of an orchestra in one of the evening "happenings," participants snapped their fingers, tapped their feet, and clapped their hands "to feel the driving beat of praise." There was handholding during prayer, hugging, and recitation in unison of an unusual benediction, "May the Holy Spirit zap you until you tingle with joy!"
At the beginning of the cruise, each passenger obtained a "soulmate" or "buddy"—a person he sought out as an opposite to his kind of personality revealed on a chart he had prepared. Each pair then joined three other pairs to become a group of eight that met daily to discuss the morning lecture at the "Big Family Hour." The object of the group dynamics that each group practiced was to help each individual, through self-analysis, become "a freer" and "a more whole person" and to relate better to other persons and to God.
Daily calisthenics were offered on the ship's deck. Asta Bertils Nelson, once prima ballerina of Scandinavia, led the "slim and trim" classes for the women, while Steve Myra, former linebacker and kicker for the Baltimore Colts, conducted exercises for men. Many swam in the ship's two pools, and some joined in the evening dancing.
The Starward called at six Caribbean ports. Itineraries included visits to churches, seminaries, universities, as well as general sightseeing, shopping, and swimming. In Kingston, two Lutheran dentists in the seminar filled in for a volunteer Jamaican dentist at an Episcopal-sponsored dental clinic in a housing settlement for the poor, pulling a dozen teeth of waiting patients.
The passengers were welcomed to Port of Spain by a steel band and attended Sunday services in four local churches. At the Roman Catholic cathedral, most of the Protestants attending found the service so congenial they responded to the invitation to receive Communion. Later, the local Roman Catholic archbishop and three Protestant religious leaders of Trinidad and Tobago, which some regard as the most ecumenically advanced nation in the world, took part in a panel discussion and led a service on the ship.
As the cruise neared its end, passengers shared in an Agape love feast—each feeding small pieces of bread to others in the seminar whom they wanted to thank or with whom they wanted to be reconciled. Passengers stood at a closing session and told how they had been helped by the seminar. A Presbyterian minister from Missouri said he and his wife joined the seminar because their marriage was in jeopardy. "Our marriage is now healed," he said. A Roman Catholic priest-psychologist from Chicago said the seminar had been "an extremely rich and broadening experience" for him and the bishop he accompanied. "We feel much closer to more people," he said.
Some of the pietists aboard were unhappy over the dancing, the drinking, and the language used by several lecturers. But for the most part, a good time was had by all—for $800 complete.
WILLMAR L. THORKELSON
Religion In Transit
The American Baptist home-mission unit paid $20,000 to the Wisconsin Evangelical Lutheran Synod (WELS) on behalf of Denver's predominantly black Church of the Good Shepherd, which had stopped payments on the building it purchased from WELS. The church in lengthy litigation has contended the property "belongs to God."
The U. S. Supreme Court let stand a lower-court ruling that denies use of peyote to New Mexico's 400-member Church of the Awakening. An Arizona court meanwhile reversed the conviction of a California couple who used the drug in a ceremony of the Native American Church, which got congressional approval for use of peyote in 1965.
Sunday-school materials stereotype women as passive, subservient, morally weak, and dependent upon men, reports a joint committee that studied curricula of the Disciples of Christ, Episcopal, Reformed Church in America, Southern Presbyterian, and United Church of Christ denominations. What's worse, most of the authors are women, says the committee.
In a poll, thousands of members of the Associated Gospel Churches in Canada declared by a 90 per cent majority their opposition to the abolition of capital punishment, currently under review by the government.
Lack of capital is blamed for the failure of the Christian Inquirer, published more or less monthly for over a year in Toronto. The sixteen-page tabloid will be taken over by International Christian Communications, a non-profit corporation.
The Society for Animal Rights has launched a lawsuit challenging constitutional protection of Jewish ritual animal slaughter. The group plus eight individuals contend the Humane Slaughter Act of 1958 violates the first amendment by providing protection for the dietary preferences of one religious group. Meanwhile, the American Jewish Congress has said it will fight the lawsuit in federal court.
The Plan of Union, five years in the making, was presented last month to the executive bodies of the Anglican, United, and Disciples of Christ denominations in Canada. Years of discussion, modifications, and voting must yet take place before the merger affecting four million persons can take place.
A New York Times story says Libya lent American Black Muslims $3 million interest-free last year but refused, under pressure from other Arab states and Arab students in the United States (they don't think Elijah Muhammad is a prophet of Allah), a request for a second loan.
Leaders of a movement to defeat Lutheran Church-Missouri Synod president J. A. O. Preus for re-election claim there is enough opposition strength to vote in radio preacher Oswald C. J. Hoffmann instead. Meanwhile, the board of Concordia Seminary in Springfield, Illinois, endorsed the contested doctrinal guidelines Preus laid down to Concordia Seminary in St. Louis.
Bethel College and Seminary dedicated its new $21 million campus in suburban St. Paul, Minnesota.
Among the thirty new cardinals nominated by Pope Paul VI were three American archbishops: Humberto S. Medeiros of Boston, Timothy Manning of Los Angeles, and Luis Aponte Martinez, the first Puerto Rican cardinal in Catholic history.
The Catholic protest-letters campaign over comedy episodes about abortion and vasectomy on TV's "Maude" led at least four of the show's sponsors to withdraw, but CBS says it had no trouble finding new sponsors. Meanwhile, the Leadership Foundation (4808 Cleveland Park Station, Washington, D. C. 20008), a citizens' monitoring group, is enlisting volunteers to keep an eye on TV morals.
Personalia
Pastor Wilbert L. McLeod of the Ebenezer Baptist Church in Saskatoon, where the western Canada revival flowered into international attention in 1971, has resigned to engage in full-time revival ministry.
Jose Gonzales, 33, a Presbyterian layman who is an executive of a Mexico electronics firm, is the new presidentelect of the Latin America Mission-related Community of Latin American Evangelical Ministries (COLAEM). And Nicaraguan clergyman Rafael Baltodano, 55, will be COLAEM general secretary, succeeding W. Dayton Roberts.
Information officer O. Joe Olson of the Church of the Nazarene was dismissed "without a written or vocal reason" after briefing a newsman on the outbreak of tongues among Nazarenes, whose official church policy is anti-tongues.
F. Roy Coad, prominent Bible teacher and author in Plymouth Brethren circles, is the new editor of the British-based Brethren magazine, The Harvester.
World Scene
The World Council of Churches sent nine tons of medicines and medical supplies by plane to Hanoi.
The Gospel Missionary Union has put out an urgent call for teachers, translators, and literature workers to help with a revival going on among Quechua Indians in the Andean highlands of Ecuador. For seventy years the Quechuas made little response to missionary contact. Now there are sixteen churches and a score of unorganized groups with only seven ordained Quechuas to serve them.
A cumulative attendance total of more than 100,000 and 3,200 first-time decisions for Christ were registered at evangelist Luis Palau's four Guatemala crusades. In addition, he did simultaneous live talk shows over the nation's three TV networks.
The conversion of Muslims continues in Nigeria's Islamic heartland, reports Sudan Interior Mission. Former Muslims in a number of villages now meet in their own churches.
DEATHS
WILLIAM P. BARNDS, 68, Episcopal bishop of Dallas; in Fort Worth, of a heart attack.
PAUL P. FRYHLING, 61, pastor of First Covenant Church, Minneapolis, vice-president of the Evangelical Covenant Church of America, and chairman of the 1969 U. S. Congress on Evangelism; in Minneapolis, of a heart attack.
WILLIAM JONES, 71, editor for twenty-five years of American Sunday School Union publications; in Wayne, Pennsylvania.
DONALD B. MARSH, 69, Anglican Church of Canada bishop of the Arctic, a 2.7-million-square-mile diocese that includes as members, among others, 80 per cent of the Arctic's 12,000 Eskimos; in London, England.
PAUL MYERS, 76, better known as "First Mate Bob" on the "Haven of Rest" broadcast he founded in 1934; in Tustin, California, of the London flu.
STEPHEN TROVEN NAGBE, 39, appointed in 1965 as youngest bishop in the United Methodist Church and first indigenous bishop of the 23,000 Methodists in Liberia; in Monrovia, Liberia, after a long illness.
EWALD PERSCHEL, 66, general manager of the evangelical German publishing house Brunnen Verlag, Giessen, and a director of the St. Chrischona Mission; in Basel, Switzerland, of cancer.
J. MANNING POTTS, 77, retired editor of The Upper Room, a devotional guide; in Tampa, Florida, of a heart attack.
Have something to add about this? See something we missed? Share your feedback here.
Our digital archives are a work in progress. Let us know if corrections need to be made.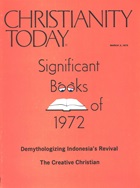 This article is from the March 2 1973 issue.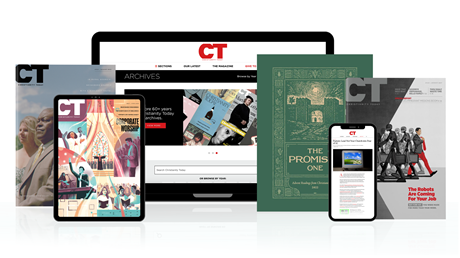 Annual & Monthly subscriptions available.
Print & Digital Issues of CT magazine
Complete access to every article on ChristianityToday.com
Unlimited access to 65+ years of CT's online archives
Member-only special issues
Subscribe
United for Separation
United for Separation