One of my favorite quotations comes from a Canadian humorist, the late Stephen Leacock. He tells about the hero who "flung himself from the room, flung himself upon his horse and rode madly off in all directions." Don't try to analyze the picture; just enjoy it. It won't stand up to critical analysis. Or try this one from the same author: "Falling in love is like swallowing a sunset." You either get the picture or you don't.
These quotations from Leacock came to mind a couple of days ago when I studied the cover of the New Yorker. A very serious young thing painting a sunset is holding up her brush as artists do to get the measure of the subject. Now just how do you go about getting the measure of a sunset?
There are splendid pictures of sunsets, which means that artists have been able to "reduce" the whole scene to canvas. But if the artist is wise, his picture is not a photographic production all neatly measured but a reduction that is open-ended and allows the viewer to appreciate the picture and then to see through the picture to what the sunset can be or must have been. The viewer, of course, brings with him his own appreciation and understanding of sunsets. But he doesn't come to analyze or criticize the technique of the picture unless his assignment is purely academic. He comes to appreciate and to grasp and happily to live with and feed upon what the artist has brought him.
Poetry was almost killed for me in high school by endless analysis and criticism. Shakespeare and Milton were almost destroyed in the same way. It seemed to me then that English literature consisted in looking things up in the back of the book. Later in Egypt I sat happily at the feet of Arch Owen, a great missionary teacher, and he simply read poetry to us as he might have played a piece of music.
There is endless theological argument about whether things in our holy faith can be defined. I think they can be so long as we know what we are doing. When we say that God is a spirit we are saying he is not matter or flesh, and this is a clear distinction and we have said a true thing about God. We have also said an open-ended thing, and the realm of the spirit must not be reduced unless the same thing happens as happened with the artist. The realm of the spirit must be handled in such a way that one is "in the spirit" (spiritual things are spiritually discerned). He is thus enabled to move far beyond what our definition has said. We define God not to limit him but to set him forth. The Bible seems to say that there are those who can see and there are those who cannot see, or again, "he that hath ears to hear let him hear." Are we in danger of analyzing and criticizing the Bible to death? "The word killeth, the spirit maketh alive."
IN MEMORIAM
Our good friend and faithful co-worker Addison H. Leitch died September 17 at the age of sixty-four. Our hearts and prayers go out to his widow, Elisabeth Elliot, and his four daughters.
The funeral service was held at Gordon-Conwell Seminary, the sixth and last school to have had Dr. Leitch on its faculty. His longest term was at Pittsburgh (then Pittsburgh-Xenia) Seminary, 1946–61, the last four of those years as its president. He had a Ph.D. from Cambridge. He wrote six books.
The name Addison H. Leitch (the H. for Hardie) has always been well known among readers of CHRISTIANITY TODAY. He was a long-time contributor to "Current Religious Thought," our anonymous "Eutychus II" for several years, and one of the magazine's editors-at-large. An essay of his entitled "The Primary Task of the Church" appeared in the very first issue of the magazine, October 15, 1956. Now, in another first-in-October issue, we publish the last piece he sent us, intended for use in "Current Religious Thought."
Add Leitch visited me in June when I was a patient at the Massachusetts General Hospital in Boston. We had a blessed visit together despite his grave illness and the debilitating side effects produced by the radiation therapy he had been undergoing.
A long-time friend of his wrote us recently to suggest the applicability of words Macaulay wrote of Charles Simeon: "… if he but knew with what authority and influence he swayed the church.… Who ever heard him deliver a dry sermon? Who ever had to listen to dull remarks in his conversation?" Not surprisingly, in a biographical data form we once asked him to fill out Addison Leitch listed as "a 'favorite' Bible … text," "A merry heart doeth good like a medicine." We miss that fine mind and devoted spirit and merry heart.
HAROLD LINDSELL
The other side of this whole discussion has to do with the person who is looking at the picture of the sunset or, more to the point now, the person who reads his Bible. It is an old and solid Reformed doctrine that the Bible must be treated as Word and Spirit. The Word without the Spirit becomes wooden. The Spirit-filled Christian uncontrolled by the words of Scripture becomes wild—what Calvin called a "frantic." This is a danger in many charismatic movements today. It is also a danger in many enthusiastic youth movements where singing and "sharing" crowd out the Scriptures.
If our thesis still stands up, then we see that in the larger sense one does not stop with the immediate text but includes the whole of Scripture, which introduces wider interpretation.
Think of a simple phrase like "by grace you are saved." There is no objection to a close analysis of grace and salvation, of course. I believe in exegesis. There is no question that the verse is literally word-for-word true. But how much it is enriched by the endless examples of Scripture, the endless experience of one's own life, the testimony of the Church, and the sturdy support of the creeds. And the end is not yet, because when one lives with the Bible and feeds on it he continues to grow up into his understanding of the grace of God and will probably some day have to sing about it in some heavenly choir because ordinary definitions of that grace won't do.
Some of this sounds like Tillich and his symbols and Tillich is always scary to fundamentalists and evangelicals, so why not try the word sacrament or sacramental? The bread and cup are literally what they are, and they are not changed into something else. Nevertheless, received in faith they communicate the Realities of the body broken and the blood shed; this is our expectancy and our hope at the holy table. In some sense also the words of Scripture communicate something larger than themselves, and all life in this sense can be thought of as sacramental. "The heavens declare the glory of God.… There is no speech nor language.…"
Have something to add about this? See something we missed? Share your feedback here.
Our digital archives are a work in progress. Let us know if corrections need to be made.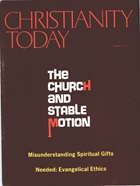 This article is from the October 12 1973 issue.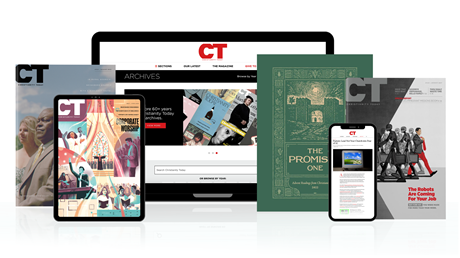 Subscribe to Christianity Today and get access to this article plus 65+ years of archives.
Home delivery of CT magazine
Complete access to articles on ChristianityToday.com
Over 120 years of magazine archives plus full access to all of CT's online archives
Subscribe Now
Addison H. Leitch: 1908–1973: Beyond Analysis
Addison H. Leitch: 1908–1973: Beyond Analysis