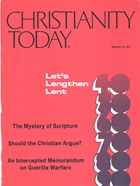 This article is from the February 15 1974 issue. Subscribers can read all of CT's digital archives.
It is 8:45 and Dr. Seymour Johnson, a forty-ish, exciting professor-author from the state university, summarizes the evening's lecture on "Ethical Values in an Unethical Age" by saying:
And so we conclude that the Indian, the Chicano, the Black, and the Italian have fallen heir to neither their constitutional nor statutory rights because Whitey, the only and ultimate source of value for ethnic groups in our country, has aborted his social, ethical, and legal responsibility.
You muse on this briefly, realize others are applauding, then pick up your notebook and coat and slip out the rear exit, remembering your 9:00 obligation elsewhere.
"But that's not true!" you say to yourself. "No man nor group of men ultimately provides the values and determines the worth of anyone else. God does that. If man did, it would require but a stroke of the legislative or judicial pen to deprive others of that worth, as indeed we see repeatedly in history. I'm going back to talk with him about that."
"No, maybe I shouldn't. He's a lot smarter than I am—I'd simply make a fool of myself. Besides, arguing only drives wedges between people; it never accomplishes anything. And he does have a right to his opinion."
So the opportunity to challenge a questionable statement slips through your fingers.
Some Christians think it is unseemly to argue about God's revelation in Jesus Christ. They may maintain that the Christian may discuss but not argue.
I will attempt to show, however, that (1) debate, argument, is a God-given method of inquiry, and is no more immoral than a plumber's wrench or the back seat of a Mustang, though both may be used for immoral ends; ...
1
Our digital archives are a work in progress. Let us know if corrections need to be made.
Should the Christian Argue?
Should the Christian Argue?