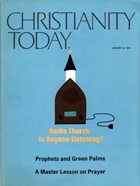 This article is from the January 18 1974 issue. Subscribers can read all of CT's digital archives.
Bribery in biblical perspective
Money talks, as we all know, and in recent months it has shouted itself into national prominence again and again. The use and abuse of money are matters of concern to us all. We try to keep up with phases and freezes and base prices, and worry over what it costs to put a tiger in the tank and a chicken in the pot. We shudder at towering interest rates. We are shocked by reports of Watergate "hush money," of illegal campaign contributions, and of government favors that could be bought. We are stunned by the departure from office of a man who allegedly took contractors' kickbacks not only while he was a state governor but even after he had become Vice-President of the United States.
These striking examples of the abuse of money provoke a question: What has become of the prophetic voice in society today? When confronted by the leaders of his day, Jeremiah weighed the options of hushing up or speaking out. He resolved, "If I say, 'I will not mention him, or speak any more in his name,' there is in my heart as it were a burning fire shut up in my bones, and I am weary with holding it in, and I cannot" (Jer. 20:9). Courage to speak the truth boldly is desperately needed in our day. It is time for the deadly silence and deceiving doubletalk to end.
"The love of money is the root of all evils," cautioned Paul. "It is through this craving that some have wandered away from the faith and pierced their hearts with many pangs" (1 Tim. 6:10). If the Bible were being written today, how would Paul expand on this verse? Would he not deal with such vices as hush money, black-market food operations, kickbacks from contractors to politicians, the fixing of speeding tickets, money on the side to building inspectors ...
1
Our digital archives are a work in progress. Let us know if corrections need to be made.
Prophets and Green Palms