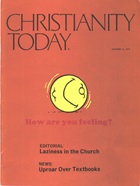 This article is from the October 11 1974 issue. Subscribers can read all of CT's digital archives.
"How are you feeling?" asks the friend of a sunburn victim. "Far too much," is the reply.
And so, it seems, are we all, in practically every segment of contemporary life, including education and religion. Emotional intensity (preferably coupled with verbosity) and subjective judgment are increasingly valued more highly than facts and logic to authenticate personal opinion, and truth is more often imagined to be spontaneously generated by passion than patiently discovered by reason. One need not look for evidence only at the more obvious arenas of mass group-gropes—at rock concerts, among shaven-headed groups hypnotically chanting "om," or in the "consciousness raising" courses of the "open" universities. The cult of feeling (or "sensibility," to give it its eighteenth-century term) has invaded the most unbrageous center of the groves of academe, and the innermost court of the temple of religion.
As to the former, there was recently offered (not on my own campus) a seminar in Shakespeare in which the teacher (the new term is "facilitator," or "change agent") repeatedly asked: "But how do you feel?" about this or that. One student, thus exhorted to lay down the burden of thinking, opined that, for him, subjectively, King Lear is a comedy, and the blinding of Gloucester hilarious. The slight impediment to this as a critical judgment—namely, that it is wrong—was not permitted to stanch the flow of gabble. Rather, the student was commended for the "freshness of his personal vision." The implication, of course, is that nothing that can be said about King Lear is, objectively, either right or wrong, but only either deeply felt (valid) or merely rationally demonstrable (irrelevant).
For obvious reasons, the cult of sensibility has ...
1
Our digital archives are a work in progress. Let us know if corrections need to be made.
How Are You Feeling?