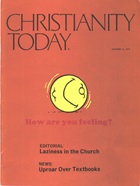 This article is from the October 11 1974 issue. Subscribers can read all of CT's digital archives.
Two experiences set me to thinking about the relation between poetry and the Christian faith. The first dates back many years, when I helped start a national quarterly, the Beloit Poetry Journal. For more than a decade I served as one of its editors. It didn't take long for word of the magazine to spread the poetic grapevine, and soon we were receiving close to twenty thousand unsolicited poems a year, of which we had space to print less than ½ of 1 per cent.
This, I suppose, was normal experience for a new magazine of verse. But as I took my turn screening poems, it struck me that the percentage of piety was very high for a period in history usually considered pretty secular. I wondered if some of the poets had heard that I had published books on various phases of religion in addition to verse, and that I served as a weekend assistant priest at the local Episcopal church. Maybe it was my combination of hats—English professor, poet, and priest—that helped provoke the flood of "Christian poetry" soon pouring across our editorial desks.
At any rate, most of the flood was awful. Awful, that is, if it aspired to be called poetry. Time after time I picked up a manuscript and found that it read as though someone had written a sermon or prayer and then, with the aid of a rhyming dictionary and a handbook of poetic forms, had set about converting it into a poem. Rhymes that sounded like afterthoughts were forced into fixed places, and the prose rhythm was tortured into some semblance of hymnal metrics.
The "message" always seemed to be the primary thing. The "poetry" was a kind of frosting applied to the doctrinal or devotional cake. In the great majority of cases, if the ...
1
Our digital archives are a work in progress. Let us know if corrections need to be made.
The Wary Witness of the Poets
The Wary Witness of the Poets