At times Explo '74, the five-day evangelistic training event sponsored last month in Seoul by Korea Campus Crusade for Christ (KCCC), seemed caught up in the swirling tides of national destiny. For example:
• Some 300,000 registrants—about 1 per cent of South Korea's population and 10 per cent of its Christians—were offered training in personal evangelism, discipleship of others, and effective Christian living. Heavy newspaper and television coverage included interviews with KCCC head Kim Joon Gon (in Korea last names are listed first); with these 300,000, said Kim, Korea can become "Christianized" within a short time and be the springboard for reaching all of Asia for Christ.
• The week before Explo opened, ten of Korea's top churchmen—including Explo's honorary chairman, Dr. Han Kyung Chik, retired pastor of the huge Young Nak Presbyterian church, risked prison and possible death in petitioning President Park Chung Hee to restore democracy and to release persons arrested under his emergency decrees for criticizing the government. Those under arrest, about 250 in all, included Christian students, clergy, and laity. A week earlier, leaders of the National Council of Churches in Korea (NCCK), some of them involved in Explo, threatened demonstrations if Park failed to relent.
• During the week that Explo opened, some 1,000 Protestants gathered at Seoul's Saemunan Presbyterian Church for a mild protest service based on the theme of liberation from all bondage. Also, 2,000 Catholics attended a mass to express their concern for Bishop Daniel Tji Hak Soun of Wonju, seized for allegedly helping to finance proposed student protests. But that same day stiff prison sentences were announced for Bishop Tji (fifteen years) and several other churchmen.
• On the second day of Explo, a Korean-born assassin from Japan failed in his attempt to kill President Park during Liberation Day ceremonies at the National Theater (August 15, 1945, marked the end of decades of Japanese rule of Korea), but he fatally wounded the attractive and popular Mrs. Park. Explo sessions included public prayers for Park and his family. The tragedy and a disclaimer of responsibility by the Japanese government opened old wounds and many of the 900 Japanese delegates to Explo found themselves the targets of hostility on the part of Korean Explo participants.
• At a press conference during Explo, Campus Crusade's founder and international director Bill Bright defended Park's crackdown on dissent on the grounds that it was in the best interests of national security from North Korea. His views were carried by the press worldwide, giving Explo in the eyes of many a political tint Bright had never intended.
• The funeral for Mrs. Park, a Buddhist, was more Protestant than Buddhist. Dr. Han—evidently still in favor with the president despite the protest letter—led in prayer amid Christian hymns. "We will be more firmly united because of this tragic event," Han told an Explo crowd the night before. A few minutes later Japanese clergyman Akira Hatori gave one of the main Explo addresses, helping to cement somewhat the fractured fellowship.
• Immediately after Explo, Park announced he had withdrawn a January decree forbidding all discussion and criticism of a 1972 constitutional revision giving him unlimited power and an April decree banning all dissent against his regime. The murder attempt proved his point, he said. But on the surface it seemed that Dr. Han and his fellow church leaders had won their point.
With or without the backdrop of national turmoil Explo was a notable event in modern church history, if for no other reason than the sheer numbers it attracted.Figures announced as official police estimates of attendance at the plenary rallies, held on a former airstrip on Yoida Island, ranged from 1.36 million on opening night to a high of 1.6 million on Saturday night and a low of 650,000 on Sunday afternoon. But both head-by-head row counts and seating-capacity measurements by reporters and Campus Crusade staffers indicated the largest crowd was closer to 300,000. Explo '72 in Dallas drew 85,000, mostly young people. As Bright pointed out to reporters, never before have so many people from so many lands met together for such a purpose (evangelistic training and "disciple building"). That it was held in a developing country like Korea and not the United States makes it all the more remarkable—and underscores the growth and vitality of evangelical Christianity in the Third World.
Nearly 3,000 foreigners, most of them young people, from eighty countries joined the tens of thousands of Koreans (the majority of them adults) for the event. Of these, 900 came from Japan, 700 from the United States, and about 200 each from Hong Kong, Taiwan, and the Philippines (the largest delegations in years to get exit permission from the latter two lands—but not without a lot of praying and stringpulling that continued right up to the last minute, said a Crusade official).
Explo was the outcome of a "vision" Korean Crusade head Kim says he had during a KCCC conference in Taejon in 1971 when more than 10,000 persons (6,000 of them university students) were trained in personal evangelism and led 16,000 others to Christ. He announced his plan on a visit to Explo '72 in Dallas.
Raised in a Confucianist home, Kim became a Christian as a teenager, joined a Presbyterian church, and after college studied at Korea (Presbyterian) Seminary in Seoul. During the Korean War Communist sympathizers beat his wife and father to death. Badly beaten himself, he managed to escape with his four-year-old daughter into the coastal mountains where, he says, he underwent a spiritual crisis that transformed him. He later sought out and led to Christ the Communist most responsible for the deaths of his loved ones (the man is today an officer in a Presbyterian church). Over the next years he served as a pastor and as a school principal, then traveled to Fuller Seminary in California for graduate study. Here he met Bright, who asked him in 1958 to return to Seoul and launch the Korean branch of Campus Crusade.
Beginning with a handful of part-timers and a commitment "without reservation to the total evangelization of Korea," Kim today leads a full-time staff of 120, assisted by thousands of college graduate volunteers. His offices are located in a $3 million 18-story building that KCCC built as a conference center in downtown Seoul in 1970. Here, says Kim, 50,000—up to 2,400 at a time—have received evangelistic training. KCCC maintains ministries at fifty-seven colleges and universities (95 per cent of Korea's campuses). Its outreach extends to 300 high schools in Seoul. An estimated 350,000 have attended nearly 4,000 KCCC-sponsored leadership training institutes.
Kim, 50, who aims to reach every Korean with the Gospel by the end of next year, has devised something he calls the "Village Plan Strategy." Half the nation's 33 million people, he says, live in 62,500 villages. The plan involves winning and training the two most influential people in each village, the primary school teacher and village leader, and getting them to establish study-discussion groups in village homes. Called sarang-bangs ("love rooms" in Korean), these home sessions often expand beyond Bible study, becoming dispensaries of information and aid in such matters as literacy, health, and agriculture, according to Kim. His goal is to link the sarang-bangs to local churches where possible. So far, about 18,000 teachers and village leaders have taken the five-day training course and already they report tens of thousands of conversions, says Kim.
KCCC also sponsors a Christian service corps, enlisting volunteer educational and medical teams to work—and evangelize—in villages during summer months. Another project is the establishment of "model" churches, schools, villages, and cities, where an entire unit is developed into a Christian community. Kim tells reporters that he means changed people will produce a changed society when he speaks of "Christianization" of the land.
Another of Kim's plans involves Explo follow-up. He wants every Explo delegate to recruit ten other Christians for evangelistic training this fall; each of these ten is then to "adopt" for witness and nurture ten non-Christians in 1975.
Formidable obstacles stood in the way of Explo. Although he is a friend of President Park, Kim had to hassle with the government into July before getting permission to allow more than 50,000 to assemble at one time. Similarly, schools and classrooms for housing and small-group instruction were provided only grudgingly. The army helped to erect a tent city to house 44,000 on Yoida Island in the Han River. To feed everybody, Kim invented giant ovens fed by steam from nearby apartments under construction on Yoida; they were capable of steaming enough rice hourly to feed 100,000. The food was trucked to the various housing locations across the city. Boy Scout troops were enlisted to help handle crowd control.
The six-denomination National Council of Churches of Korea refused to endorse Explo, even taking out a newspaper ad to say so. "The Graham crusade was a cooperative effort, but with Explo one man gives all the orders," commented an evangelical NCCK official. (He also knocked Explo for not including more emphasis on social justice.) Yet many of the local churches within the NCCK bodies gave strong support. Finally, says Kim, nearly 10,000 pastors of the nation's 12,000 churches took part in Explo. More than 6,000 attended the Explo conference for pastors, held in Central Full Gospel Church on Yoida (with a congregation of more than 20,000, the Assemblies of God church is one of the largest in the world.)
Delegates represented a cross-section of Korea itself: wealthy businessmen from the cities, poor farmers from the villages, many students, large numbers of middle-aged women. The long hours imposed on many Korean workers prevented larger numbers of men and young people from attending.
Why did they come? "So I can find out how to win my friends to Christ," said a high school girl in Tent City. "To help change my country," said a Myong Ji University youth (300 of the school's 3,000 students attended Explo). "I want to be a missionary to the Middle East," explained Chung Kwang Ho, a Presbyterian seminarian, "and that's one of the reasons I want this training." A middle-aged mother said she simply wanted to be better able to explain the Christian life to her Sunday-school pupils.
Days were spent in seminars and training sessions, nights at the mass rallies. On several occasions many thousands remained at the rally site for all-night prayer meetings. ("None of us from America has ever been exposed to such an unbelievable emphasis on prayer night after night," remarked Bright to reporters. "More than anything else, the Koreans have taught us how to pray," said a Japanese delegate.)
Armed with Korean editions of "The Four Spiritual Laws" and "How to Be Filled With the Spirit" tracts, participants fanned out across Seoul Saturday afternoon to present the Gospel to as many of its six million inhabitants as possible. A number of delegates brought back their new converts—sometimes shy, sometimes beaming—and introduced them at joyous tell-how-it-was sessions afterward.
When missionaries first arrived in Korea (Catholics in the late 1700's, Protestants one hundred years later) they found persecuted but thriving communities of baptized Christians. Bibles had somehow preceded the missionaries. Although Western hymnody and worship styles characterize the Korean Church today, the Koreans in the beginning got it started without Western help.
That's sort of how it was with Explo—and, say missiologists, how it may be in the future with the evangelization of much of Asia.
Graham Celebration
As part of this month's twenty-fifth-anniversary commemoration of the Los Angeles crusade that launched evangelist Billy Graham, Variety Clubs International (a charity supported by persons in show business) is sponsoring a testimonial dinner to Graham.
It marks the first time Graham has allowed a charitable organization to honor him.
Proceeds from the event will be used to purchase twenty-five vehicles in Graham's name for transportation of children between hospitals, orphanages, and other children's organizations.
Planned for the Beverly Hilton Hotel in Beverly Hills, California, the $50-a-plate dinner will kick off three evening rallies at the Hollywood Bowl to honor the evangelist. Co-chairmen for the Variety Club affair are film producers Mike Frankovich and Howard M. Koch.
Canada: Moving Toward Rome?
The twenty-sixth General Council of the United Church of Canada committed Canada's largest Protestant denomination to the pursuit of further church union. The council firmly stated its commitment to an ongoing process that began when the United Church of Canada came into being in 1925 through a merger of Presbyterian, Methodist, and Congregational churches.
This year's council predictably called for action on the Plan of Union designed to bring together the United, Anglican, and Disciples of Christ denominations. Then, in a last-minute spurt, the council adopted a resolution to "authorize the church to begin the long journey toward reunion with the Church of Rome." In the closing moments of the council that resolution, described as "a real sleeper" from the floor, was greeted with dead silence, then applause, and acceptance.
DEATHS
GEORGIA HARKNESS, 83, retired United Methodist theologian, author, and early women's rights crusader; in Claremont, California, of a heart attack.
W. A. MOORE, 105, Disciples of Christ minister, acclaimed as the oldest active clergyman in the United States (he preached sermons and performed marriages and baptisms until shortly before his death); in Tacoma, Washington.
ROBERT LEE CARVILL, 31, former editor of Vanguard magazine, a journal of the Toronto-based Institute for Christian Studies; in Toronto, Ontario, of leukemia.
The more immediate prospect of union with the Disciples and Anglicans was given general approval, and the council called for a special session next June to vote on the Plan of Union. Only three commissioners dissented. But the plan has hard sledding ahead in the Anglican camp.
This year's council, held at the University of Guelph in Ontario, selected a black minister as moderator. Dr. Wilbur K. Howard of Ottawa was one of eight nominees (including a female minister, a laywoman, and a layman). Howard, a 62-year-old bachelor, is the first non-white ever nominated for the church's highest post.
Despite the action on church union, some activists tagged this year's council "reactionary." The commissioners called for a reexamination of the church's policy on abortion. Then evangelicals rocked the boat by criticizing the church for lax doctrinal moorings.
The council expressed concern at the brutality in Brazil, South Korea, and South Viet Nam, and called for a boycott of California-grown grapes. On the other hand there was praise for the government of Portugal and its recent actions regarding its African colonies. On the domestic front, the council called on the Canadian government to curtail the use of food grains in the production of liquor and beer.
The denomination's magazine, The United Church Observer, continued an upward climb in circulation and added more than 10,000 new subscribers this past year to top 300,000.
This year's council brought together 453 commissioners, 148 of whom (including eight ministers) were women. The United Church of Canada has nearly two million members and adherents.
LESLIE K. TARR
World Council: Berlin Busyness
Fallout from the recent International Congress on World Evangelization (ICOWE), held at Lausanne, Switzerland, reached Berlin and a meeting of the Central Committee of the World Council of Churches nearly a month later. The Lausanne Covenant, signed by most of the ICOWE participants (see August 16 issue, page 22), was "enthusiastically" accepted for study at the WCC's upcoming Fifth Assembly according to some reports: WCC leaders called for more emphasis on evangelism in the ecumenical movement; and Bible study and prayer permeated business sessions.
At one point, delegates were moved to silent prayer after a presentation of the world food problem. They later created the Ecumenical Development Cooperative Society—a kind of church world bank—in which members would provide money for low-interest loans to developing nations. The target is $5 million to start, and WCC delegates expect to get that within six months.
After abandoning its plan to hold the 1975 Fifth Assembly in Jakarta, Indonesia (see August 30 issue, page 42), the 120-member committee tentatively selected Nairobi, Kenya, for the meeting, generally held every seven years, but delayed it from August to November or December.
In other actions, the committee voted to continue the WCC's controversial grants to African guerrilla groups under the WCC's Programme to Combat Racism. This year, $300,000 was appropriated for the fund. The committee also: asked for "effective and immediate" measures by the United Nations to end the Cyprus conflict; scored repression and misuse of power in South Korea and the Philippines; pledged $3.5 million for Indochina reconstruction; and accepted four new churches—Huria Kristen Indonesia and the Church of Sangir Talaud of Indonesia, the Protestant Church of Algeria, and the National Council of Community Churches, a 125,000-member, 125-congregation church based in Worthington, Ohio—as full member denominations, bringing WCC membership to 271.
Meanwhile, a group of Church of England ministers called on their church to withdraw from the WCC, which it accused of "false ecumenism" based on "humanistic world fellowship."
Bugbrooke'S Believers
The growing and widespread impact of the charismatic movement on religious life in Great Britain was featured in a special documentary aired recently on the Independent Television network. Entitled "The Lord Took Hold of Bugbrooke," the fifty-minute program studied the effects a dynamic Pentecostal church has had on the small village of Bugbrooke near Northampton in Central England. The story centered around the Reverend Noel Stanton, middle-aged Baptist minister gone charismatic, and his growing congregation of "committed believers."
Five years ago Stanton "had a vision" to evangelize the area. This involved a return to what he described as the simple, radical Christianity of the New Testament. His vision led him to preach total commitment to Christ, as well as to urge his people to receive the so-called baptism of the Holy Spirit, divine healing, and release from demon oppression. Subsequently, a struggling chapel was transformed into a congregation of more than 300 people with meetings five nights a week and most of the day on Sunday.
But, as the documentary points out, not everyone in the village feels that these developments are in the best interest of the community or of Christianity. The local Anglican vicar commented that he preferred a less emotional type of religion that stressed more the humanitarian virtues of old-fashioned theological liberalism. (His congregation of regulars numbers about thirty each Sunday, mostly elderly women.) Another villager, a businessman, expressed the fear that the believers' emphasis on sharing would ruin local capitalism if carried too far. A third, a young girl interviewed at the local discotheque, deplored the "strange swaying about" that went on in the church. A fourth leveled the more serious charge that those who had been converted during the last few years had lost all interest in the political and social needs of the community.
Despite apparent editing attempts to cast the Christians in an unfavorable light, three things came through loud and clear to viewers of the documentary: (1) the last five years of Stanton's ministry at Bugbrooke have produced some spectacular conversions to Christ (among the converts are former drug addicts, blasphemers, and actors); (2) there is genuine warmth, companionship, and friendship present in the community of believers at Bugbrooke; and (3) to some extent the chapel has organized care for the social and economic needs of believers by establishing "Jesus homes" run by families mature in the faith.
All things considered, despite some local hostility and obvious shortcomings, the Bugbrooke congregation seems to validate the sign that hangs across the front of its chapel: "Jesus Lives Today."
ROBERT D. LINDER
Religion In Transit
Transfer of radio station WCAS, Cambridge, Massachusetts, to Family Stations of Oakland, California, for a sum of $225,000 was approved by the Federal Communications Commission. The FCC, in rejecting protests from several groups that don't want the station's format changed from popular music to religion, noted that similar music was available on other stations in the Boston area.
The next big Billy Graham crusade will be held in Rio de Janeiro October 2–6 at the 150,000-seat Maracana Stadium. Some 10,000 choir members, 10,000 ushers, and 25,000 counselors are being organized.
The Jehovah's Witnesses regained tax-exempt status for their international headquarters in an appeals-court decision recently. The New York court rejected a 1971 decision that the headquarters building in Brooklyn was not used solely for religious purposes and was therefore not exempt. Under protest, the sect reportedly paid the city $2 million after the 1971 decision.
Personalia
New presidents: Southern Baptist pastor Randall Lolley of Winston-Salem, North Carolina, to Southeastern Baptist Seminary in nearby Wake Forest; psychology professor Colin D. Standish, Columbia Union College, a Seventh-day Adventist school in suburban Washington, D. C.; science educator and track coach Lloyd M. Richardson, Aurora College, an Advent Christian school in Illinois. Standish and Richardson were faculty members in the colleges they now head.
Greg Brezina, a six-year veteran linebacker for the Atlanta Falcons of the National Football League, has quit the players' association over this summer's football strike. Brezina cites the Bible and his commitment to obeying God's principles for the decision. Also in sports, Olympic gold-medal swimmer Shane Gould of Australia has publicly declared her conversion and commitment to Christ.
Denominational executive John Stapert of the Reformed Church in America will become editor of the Church Herald, an RCA journal, this fall.
World Scene
Protestant churches in Colombia grew 42 per cent between 1968 and 1973, according to a study initiated by the Confederation of Evangelicals in Colombia.
The most expensive hotel in Bombay, India, the Oberoi Sheraton, has a problem: visitors keep stealing Gideon Bibles. Since its opening a year ago, more than 200 of the hotel's 500 Bibles have disappeared, retarding Bible distribution to other Bombay hotels.
Have something to add about this? See something we missed? Share your feedback here.
Our digital archives are a work in progress. Let us know if corrections need to be made.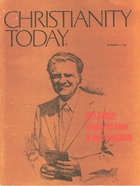 This article is from the September 13 1974 issue.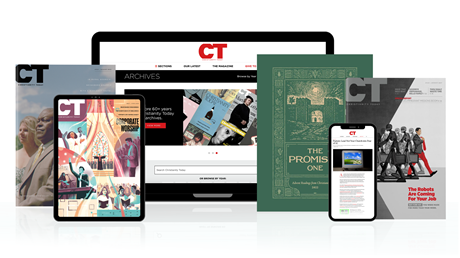 Subscribe to Christianity Today and get access to this article plus 65+ years of archives.
Home delivery of CT magazine
Complete access to articles on ChristianityToday.com
Over 120 years of magazine archives plus full access to all of CT's online archives
Subscribe Now
Explo '74: 'Christianizing' Korea
Explo '74: 'Christianizing' Korea