It was still dark, and the city was silent with the deep sleep of the predawn hour. An occasional swish of tires and roar of a motor were the only noises except for the barking of a dog. We were waiting for dawn, for the first grey light in which to see the Berlin Wall. Guards in the watch towers were wide awake, scanning the strip of dirt filled with barbed-wire traps and sharp spikes at any likely spot for jumping. Police dogs kept noses and ears alert as they paced in the strip like lions in cages. As the sky suddenly lightened and shapes emerged from the darkness, we saw a milk wagon with a tired-looking woman delivering her morning burden, and a man riding off on a bicycle. Lights appeared in first one window and then another—on the other side of the wall.
A wall? A wall in name and in fact, but one strange in construction. Pathetic remains of houses, only the first floor now, and uninhabited because of the many who jumped out of windows trying to escape, and pathetic remains of stores with bricked-up or boarded-up windows—these houses and stores are the wall. They had been inhabited for a time, their inhabitants walled in and walled out by what had been their own precious walls. Crosses and placards marked spots on the sidewalk of the West side where people had died. One eighty-seven-year-old woman had jumped in desperation to get out—out to the other side of the wall, out of her home that had suddenly become a prison. Curtains still fluttered in the windows of what had been her house.
The Berlin Wall. What a constant demonstration of man's inability in all his pride and power to bring about freedom and justice in what people so long have spoken of as "the civilized world." Man cannot even tear down a wall of feeble bricks and mortar, once certain choices have made it permanent! Walled in and walled out, and incapable of doing anything about it. Years go by.
Isaiah speaks with prophetic wonder of a time ahead about which we need to tell the "walled-in" people, whatever their walls may consist of, wherever in the world they may be:
Violence shall no more be heard in thy land, wasting nor destruction within thy borders; but thou shalt call thy walls Salvation, and thy gates Praise. The sun shall no more be thy light by day; neither for brightness shall the moon give light unto thee: but the LORD shall be unto thee an everlasting light, and thy God thy glory. Thy sum shall no more go down; neither shall thy moon withdraw itself: for the LORD shall be thine everlasting light, and the days of thy morning shall be ended. Thy people also shall be all righteous: they shall inherit the land forever, the branch of my planting, the work of my hands, that I may be glorified [Isa. 60:18–21].
There is coming a time, and a place, where we need not wait for dawn, because the Lord will be the everlasting light of that place. There is coming a time and a place where there will be no more violence or destruction, whether by armies or by volcanoes. There will be walls—marvelous walls called "Salvation," a word that itself speaks of everlasting freedom. The walls will have gates—exciting gates that are open, called "praise." At this time all mourning, all weeping, all desire to jump out a window, will be over.
For whom? Who will inherit a place in this land of freedom and wonder? John 10:1 and 2 speaks of the need to come in by the door, rather than try to climb the wall and get over some other way. There is a door, a way to get in, and in verse 9 it is given. "I am the door," says Jesus clearly. "By me if any man enter in, he shall be saved, and shall go in and out, and find pasture."
The Door himself is the One who has gone to prepare a place for us. He himself is our way into the place he has gone to prepare. When he lets John have a glimpse of the heavenly city, the new Jerusalem, it is not given as a figure of speech, a way of making a truth clear in picture language. It is a comforting, exciting pulling back of a curtain to give us a small glimpse of a tiny part of what is ahead of us, if we have understood something of what Jesus did for us to become The Door and have accepted what he did in our place.
Read Revelation 21 and rejoice for what is ahead, if you are a believer, and pray for people caught behind walls of men's or Satan's designs, that they may find the eternal "way out." As you read, notice the very different kind of wall described—"a wall great and high, and … twelve gates, and at the gates twelve angels, and names written thereon, which are the names of the twelve tribes of Israel; … and the wall of the city had twelve foundations and in them were the names of the twelve apostles of the Lamb." Here is a wall that has gates, three on each side, gates through which one passes to behold the wonder of all that the city contains. A wall to protect and yet to be opened. No prisoners here, only people who have believed the truth, and who have become free indeed.
In verse 27 we read that the walls are to keep out anything that would defile the city, but that all who are written in the Lamb's book of life may enter. Am I not one who would defile the place if I had to come in my own goodness? Yes; my tattered and torn garments of "self" can't be mended. But I can come cleansed by the blood of the Lamb, and dressed in the white linen of his righteousness. So I can know I will be there, safe inside, but also with the gates open in both directions!
What a wall! This wall is not of ugly broken brick, mortar, and barbed wire; "the building of the wall of it was of jasper: and the city was pure gold, like unto clear glass." Beauty in every detail is here, prepared for us. Beauty that cannot be described so that we can take it in, but that leaves us breathless in the limited amount of information we are given. Here are gorgeous walls, on firm foundations garnished with precious stones. Behind these walls gush forth crystal-clear waters, and hanging on trees are fruits of variety and flavor we look forward to but cannot yet experience.
What glorious walls! How different from any walls of men's making. As we stand by the Berlin Wall in grey daybreak, in imagination or in reality, let us consider very soberly whether we are looking forward to the literal wonder of what God has given us in his Word. We need to be sure we are "walled in" and not "walled out" of all that is ahead for the children of the living God.
But we need also to be extremely conscious of the building of Satan's walls, going on in our own period of history-physical walls and intellectual walls. We need to be careful that we are not by any of our choices adding a little mortar between Satan's stones and bricks, keeping other people away from truth and freedom. Is there any decision of ours—to do or not to do—that will help to wall in or wall out other people from the hearing of that fantastic future wall, and how to get in? Some persons in the West who have enjoyed freedom themselves made political choices that have kept other human beings behind the Berlin Wall a lifetime. What choices are we in danger of making that will not affect our own eternal freedom but may affect that of others?
EDITH SCHAEFFER
Have something to add about this? See something we missed? Share your feedback here.
Our digital archives are a work in progress. Let us know if corrections need to be made.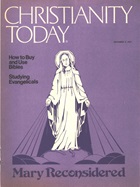 This article is from the December 5 1975 issue.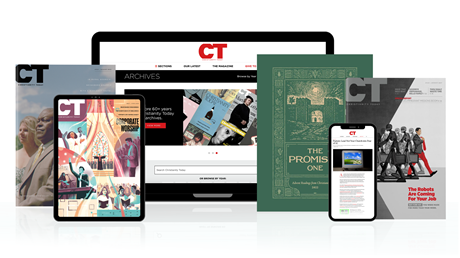 Subscribe to Christianity Today and get access to this article plus 65+ years of archives.
Home delivery of CT magazine
Complete access to articles on ChristianityToday.com
Over 120 years of magazine archives plus full access to all of CT's online archives
Subscribe Now
Walled In or Walled Out?
Walled In or Walled Out?