Anyone who has seen an avalanche thunder down a mountainside sweeping strong rocks and trees, chalets and barns along with it as though they were pebbles and matchsticks in a stream, or anyone who has looked at the devastation caused by a cyclone such as the one that destroyed Darwin, Australia, last Christmas eve, knows what insecurity feels like. The sight of normally solid, dependable old landmarks suddenly shifting, sliding, and crumbling brings a reaction accompanied usually by an action! The action would in most cases be one of hurrying to more solid ground, the most dependable, safe area available.
Our news media report to us these days the crumbling of far more than mountainsides, houses, and towns. The "crumbling economy" and shifting value of money fill with dismay any who have looked with satisfaction at bonds and stocks or bank books as something to be counted on for the years ahead.
Security is often defined as a comforting amount of material goods in a house, bank account, land, and so on. The word "security" conjures up a picture of warmth, comfort, settledness, with no "risk" blowing a chill air in to bring a shiver.
Who wouldn't prefer to be "secure" rather than "insecure," whether in material things, health, emotions, talents, self-assurance, or human relationships?
Yet there is a danger signal that needs to be given very definite attention. You probably read in the accounts of the Australian hurricane that warnings had been given but had not been heeded because they seemed so impossible. We are warned that if we are secure in this world's things, we are in danger of being insecure in that which matters most. We can be lulled to sleep by a false sense of security. If we are rich enough, have satisfactory health, have energy and talents, have enough food and shelter to feel protected from the spectre of "want" in its usual forms, then we can be harmed by the sweet drowsiness of warm security. If we have in our hands human security, we are not likely to feel the sensation of insecurity that it is important for us to feel.
"How ridiculous!" you may exclaim. "Who would find insecurity a desirable thing?"
Paul said, "I take pleasure in infirmities, in reproaches, in necessities, in persecutions, in distresses for Christ's sake; for when I am weak, then am I strong" (2 Cor. 12:10). Paul previously spoke of his experiences with shipwrecks, prison, beatings, hunger—things that would make anyone feel insecure. Is he now taking pleasure in further difficulties? What double talk is that—"When I am weak, then am I strong?"
It seems to me that Paul is saying, "When I am insecure in this world's things, then I have a reality of my security in the Lord." Paul makes it clear in Second Corinthians 12:7 that it was when he cried out to God in prayer in the midst of the insecurity created by the thorn in the flesh that God's strength was promised to him in his weakness.
The writer of Psalm 91 speaks of the secure place that is the only completely dependable place to be: "He that dwelleth in the secret place of the most High shall abide under the shadow of the Almighty. I will say of theLORD, He is my refuge and my fortress: my God; in him will I trust."
But wait a minute—a fortress means protection, and there must be an awareness of a need for protection. One runs to find refuge only in a moment of need.
"Surely he shall deliver thee from the snare of the fowler, and from the noisome pestilence. He shall cover thee with his feathers, and under his wings shalt thou trust: his truth shall be thy shield and buckler."
Would we run to hide under His wings if the noise of difficulty did not hit our ears with some kind of fearsome insecurity? As we read our newspapers, as we groan over the loss of money or lands, over the unsettled state of affairs in city or nation, are we not alerted to the fact that we may have been expecting a security for our lifetime in earthly things? We need to acknowledge quietly before the Lord the fact that insecurity in earthly things can open the way to our running to him, and finding the actual emotion filling us of the security under "his feathers" in his care.
"Thou shalt not be afraid for the terror by night; nor for the arrow that flieth by day; nor for the pestilence that walketh in darkness; nor for the destruction that wasteth at noonday."
It is not to be theoretical that in troublous times God's children will one by one find the reality of his care. His care is to be a part of history. The truth of what God has spoken is to take place literally in life after life.
"He shall call upon me, and l will answer him: I will be with him in trouble; I will deliver him, and honour him" (Ps. 91:15).
When will we "call"? When will we "run" to seek His security? Only when we are insecure in some portion of this world's "necessities" of daily life and safety.
How secure a spot was Daniel's in front of those lions? How secure do you think the three young men felt with their hands and feet bound, on their way to the door of the fiery furnace? How secure do you suppose Elijah felt as he sat by a wilderness brook during a time of famine? What security did these men have from the world's viewpoint?
It is when earthly security is shaken to its core, when we are without a comfortable bit of "something to fall back on," that we are ready to cry to God. The reality of trusting God comes when we really feel that our entire security is in him.
These days are troubled ones. Newsweek's and Time's reports as they looked back over 1974 may have caused you dismay. Predictions of a variety of brilliant men may strike fear into your heart. But together let us be thankful that we are being made aware of the insecurity, so that we can have the very specific result of security. Thank God for the security of insecurity!
"When I said, My foot slippeth; thy mercy, OLORD, held me up" (Ps. 94:18).
Our action must be to run to more solid ground, the most dependable, safe place available in the universe. All other ground is sinking sand.
Have something to add about this? See something we missed? Share your feedback here.
Our digital archives are a work in progress. Let us know if corrections need to be made.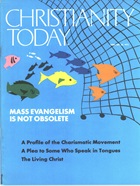 This article is from the February 28 1975 issue.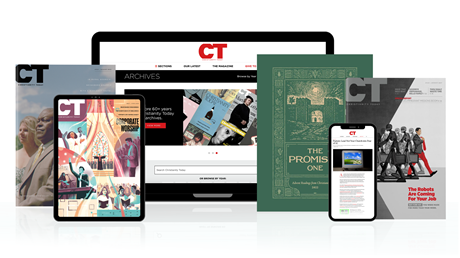 Annual & Monthly subscriptions available.
Print & Digital Issues of CT magazine
Complete access to every article on ChristianityToday.com
Unlimited access to 65+ years of CT's online archives
Member-only special issues
Subscribe
The Security of Insecurity
The Security of Insecurity