Gateway To Diversity
Gateway Films is a distributing firm for evangelical audiences (Hazel's People and The Girl Who Ran Out of Night) for Roman Catholic audiences (Rain For a Dusty Summer and Upon This Rock) and for general audiences (About Addiction and Living With Fear). The three categories often overlap.
Rain For a Dusty Summer, starring Ernest Borgnine and Padre Humberto, tells of the faith of a priest who worked and died to keep the church alive during the 1917 Mexican revolution. The rebellious priest loves God and serves him to the best of his ability. This well-made film should interest all audiences with its humor, gentleness, and historicity. It is reminiscent of Graham Greene's The Power and the Glory, though the priest in Rain is more moral.
Originally called by the much better title "Happy as the Grass Was Green," Hazel's People stars Geraldine Page and tells the story of a young activist's encounter with himself and ultimately with Christ while visiting a Mennonite community in Pennsylvania. Hazel's People explores the rebel's conversion in an understated, sensitive way without the pressures or cliches commonly associated with film-style repentances, and explains differences between Mennonites and Amish. The film, not yet released for theater viewing, deserves a wide audience.
The Girl Who Ran Out of Night combines good cinematography with effective background music and a compelling script to create a forceful look at the dangers and problems with thousands of runaway girls. Although the girl becomes a Christian near the end of the film, her struggle over the decision avoids the pat-answer syndrome. We never see her boyfriend accept Christ, though he promises the prison chaplain to read the Bible.
Most people in our society are too well acquainted with fear and drug addiction. Although neither Living With Fear nor About Addiction is specifically Christian, each depicts its problem area thoroughly and could be used by churches or schools as a discussion-starter. About Addiction is only ten minutes long, but in that brief span it gives a competent, realistic look at the situation. Tranquilizers and barbiturates are not overlooked. The film's brevity is a plus, since it leaves more time for discussion in an hour-long class. Living With Fear takes nearly an hour to view.
To combat the violence that Gateway executives Edward Rapp and Kenneth Curtis think is inherent in football, the company is distributing a film on major-league soccer. After some judicious editing—planned by Gateway—Miracle of '73 (the title needs to be changed) should be a fast-paced, entertaining, and informative look at a sport growing in popularity in this country.
These examples of the films distributed by the three-year-old company (most of them are by little-known directors and producers) show a balanced approach to the Gospel. Rapp and Curtis in the films they choose to distribute express sensitivity to social issues as well as evangelism. CHERYL FORBES
Tuning Up
The development of an artist is interesting to watch—or, in this case, hear. Paul Clark, a Christian folk-rock singer and composer, has grown since his first album a couple of years ago. Songs From the Savior, volume one, contained a collection of predictable songs, though some of the lyrics and titles showed imagination. For example, "Looking Glass Incident" and "Sacred Cowboy" approached Christianity in an offbeat and intriguing manner. Depicting Christ as cowboy was a fresh way of handling the message. But throughout the album the songs varied too little to hold attention.
Volume two opens with a tuneless song about Nicodemus, but the backup music shows more maturity and gives the cut a strength it would not have with the straight guitar accompaniment of volume one. "Sacred Cowboy" has a country flavor, and "Take All of Me," one of the better songs on volume two, takes that style a little farther, with greater effect. Many Christian singers and groups use the country style well (Love Song, Tom and Sherry Green, and Petra, for example), and Paul Clark is among them.
The classical guitar and violin introduction on volume three, Come Into His Presence, sets the mood for the album's theme. The title song is easy to remember and to sing; back-up instrumentation and vocals aid the lyrics rather than fight them, as sometimes happens on album one. "He'll Do the Same," which leads off side two, is an upbeat number with a fine guitar interlude separating verses.
The new album provides the same evangelistic emphasis as the other two with a more sophisticated musical sound. I look forward to Paul Clark's next release.
CHERYL FORBES
Newly Pressed
Scott Wesley Brown (Georgetown Record Corporation, P.O. Box 3744, Georgetown Station, Washington, D. C. 20007; GT-001 AB). The Sons of Thunder, a group from Washington's Fourth Presbyterian Church, provide back-up on Brown's first album, produced two years ago. Brown, who writes most of his music, effectively melds notes and lyrics and has a good balance between ballad and upbeat songs. He gives us a catchy adaptation of "You Are My Sunshine." Tempo shifts midsong create interesting moods, and Brown, unlike many rock singers, varies his voice color in interpreting his music. But I wish he hadn't copied Paul Stookey so exactly on "Noah's Ark." His next album, produced by Larry Norman, will be out soon.
Hill Climbing For Beginners, Water Into Wine Band (Myrrh Gold, Word, London; MYR 1004). Use of bongos and a tenor recorder give this album a unique sound; vocals are quite British, almost nasal. Duets between electric guitar and violin in "I Used to Be Blind" create a haunting, lyrical effect that is almost melancholy—not quite the emotion I usually associate with "I once was blind, but now I see." "Song of the Cross" takes up most of side two and approaches the classical art song in form. This album is well worth owning.
The Renaissance II (Tempo Records, Inc., 1900 W. 47th Place, Mission, Kan. 66205; 7097). The ten singers use close harmony and a soft gospel sound to reinterpret such old favorites as "His Eye Is on the Sparrow" and "For God So Loved the World." Unfortunately, some of the solo voices are flat as well as soft.
Go Tell Your World!, Free Spirit (Impact, 1625 Broadway, Nashville, Tenn. 37202 or Box 2307, Vancouver 3, B. C., Canada; R3316). Music similar in style to that of "Renaissance II," but with a cleaner, crisper sound. The orchestration is reminiscent of the 101 Strings, the voices of the Johnny Mann Singers. The Last Battle, Mike Johnson (Creative Sound, 15720 Stagg Street, Van Nuys, Calif. 91406; CSS 1567). A heavy, hard-driving sound. The lyrics aren't specifically Christian, though "Pride" hits each one of us. "Happy" says the composer has a reason to live; too bad he doesn't tell us what that is. Fool's Gold, by Kentucky Faith (Mark Records, no address given; MRS-2178). Kentucky Faith—Ken Munds, Don Kistler, Dave Rose, Jeff Tait, and Richie Yenovkian—brings to life again the best harmonies and instrumentations of the Chad Mitchell Trio and the Dillards in, for example, "On a Hill" and "I Bowed My Head," respectively. A blend of funky love songs, folk songs, and new-style gospel music makes the album one of the best I've heard.
A Taste of New Wine, Newbury Park (Creative Sound, 6922 Hollywood Blvd., Hollywood, Calif. 90028; CSS 1566). Mark Lawson, Glen Scott, Kris Larsen, and Sylvia Torres blend well on both love songs and gospel songs. The phrase "little black book" shifts in that song to mean the Bible. Some lyrics are ambiguous in meaning; for instance, is "Never Could Live Without You" a stock love song or a love song to Jesus?
CHERYL FORBES
Have something to add about this? See something we missed? Share your feedback here.
Our digital archives are a work in progress. Let us know if corrections need to be made.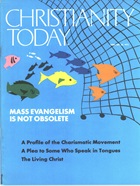 This article is from the February 28 1975 issue.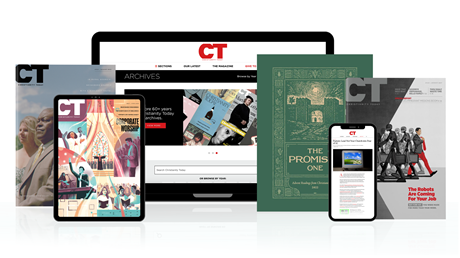 Subscribe to Christianity Today and get access to this article plus 65+ years of archives.
Home delivery of CT magazine
Complete access to articles on ChristianityToday.com
Over 120 years of magazine archives plus full access to all of CT's online archives
Subscribe Now
The Refiner's Fire: Films and Records
The Refiner's Fire: Films and Records