Have you ever watched a child stand gazing at a box of chocolates, a frown of concentration wrinkling that space between the eyebrows? "Only one, Jessica. Take any one you want, but you may have only one. Choose." Shall it be the biggest one, or might that small round one be the favorite peppermint cream? Then again the long one could contain nougat, and with tiny bites that would last longer. The agony of choice.
Have you pored over pictures and maps, imagined weather conditions, and thought about the alternatives for your precious "only one" vacation? Shall it be mountains or seaside? Will you choose fresh air and exercise or travel and sightseeing? The agony of choice.
Then there are the crisis decisions—choosing between two job offers, saying yes or no to a marriage proposal, choosing to live in the country or in the city. Hours, days, weeks, months, years, or a lifetime can be affected by a single choice. This is one of the earliest lessons a child needs to learn: if you choose to go swimming, then you can't go to the circus; if you choose to go to the playground, then you won't be here when daddy gets home; if you choose to take that puppy home, then you'll have to take care of it.
What the Word of God conveys about the far-reaching results of choice should have been ingrained in people from the teaching of Adam and Eve to their children on down through the grandchildren and subsequent generations. That it was not is clear from history. Isaiah speaks God's warning to people in chapter 31:
Woe unto them that go down to Egypt for help; and stay on horses, and trust in chariots, because they are many: and in horsemen because they are very strong: but they look not unto the Holy One of Israel, neither seek the LORD!… Now the Egyptians are men, and not God: and their horses flesh, and not spirit. When the LORD shall stretch out his hand, both he that helpeth shall fall, and he that is helpen shall fall down, and they shall all fall down together [vv. 1, 3].
Here is a promise of God: those who choose to seek help by turning away from him will fall down in a heap along with the people they have turned to. A twisted heap of arms and legs, fallen horses and men, is the picture we are given. Turn the page back to chapter 30, verses 1–3:
Woe to the rebellious children, saith the LORD, that take counsel, but not of me; and that cover with a covering, but not of my spirit, that they may add sin to sin: that walk to go down into Egypt, and have not asked at my mouth; to strengthen themselves in the strength of Pharaoh, and to trust in the shadow of Egypt! Therefore shall the strength of Pharaoh be your shame, and the trust in the shadow of Egypt your confusion.
If a jumble of human beings and horses all in a heap is too far removed from our experiences, "confusion" is not—confusion of ideas, emotions, solutions, identity, purpose, ambitions, motives. The very solutions themselves that are being given by the twentieth-century "counsel"—the solutions, for example, of abortion, of denying the framework given for the home, of putting self-fulfillment first, of seeking happiness in divorce for unbiblical reasons and a new marriage—will end in shame and confusion.
Joshua makes it very clear in chapter 24, verses 14–20, that it is not possible to serve God and false gods at the same time: "Choose you this day whom ye will serve … but as for me and my house, we will serve the Lord" (v. 15). The Creator of the orderly universe is the Author of a plan for each of our lives that "fits" psychologically, emotionally, materially, physically, spiritually. To seek true solutions from the author of chaos—that is, Satan and all his false prophets and philosophies—is to bring on a set of results that will be chaos.
"And Elijah came unto all the people, and said, How long halt ye between two opinions? if the LORD be God, follow him: but if Baal, then follow him. And the people answered him not a word" (1 Kings 18:21).
Oh, you say, I do choose the living God; I did long ago. My cry comes with David's in Psalm 18:31, "For who is God save the Lord? or who is a rock save our God?" I made a big choice, and now I am a child of this Creator God, the God of perfect wisdom and order.
But it is still true for each of us that there is moment-by-moment choice affecting our lives, bringing results in us and because of us in other people. We bring on a chaos of confused ideas and misunderstandings if our choices are not moment by moment to serve this Lord whom we have chosen as Saviour. Review Isaiah 50:7, 10, 11 once again:
For the Lord GOD will help me; therefore shall I not be confounded: therefore have I set my face like a flint, and I know that I shall not be ashamed.… Who is among you that feareth the LORD, that obeyeth the voice of his servant, that walketh in darkness, and hath no light? let him trust in the name of the LORD, and stay upon his God. Behold, all ye that kindle a fire, that compass yourselves about with sparks: walk in the light of your fire, and in the sparks that ye have kindled. This shall ye have of my hand; ye shall lie down in sorrow.
When we do not know where to turn and someone offers us a solution that is contrary to the written Word of God, do we wait and cling to the Word, asking God to direct us? Setting the face "like a flint" is not done in a moment when everything is clear and easy in the path ahead. When one declares, "I will not be confounded," it is at a time when one faces danger. To "walk in the light of your [own] fire, and in the sparks that ye have kindled" is similar to going to Egypt for help, and the promised result is also similar: "ye shall lie down in sorrow."
There are a lot of voices today promising happier, richer, more fulfilled, quieter, more peaceful, stressless lives. There are lots of voices promising equality, identity, freedom, liberation. These voices tempt Christians to edit the Word of God to make it fit something else, rather than to set their faces like a flint and judge and edit from the base of God's Word. "Choose," we are told. "Choose ye this day," day after day, over and over again. Choose to sit in the dark and wait for His guidance.
Choose, as Mary did in Luke 10, to sit at Jesus' feet and concentrate on what he is teaching. In that incident Jesus was not saying that Martha's work was unnecessary; he himself cooked fish for the disciples. But there was at that time a choice to be made. The rushing around the kitchen could be done later; right then the conversation came first. Mary recognized this priority. "But one thing is needful: and Mary hath chosen that good part, which shall not be taken away from her" (Luke 10:42).
Mary hadn't long to sit in her home at Jesus' feet: he would soon be dying, and then rising and ascending to his Father. She sat and listened during the time that was so quickly passing. We too have a limited time in which to listen and to do what he has for us to do before we go to be with him. Day by day, moment by moment, choose carefully whom you will listen to, whom you will serve.
EDITH SCHAEFFER
Have something to add about this? See something we missed? Share your feedback here.
Our digital archives are a work in progress. Let us know if corrections need to be made.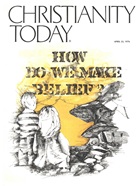 This article is from the April 23 1976 issue.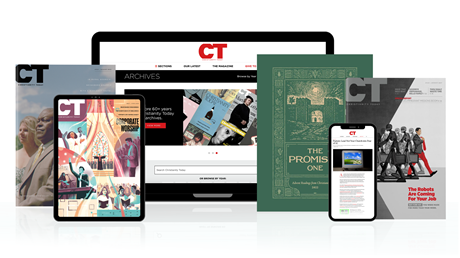 Annual & Monthly subscriptions available.
Print & Digital Issues of CT magazine
Complete access to every article on ChristianityToday.com
Unlimited access to 65+ years of CT's online archives
Member-only special issues
Subscribe
Choose Ye, This Day ...'
Choose Ye, This Day ...'