Two years ago a group of evangelical leaders gathered in Montreal to discuss strategy for the upcoming Olympic games. The leaders included representatives of the evangelical community in Montreal and of outreach organizations in both Canada and the United States. Thus was born the cooperative evangelical endeavor known as Aide Olympique.
It was decided that at Montreal there would be more emphasis than there had been during the 1972 games in Munich on involving Christian athletes in ministry, on serving where needs existed with no strings (or tracts) attached, and on reaching the residents of the host city, not just the visitors to the games.
As Olympiad XXII wound to a close last month, outreach leaders gathered to assess their efforts:
• There was more togetherness, more mutual ministry and nurture, and more active engagement in witness on the part of Christians among the 10,000 competing athletes than in any other Olympics in decades.
• The city-wide witness campaign was the best coordinated, most extensive cooperative evangelistic effort in Montreal's history.
• A greater sense of unity and cooperation exists in the comparatively small and divided evangelical community than at any other time in memory.
Montreal is an unlikely place for all this to happen. Founded in 1642, it is Canada's largest city, and its nearly three million people are predominantly French-speaking Catholics—as are 80 per cent of the people of Quebec province.
With the Olympics came troubled times for the city: costs had exceeded the initial budget by nearly $1 billion, security was tight, hundreds of athletes were becoming pawns in political battles. The athletes themselves had their own problems to think about.
To help out at that point, the Canadian Olympic Organizing Committee had provided for a chaplaincy program for the athletes. Seven clergymen of various faiths and denominations were chosen as chaplains. Four dozen volunteers speaking a total of thirty languages assisted the chaplains. (The German, Austrian, and Norwegian teams brought along their own chaplains.) The clergy conducted services and were available for counseling. Most of those who showed up at the pastoral-services office were Eastern Europeans.
"They came mostly out of curiosity," said Anglican Peter Prosser, 29, the evangelical member of the pastoral team.
Prosser, who led a Japanese woman coach to faith in Christ, helped to arrange three Sunday-morning meetings for Christian athletes in a large room next to the chaplaincy offices. Attendance ranged from about a dozen on the first Sunday to thirty-five the third week, most of them Americans. Among them: Madeline Jackson, 800-meter sprinter; John Naber, gold medalist in swimming; Fred Newhouse, silver medalist in the 400-meter run; Cynthia Poor, 1,500-meter runner; triple-jumper Tommy Haynes; Fred Dixon, decathlon; and Mike Johnson, two-man kayak.
Ms. Jackson, a 28-year-old mother who won a gold medal at Mexico City in 1968 but failed at Munich, served as the informal leader of the Sunday meetings. A graduate in sociology from Tennessee State University, she works for the Salvation Army in Cleveland, where she is a member of the Church of God in Christ. "Running is my Christian ministry," she says, and when she signs autographs, she adds, "Running for Jesus."
On the second Sunday, Ms. Jackson broke into tears after a chaplain's assistant read a passage that showed God was working out victory in Moses' life during a time of seeming defeat. "I failed in the semi-finals yesterday," explained Ms. Jackson, who had set a record in the pre-Olympic warm-up. "I needed that passage; the Lord spoke to me through it."
"I love the Lord," said Fred Newhouse, who later in the week lost the gold medal to a Cuban by a fraction of a second. "Pray that the Lord will make me a better Christian."
Johnson, 35, a fireman who attends Calvary Chapel of Costa Mesa, California, distributed more than fifty Bibles and New Testaments to Eastern Europeans. Others came to the chaplaincy office and requested the Scriptures outright. Haynes traded Bibles to Soviets for pins.
In all some fifty organizations and 3,500 workers were part of Aide Olympique. Youth With a Mission (YWAM) had the largest group, with 1,600 young people from fifty-three nations and thirty-nine languages, from Arabic and Armenian to Vende and Zulu. The largest YWAM contingent was from Europe (Finland, 120; France and Switzerland, 200; England, 120; Germany, 80; Holland, 50). There were 73 Egyptians and 130 South Africans, both black and white. Each day, half of the group commuted from YWAM's base sixty-five miles away to witness assignments in Montreal while the other half attended training sessions.
Other large groups: Ambassadors in Mission, 325, two-thirds of them from Pentecostal Assemblies of Canada, the rest from Assemblies of God (U.S.); Literature Crusades (Plymouth Brethren), 125; Free Methodists and Wesleyan youth, 100; Salvation Army, 100; Youth for Christ, 100.
Ministries varied. Most workers engaged in personal evangelism and literature distribution. Many did door-to-door visitation in conjunction with local church projects. The Free Methodist-Wesleyan group helped to establish a new French-speaking church.
Some workers helped out with AO's social-service projects. Hundreds of meals were served daily, calls poured into the telephone crisis center, free housing was lined up for stranded tourists, information and literature centers were kept busy. Directing AO's social-service aspect was Egyptian-born Ramez Atallah, 30, who heads Inter-Varisty Christian Fellowship's work in French Canada. "Evangelicals need to be known for their service of love as well as for their buttons," he says. AO picked up the slack when Montreal officials found there was no money for the city to provide such services.
In most cases, the young workers had paid their own expenses in order to be in Montreal. Scripture Gift Mission, Pocket Testament League, and the Canadian Bible Society provided hundreds of thousands of copies of Testaments and Scripture portions.
Non-AO evangelistic teams and a Catholic charismatic youth outreach organization helped to swell the total number of workers to about 4,000.
A referral system for follow-up was worked out for those making spiritual decisions (at least three-fourths of those reported were made by Montreal residents, whose names will be assigned to local church members).
Fellowship rallies for AO participants were held nightly in a downtown church. On the last three nights, evangelistic services were conducted by Leighton Ford. About 2,000 attended the final night.
Heading the AO program as executive secretary was Peter Foggin, 38, who arrived in Montreal in 1963 as a missionary sponsored by Plymouth Brethren Churches in British Columbia. He and fellow Brethren worker Fernand St. Louis launched a weekly broadcast that is well known in French Canada. A Ph.D., Foggin also taught urban geography at the University of Montreal. "The churches of Montreal could be revolutionized by the input of this outreach," says he. "Just 250 new disciples could do it."
AO's chairman was another Brethren worker, Keith Price, a prime mover in the witness project at Expo 67 utilizing Moody Science Films. Out of that grew a ministry, Christian Directions, which he heads and which apparently will take up the evangelical coordination cause begun by AO. He shares Foggin's belief that much can come of the Olympic outreach.
Perhaps so. For reasons deeply entwined in Quebec's history, evangelical churches in the province tend to be small. Only a handful have more than 300 in Sunday services, and these are nearly all English speaking. Signs of life, however, were noticeable in the recent spread and growth of small French-speaking Protestant churches.
The Huguenots (French Protestants) had a role in the founding of New France (as Quebec was then called) in the late 1500s and early 1600s. But with the passing of ecclesio-political power into the hands of the Jesuits, the Protestant numbers diminished. A hundred years ago there were sixty-three French-speaking Presbyterian churches. Today there are virtually none.
Many of those of French descent deeply regret the British conquest of New France and its subsequent assimilation into Canada, and cling resolutely to their culture and language. Moving to head off the radical separatist call for independence, the government has made many concessions, including the maintenance of a separate French Catholic school system. French-speaking Protestants got squeezed in the crunch. The "Protestant" or public school system in Quebec is English speaking.
Because of the political tensions and uncertainties, many English-speaking people have moved from the province in the last decade, weakening many Protestant churches.
Meanwhile, there have been many changes among Catholics, too. The provincial government is essentially secular. Only a third of the Catholics are practicing ones. Since Vatican II, open hostility to Protestants has all but disappeared (religious discrimination and even persecution was a fact of life for some Protestants as late as the 1950s). Also, the charismatic movement has been growing rapidly among Catholics in the last three years (an estimated 30,000 to 40,000 are part of it). Evangelicals tend to be wary of it, although YWAM joined in a pre-Olympic march and rally with thousands of young Catholic charismatics.
A key figure in the movement's spread is Trinitarian priest Jean-Paul Régimbal, a noted criminologist and prison chaplain. Through contact with Episcopal charismatics while he was in Arizona recuperating from a lung disorder, he received the charismatic experience. Back in Canada in 1970 he was put in charge of the retreat house in Granby, where he has guided thousands into the movement directly and indirectly. A youth wing of the movement, "Youth Testimony," has approximately 10,000 members. One of its leaders is Marcel Paquin, a hardened ex-criminal whom Regimbal led to Christ in jail. The youth group, with thirty full-time workers, fielded its own witness teams from all over the province for the Olympics and set up a permanent coffeehouse in north Montreal.
"Our main message," says Michelle Daneau, 20, "is that Christ died to save us and is risen. That is what has to be said, and that's what we are saying."
Have something to add about this? See something we missed? Share your feedback here.
Our digital archives are a work in progress. Let us know if corrections need to be made.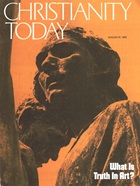 This article is from the August 27 1976 issue.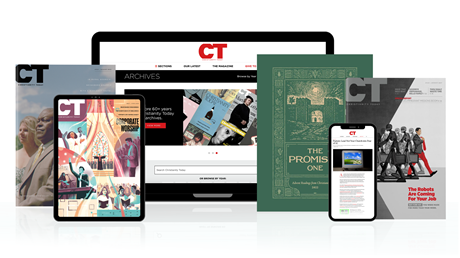 Subscribe to Christianity Today and get access to this article plus 65+ years of archives.
Home delivery of CT magazine
Complete access to articles on ChristianityToday.com
Over 120 years of magazine archives plus full access to all of CT's online archives
Subscribe Now
Outreach at the Olympics
Outreach at the Olympics