A friend in the United States sends us a brown box filled with little brown packets of vegetable seeds every year. The harvest descriptions are tantalizing: "dark green, succulent flesh, tender when cooked a short time, the best of all bush beans"; "super-sweet corn, crunchy, and tender, stays sweet a long time after picking"; "lettuce with delicious flavor, small, loosely folded heads." One sits and imagines the pleasure of seeing the plants show the first mist of green lines above the dark soil, of hoeing and watering at sunset, of admiring the lush growth as time goes on, of harvesting luscious vegetables.
Days go by. Weeks go by. A brown box full of brown packets of seeds sits in a cupboard in our Swiss mountain home. Imagining gardening does nothing to produce a real crop. Rain and sun can do no good to seeds that remain in the cupboard! And suddenly there comes a day when we put all else aside to begin the planting.
The ground needs preparation. The "false plants" need to be weeded out first, and the ground dug up. And empty prepared ground doesn't remain empty long. If the good seeds stay in packets, false seeds will blow in, creep in from nearby plants, be carried in by gusts of rain. The empty waiting ground can quickly be filled with a heavy crop of weeds.
"Hearken: behold, there went out a sower to sow." Jesus in Mark 4:3 begins his parable with this most important step. There has to be a belief that the seed is valid seed, such as is described on the packet, but then there has to come action to get it into the ground. Jesus leaves no doubt as to what the seed is: verse 14, "The sower soweth the word"; verse 15, "where the word is sown"; verse 17, "when affliction or persecution ariseth for the word's sake"; verse 18, "such as hear the word"; verse 20, "such as hear the word, and receive it, and bring forth fruit." The seed is the Word of God. We can't be mixed up about what it is we are supposed to sow. This is an amazing seed, one that does not mildew or rot: "The grass withereth, the flower fadeth: but the word of our God shall stand forever."
As I knelt to plant my beans, I found a few seeds had been split and torn. These had no possibility of putting down roots or sending up the first two important leaves. The seed must be intact. The Word of God, too, is a complete unit. The Bible as a marvelous whole, with portions given in the context of the whole, is to be "sown" as the Word of God. It is this whole Word of God that is spoken of in Isaiah 55 as the moisture that waters the planted earth: "For as the rain cometh down, and the snow from heaven, and returneth not thither, but watereth the earth, and maketh it bring forth and bud, that it may give seed to the sower, and bread to the eater: so shall my word be that goeth forth out of my mouth; it shall not return unto me void, but it shall accomplish that which I please, and it shall prosper in the thing whereto I sent it" (Isa. 55:10, 11).
What a great responsibility falls upon us who have been given this knowledge, and have been given the Word, the seed. We need to be very sensitive to the direction of the Master Gardener, who has promised to give us directions as to where we are to do our sowing. How tragic to leave fertile earth empty in the season of growth.
When are we to sow? "I charge thee therefore before God, and the Lord Jesus Christ, who shall judge the quick and the dead at his appearing and his kingdom; preach the word; be instant in season, out of season; reprove, rebuke, exhort with all longsuffering and doctrine. For the time will come when they will not endure sound doctrine. They shall turn away their ears from the truth, and shall be turned unto fables" (2 Tim. 4:1–4). The season is always spring in this command. And what is to be "sown" is truth—"thy word is true from the beginning" (Ps. 119:160). Paul writes in this passage in Second Timothy that people will turn their ears away from the truth. What a picture of today! We need to get on with planting.
But there is a second planting that is equally important. I am a seed. You are a seed. "Verily, verily, I say unto you. Except a corn of wheat fall into the ground and die, it abideth alone: but if it die, it bringeth forth much fruit" (John 12:24). The falling into the ground has to take place first. "What do I do next? I need guidance." "Fall into the ground and die." A given order, a given form. Over and over again we need to "die" to self, to ambition, to pride—and also to humbleness, which can suddenly slip into a different kind of pride.
The need to fall into the ground and die is the need to be willing for anything that is God's plan for us. At times it is the willingness to be unseen or unheard, to be buried in an African village or an Indiana farmhouse, in a schoolroom or a doctor's reception room, in a noisy market place or a quiet office. The need to be buried to one's own dreams and desires, one's own plans and preferences, occurs over and over again in life. The "sacrifice" can be very real at the point it is made, but in an unnoticed way that very same attitude of sacrifice can later slip into a kind of pride, an attitude of, "Look how humble I am," or "Look how well I am suffering."
But we can be planted over and over again. Alone with the Master Gardener we can say, "Put me into the ground. Lord. In this set of circumstances, may I be really a grain of corn; may I be dead to that which would spoil my fruitfulness. You bring forth what comes next. Lord." And the sower becomes the seed—so that he or she can go on sowing seed!
EDITH SCHAEFFER
Have something to add about this? See something we missed? Share your feedback here.
Our digital archives are a work in progress. Let us know if corrections need to be made.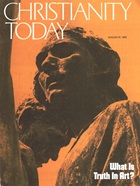 This article is from the August 27 1976 issue.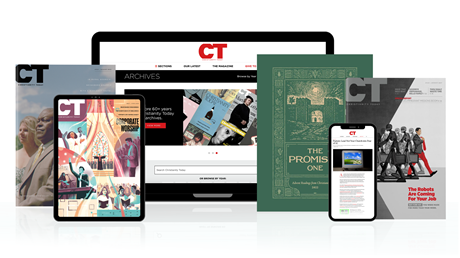 Subscribe to Christianity Today and get access to this article plus 65+ years of archives.
Home delivery of CT magazine
Complete access to articles on ChristianityToday.com
Over 120 years of magazine archives plus full access to all of CT's online archives
Subscribe Now
Two Plantings
Two Plantings