Circle the earth in imagination for a few moments. Walk down the streets of Hong Kong and look up at the apartment houses crowded with more people living in one room than you would think possible. What strikes you as you look from the outside? Lines strung from window to window, or sticks protruding from a window, hung with shirts, socks, dresses, underwear. Washed clothing, drying.
Make your way through Bombay streets by lurching taxi, avoiding the cows, goats, and heavy man-drawn carts. See people living on the sidewalks in a little pile of rags, or under a few makeshift bits of cardboard or tin. What strikes you? Even with water so scarce that there is a line of hundreds waiting at one outdoor watertap, yet saris are being washed in buckets right on the street. Slosh, slosh—dirt is coming off, and soon this sari will join the splash of colors over the rails separating the sidewalk from the railroad line, or any bit of available fence, where those without four walls to make a home still dry their washed garments.
Look out of train windows as you speed along through Switzerland, Germany, Holland, and whether you are passing poor sections or wealthier ones, the view often consists of lines of clothing from window to window, on rooftops, above little railroad stations from the station-master's apartment windows—five blue shirts, six sizes of children's pajamas, babies' diapers, sheets, socks.
Come to the impressive art museum in Florence, The Academia, and walk away from Michelangelo's David down a wing to look out a window the guard has left open. The next-door neighbor of the art museum has the family's weekly wash flapping in a slight breeze, to be seen in one glance with the ancient art works. And as you marvel over the Roman ruins in Aosta, Italy, it is impossible not to notice the underwear of the people living in humble nearby houses, drying in the sun close to century-old columns.
Americans' clothes are often tumble-dried in machines; they too have been washed with detergents to remove the dirt. And country houses still have clothes lines strung between trees, or between posts in a garden, drying clothes with fresh air and sunshine. The English finish off their outdoor drying in inside "drying cupboards," but still one travels through the English countryside conscious of washed and drying clothes.
I recently thought about the universal understanding of the meaning of "clean" as I stood looking at a painting in the Boston Museum of Art. A small oil painting, "The Washer-women," by the nineteenth-century French artist Eugene Boudin centers on the community scene of a few women washing clothing in a river, bending over, undoubtedly talking together, with a view beyond them of horses and wagons, fields, trees, and sky. No explanation is needed. In every moment of history, in every geographic location, the washing of dirty clothing means something.
Time after time God has used understandable illustrations. The important central teaching of the Bible is very understandable. It does not need to be "translated into everyday concepts," because God himself gave it to us that way. God translated truth into terms anyone can comprehend.
David understood the "dirt" of his sin when he cried out in Psalm 5:2, "Wash me thoroughly from mine iniquity, and cleanse me from my sin." God speaks understandably to Israel through Isaiah as he likens them to Sodom and Gomorrah and states that their sacrifices are making him weary because of the insincerity of it all. He goes on to say that he will hide his eyes from them and not hear their prayers because their hands are "full of blood." Then comes this:
Wash you, make you clean; put away the evil of your doings from before mine eyes; cease to do evil; learn to do well; seek judgment, relieve the oppressed, judge the fatherless, plead for the widow. Come now, and let us reason together, saith the Lord: Though your sins be as scarlet, they shall be white as snow; though they be red like crimson, they shall be as wool [Isa. 1:16–18].
God speaks to Israel through Jeremiah (4:14), "O Jerusalem, wash thine heart from wickedness, that thou mayest be saved. How long shall thy vain thoughts lodge within thee?" This particular washing has to do with getting rid of false ideas, "vain thoughts," ideas that are contrary to God's truth.
In First Corinthians 6:11, after naming a variety of types of sinners, (idolators, adulterers, thieves, covetous, drunkards, revilers, and the like), God speaks through Paul to say to us, "And such were some of you: but ye are washed, but ye are sanctified, but ye are justified in the name of the Lord Jesus, and by the Spirit of our God." The sins have been washed away. The sins spoken of before are things that can be washed away; people can become clean.
It is crystal clear in the last book of the Bible, as if God were gathering together all that is said throughout the Bible and emphasizing it in a last burst of trumpet music so that no ears could be deaf to the wonder of its meaning. Here is truth translated with no shadow of misunderstanding possible. John is speaking:
Grace be unto you, and peace, from him which is, and which was, and which is to come … and from Jesus Christ, who is the faithful witness, and the first begotten of the dead, and the prince of the kings of the earth. Unto him that loved us, and washed us from our sins in his own blood, and hath made us kings and priests unto God and his Father: to him be glory and dominion for ever and ever. Amen [Rev. 1:4, 5, 6].
I wanted to use italics for the trumpet sound of those wonderful phrases of the past, present, and future of our glorious Saviour, the one who washed us! Later on in the Book of Revelation (7:13, 14) a question is asked by John and answered, that we too might know how marvelously effective this washing is:
And one of the elders answered, saying unto me, What are these which are arrayed in white robes? and whence came they? And I said unto him, Sir, thou knowest. And he said to me, These are they which came out of great tribulation, and have washed their robes, and made them white in the blood of the Lamb.
And in Revelation 19:7, 8:
Let us be glad and rejoice, and give honor to him: for the marriage of the Lamb is come, and his wife hath made herself ready. And to her was granted that she should be arrayed in fine linen, clean and white: for the fine linen is the righteousness of the saints.
This is the bride of Christ, made up of all believers, dressed for the occasion in His righteousness, cleansed completely within and without.
We are told that some from every tribe and nation and kindred and tongue will be there in that marvelous gathering of people forever and ever. All these have understood what it means to be made clean by God's washing and have experienced that cleansing in the blood of the Lamb. God so effectively "translated truth" that it has been, is now, and will be until the end of history understandable and understood by some from every nation every culture, every language group.
EDITH SCHAEFFER
Have something to add about this? See something we missed? Share your feedback here.
Our digital archives are a work in progress. Let us know if corrections need to be made.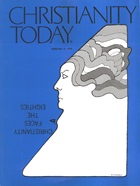 This article is from the February 27 1976 issue.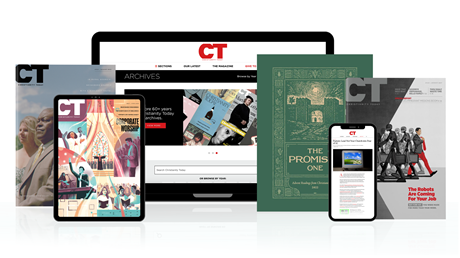 Annual & Monthly subscriptions available.
Print & Digital Issues of CT magazine
Complete access to every article on ChristianityToday.com
Unlimited access to 65+ years of CT's online archives
Member-only special issues
Subscribe
Truth Translated
Truth Translated