Georgia O'Keeffe: Visionary In God'S Wilderness
I have picked flowers where I found them—
Have picked up sea shells and rocks and pieces of wood where there were sea shells and rocks and pieces of wood that I liked
When I found the beautiful white bones on the desert I picked them up and took them home too
I have used these things to say what is to me the wideness and wonder of the world as I live in it.
At eighty-eight the unquestioned matriarch of modern art in America, Georgia O'Keeffe presents a unique vision in her painting and drawing—at once intensely personal and radically expressive of the strange and lively otherness of the natural world. Her works emerge like icons from a sacred pilgrimage through an inner landscape of great emotional range, or as one critic commented, hers is "an art of psychic confession, an inner recital of symbolic language, like the murmur of acolytes." She stands before nature filled with awe and wonder, yet "paints the mountains of New Mexico as though they answered when she spoke." (4, p. 20; the 4 and the numbers in references to follow designate the five works listed at the end of the article). The painting A Black Bird With Snow-Covered Red Hills reflects this marvelous dual quality. As Daniel Catton Rich has observed, there is about it not only "the silence of winter" but also a "suggestion of a personal winter, a personal silence" (2, p. 23).
Mediated through her powerful vision, the simple objects of her environment—large rocks or common flowers, bleached bones, a starkly colored gully or the shadows and shapes of an old adobe wall—come alive from within. In her works the very bones live and the stones cry out. She is a kinswoman to the Hebrew poets whose art and wisdom fill the pages of the Old Testament, a twentieth-century anchorite who has been to the wilderness and returned with a treasure. Especially for evangelical Christians, who emphasize the primacy of the Word and of God's revelation in Jesus Christ, O'Keeffe's work may serve as a significant reminder of how God reveals himself in the natural order and the sensual world. The towering architectural forms rising dramatically out of a mysterious sea in Lightening at Sea, or the great yellow bolts of energy that hang, both beautiful and terrible, in an enormous, bold orange and yellow sky in From the Plains, are reminiscent of the Old Testament theophanies when Yahweh addressed his people from the midst of the burning bush or out of a whirlwind.
Georgia O'Keeffe was born in the farming community of Sun Prairie, Wisconsin, in 1887. Although she showed early promise as a painter, she was largely dissatisfied with her conventional work until she came under the tutelage of Arthur Dow in 1914. His emphasis on the elements of color and line and form as the essential language of painting, and his promotion of the styles of clarity and abstraction often found in Oriental art, liberated and transformed her sense of herself as an artist. "I decided … to at least paint as I wanted to and say what I wanted to when I painted," she wrote in explanation. "I found I could say things with color and shape that I couldn't say in any other way—things that I had no words for." (3, p. 22).
In the years during which she developed her craft with Dow, O'Keeffe spent four winters on the high plains of the West Texas Panhandle, discovering in that barren landscape with its fierce heat and winds and storms a deep source of inspiration. "It was the only place I have ever felt that I really belonged," she wrote a friend in 1919. "That was my country—terrible winds and a wonderful emptiness." (1, p. 9).
In 1916, a friend showed some of O'Keeffe's drawings to Alfred Stieglitz in New York. The pioneer American photographer and modern-art exhibitor was quite impressed, exclaiming when he saw her work: "Finally a woman on paper!" A friendship grew between them that blossomed into marriage a few years later, lasting until his death in 1946.
Her reputation was already established when a series of stunning paintings of enormous flowers she did in the 1920's had a sensational public reception. In a characteristic comment, she wrote that she was "attempting to express what I saw in a flower which apparently others failed to see" (3, p. 26). These works probe deeply and do seem to express far more than the finest closeup photography does in examining the inner architecture of the flower. "O'Keeffe," wrote one critic, "has penetrated into the very essence of nature and brought back reports of its mysterious existence" (3, p. 26). Lewis Mumford heralded her as one of the "most original talents America has possessed in painting," and suggested she was assured a place in American painting similar to that of Emily Dickinson in American poetry (4, pp. 17, 18).
After she made a trip to Taos, New Mexico, in 1929, the northern New Mexico desert, with its vast panoramas, bold, numinous light, and unparalleled clay hills in a rainbow of subtle color, began to appear frequently as the locus of her work. To the often asked question of why she does not include the human face or figure in her paintings, she once replied that she believed she could get "all the life that has been lived in a place … into a picture by suggestion" (3, p. 29). Nowhere is she more successful in achieving this than in the work that comes from this fierce and sensual land with its long tradition of Spanish American Catholic culture around Abiqui and Ghost Ranch, where she had settled permanently by 1940.
In both Black Cross, New Mexico and Black Cross With Red Sky, a massive black wooden cross looms in the foreground as a powerful silhouette against a red-soaked sky over the muted colors of rolling clay hills in a remarkable portrait of "the somber tragic spirit of Spanish Catholicism in this land of the Pentitentes" (1, p. 23).
Cow's Skull-Red White and Blue has the quality of a death mask and overtones of the crucifixion as it shows the haunting image of a blanched skull flat against a brilliant field of color.
Summer Days presents a bleached white antlered skull hanging as a brooding presence of death above a gorgeous New Mexico sky and arid brown hills. Beneath the skull a shockingly lovely spray of bright red and yellow wild flowers springs out in vivid juxtaposition—the whole image one of death and resurrection.
The artist has said of these paintings: "I brought home the bleached bones as my symbols of the desert. To me they are as beautiful as anything I know … strangely more living than the animals walking around.… The bones seem to cut sharply to the center of something that is keenly alive in the desert even though it is vast and empty and untouchable—and knows no kindness with all its beauty" (4, p. 18).
Abbe Michel Quoist wrote in his Prayers that "if only we knew how to look at life through God's eyes, we would see it as innumerable tokens of the love of the Creator seeking the love of his creatures. The Father has put us into the world … to search for him through things, events, people. Everything must reveal God to us" (5, p. 17). In expressing her vision Georgia O'Keeffe has kept faith with her own extraordinary gifts and understanding, and she offers us much instruction in how we may look at life and see the natural world "through God's eyes."
1. Lloyd Goodrich and Doris Bry: Georgia O'Keeffe. Exhibition and Catalogue by the Whitney Museum of American Art (New York), 1970.
2. Daniel Catton Rich: An Exhibition by Georgia O'Keeffe at the Worcester (Mass.) Art Museum. October 4-December 4, 1960.
3. Daniel Catton Rich: Georgia O'Keeffe. The Art Institute of Chicago, 1943.
4. Mitchell A. Wilder, editor: Georgia O'Keeffe: An Exhibition of the Work of the Artist From 1915 to 1966. Amon Carter Museum of Western Art, Fort Worth, Texas, March 17–May 8, 1966.
5. Michel Quoist: Prayers, translated by Agnes M. Forsyth and Anne Marie de Commaille. Sheed and Ward, 1963.
JAMES R. LAURIE
James R. Laurie is resident counselor at the Pastoral Counseling and Education Center of the Greater Dallas Council of Churches, Dallas, Texas.
Have something to add about this? See something we missed? Share your feedback here.
Our digital archives are a work in progress. Let us know if corrections need to be made.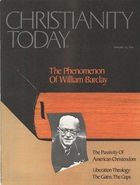 This article is from the January 16 1976 issue.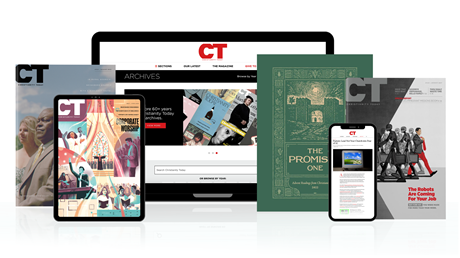 Subscribe to Christianity Today and get access to this article plus 65+ years of archives.
Home delivery of CT magazine
Complete access to articles on ChristianityToday.com
Over 120 years of magazine archives plus full access to all of CT's online archives
Subscribe Now
Refiner's Fire: January 16, 1976
Refiner's Fire: January 16, 1976