For good or ill the people of America have spoken. They have retired Gerald Ford from the presidency. In doing so, they should not forget the service he has rendered to the nation. A good man filled the gap created by Watergate. He inherited all the adverse fallout of that disaster. He kept the country on balance, and his veto of more than sixty pieces of legislation indicates that he did not use the office to advance his own career. He acted out of concern for what he considered to be the best interests of the nation. We bid him adieu with great appreciation for his service.
Jimmy Carter came out of nowhere to confound the political pundits and scramble his way to America's highest office. We congratulate him. The president-elect is the first Southerner in more than fifty years to gain the White House from outside. His frequent public affirmations of personal faith in Christ provide him with a singular opportunity and also expose him to many pitfalls. As an evangelical who has drawn attention to his experience of regeneration, he will be subjected to scrutiny of his every word and movement.
Mr. Carter has told America that it can trust him and that he will always tell the nation the truth. He has set for himself the highest possible standard. We applaud this intention. One of the best things he can do is to fulfill that promise rigorously. And we think his choice of cabinet members, ambassadors, judges, and White House staff members is the place to start. He has promised to choose persons for office on the basis of merit and integrity. This can only mean people who practice the ethical standards of this nation's Judeo-Christian heritage.
He has promised to cut the fat out of the bureaucracy while increasing its efficiency. He has stated that the defense budget can be reduced markedly and yet be no less effective. He has declared his deep concern for religious liberty in this country as well as in such places as Eastern Europe. He has stated that he will discourage abortion on demand at public expense. We agree with these objectives, and especially with his desire to restructure the vast federal bureaucracy so as to lower costs and improve performance. High-salaried paper-pushers and pencil-sharpeners are a luxury we can no longer afford.
This election has in some measure brought into question the cliché that conservative Christianity and conservative politics go hand in hand. The Southern Bible-belt states gave their electoral votes to Mr. Carter, but the farm belt in the North gave theirs to Mr. Ford. Both areas tend to be representative of theological orthodoxy. Yet their voting patterns were quite different.
Mr. Carter knows or will discover quickly that there are many things he cannot change. National and international policies are givens that vary little from one administration to another. Change, if it comes, comes slowly. But Mr. Carter and the Congress have taken on a responsibility neither can escape. We will have a Democratic Congress and a Democratic president. Neither can point the finger at the other party if all does not go well. Neither can claim innocence or escape accountability.
One thing that a president sorely needs is a few persons close to him on whose integrity and candor he can depend. Their role would be like that of Nathan, a close friend but an unfawning critic of King David. So these confidants should be able to speak to the president with honesty, sincerity, and wisdom.
Mr. Carter's long climb to the presidency is over. Now that he has ascended to the political peak, his next challenge—a much larger one—is to perform. Much is expected of him. He was helped on his way to victory by many, but when he assumes power some of these persons (particularly in the media) will become his adversaries. The very nature of his new role dictates a new relationship.
Now that the election is over Mr. Carter needs the prayers of God's people, of those who voted for his opponent as well as those who voted for him. His new responsibilities are awesome, and so are the temptations. Perhaps these words from John Dryden merit his consideration: "Better shun the bait than struggle in the snare."
The biennial religious census of Congress prepared by CHRISTIANITY TODAY'S news department will appear in the December 3 issue of the magazine. Along with the listing of religious affiliations of members of the Ninety-Fifth Congress will be those of the governors of the fifty states. The exclusive feature is a traditional one that attracts wide interest.
Matching Actions With Confessions
Many Christians within member communions of the World Council of Churches were encouraged when the WCC Fifth Assembly (Nairobi, 1975) emphasized "Confessing Christ Today." And in the United States, many of those same church members took heart this year when the governing board of the National Council of Churches, meeting in Atlanta, passed a statement favorable to evangelism. People who had been supporting the WCC and NCC in many of their social programs wanted them to stress evangelism also. The Nairobi and Atlanta statements seemed to be a positive response to their desire that visibility be given to the name of Christ in the councils' humanitarian work.
In the fifties and sixties, the "non-verbal witnessing" and "Christian presence" emphases were explained as a way of presenting Christ. Ecumenical leaders often claimed, "All that we do is evangelism." They said that persons on their staffs, though not assigned primarily to evangelistic ministries, were interested in leading others to Christ and were members in good standing of evangelistic churches. These executives, council spokesmen noted, made themselves available to people who wanted to know why they were feeding the hungry and helping the helpless.
Many evangelicals were not convinced. They noted that more and more attention was paid to programs that seemed to have no evangelistic dimension. They saw a dwindling of staff and money for specifically evangelistic work. They saw people appointed to crucial positions who showed scant interest in leading people to Christ. They saw universalists being given equal billing on council platforms with those who espoused the historic Christian faith.
While their constituencies were losing confidence in the councils as instruments of Christian witness, many of the member communions of the WCC and NCC were experiencing an evangelical resurgence. During the past year the ecumenical organizations finally seemed to be responding to the evangelistic concern that had been mounting in the denominations.
What do the official statements mean? There are disturbing indications that they are just window dressing, and that neither council has actually given evangelism a high priority. Neither the WCC nor the NCC can say any more that only committed Christians administer its programs. Neither can say that someone is always present to explain "the hope that is in you" from a Christian perspective. Officials of both councils have confirmed recently that some of their programs are being administered by secular agencies or by non-Christian persons.
The latest example to come to light concerns the family-planning program carried on by the NCC's Church World Service. Dedicated missionaries have worked in this area for years, helping many families. Many of them have used materials provided by Church World Service. But now CWS has announced a project that is bypassing the missionaries. Its spokesman say that the best way to help with population planning in certain parts of Thailand is to work through Buddhist monks who are community leaders. The NCC agency has earmarked $12,600 to train these monks in 1977 and a similar amount for continuing the project in 1978. The monks will be trained by a secular agency, not by CWS. This means that recipients of the service will be thoroughly insulated from any gospel witness.
A recent example from the WCC is its relief program in the drought-plagued Sahel region of Africa. A front-line administrator there was identified as a Muslim. When asked about using a non-Christian who obviously could not take advantage of what was a strategic opportunity for Christian witness, officials put forward an argument of expediency: the best way to feed hungry people was to recruit this very qualified person to handle distribution.
Whatever the reasons given by the NCC and WCC for their employment of non-Christians, they are inadequate. If these organizations expect the continuing support of evangelical Christians within the member communions, they must back up their evangelism pronouncements with programs that really make possible a gospel witness to those who are being "reached."
Talking Turkey This Thanksgiving
Turkey Day. That's about all that November 25 will mean to many Americans. On Thanksgiving they will gather around heavy-laden tables to stuff themselves with turkey, pumpkin pie, and other favorites.
Feasting is fine. The colonists who started the Thanksgiving observance considered it a harvest festival and a time for special feasts. But they also saw it as an occasion for Christians to witness to God's goodness.
Year after year Americans are blessed to an unusual degree. This year one special reason to thank God is the completion of the nation's second century of independence. Another is the fact that the United States enjoys relative tranquility at home and is not at war abroad.
How do we thank God for our blessings? The list of ways should be headed by public and private worship. Beyond that, believers should use the occasion to make special offerings for Christian work. Spiraling inflation and other economic uncertainties have certainly had their effects on Christians' budgets, but American believers are still far better off financially than those in most other countries.
In many congregations there are traditional "Thanksgiving causes" to which offerings are sent, such as orphanages and other institutions, special denominational projects, and the poor of the community. But a year of special gratitude should bring forth more than that.
Churches would do well this Thanksgiving to emphasize the need for "over and above" giving to God's work in nations less fortunate than our own. The possibilities are boundless. Consider, for instance, the overseas work supported faithfully for years by Christians in Great Britain. With the British pound reaching an all-time low in value recently, that work is suffering. Americans could help by making up the difference between what the pound bought in a mission station two or three years ago and what it buys now. Another worthy cause abroad is work among the millions of refugees unable to return to their homelands. Evangelical theological education and mass-media ministries are other excellent causes.
The freedom to evangelize in America has brought great blessings. This year is an especially good time to share with those in other countries who can count fewer blessings.
Village Devotions
William Tolbert, the president of Liberia, set a good example on his last birthday. Forsaking the opportunity of a lavish party, Tolbert instead went off into the jungle and spent the night in the village of Joundi. According to the Christian Nationals' Evangelism Commission, he arranged to bring pastors and church leaders together for a meeting at Joundi that started at 6 A.M. He told the gathering that he wanted to begin his birthday in fellowship with Christians and in Bible study and prayer.
Although not every political leader needs to feel impelled to get up with the chickens to meet his constituency, much can be said for Tolbert's gesture of keeping in touch with the common people, especially those who share his faith. Tolbert is an active Baptist preacher. It is to his eternal credit that he does not manifest his devotion to God simply at Sunday-morning worship services and at prayer breakfasts in posh hotels.
Imperfect People, Perfect Devotion
What is faithfulness, and how is it measured? From time to time church leaders make faithfulness their theme, but they often fail to define it.
In a discussion of stewardship (not salvation) Jesus used the word faithful. The parable recorded in Luke 16 emphasizes total devotion by the faithful servant. Jesus told the disciples, "No servant can serve two masters; for either he will hate the one and love the other, or he will be devoted to the one and despise the other" (v. 13).
His language here leaves little room for anything less than 100 per cent dedication. He did not count 75 per cent as "passing" or even 9944/100 per cent as "pure." It is important to note, however, that he was talking about attitude more than performance. Above all others, Christ recognized that even the most dedicated Christian is not wholly sanctified while on this earth. Performance will never match even the best of attitudes. The main point of the parable was that the true disciple must not divide his loyalties between two competing masters. He must be completely dedicated to serving only one, even though his performance for that master is not perfect.
Christ pointed out that the person who is entrusted with little can be just as faithful as the person entrusted with much (v. 10). The "one talent" Christian who is totally devoted to Christ will be counted faithful. And the multi-talented person who gives a lot of money and time to the church may be a long way from faithfulness.
Passing the test of total commitment qualifies one to handle larger responsibilities. Jesus separated the sheep from the goats in this passage, identifying the unfaithful as "dishonest." Unfaithfulness disqualifies a person for future (or greater) trusteeships, our Lord emphasized (vv. 11, 12). Why should a master make a servant responsible for something large when he has shown he cannot handle small matters well?
While Jesus addressed his remarks primarily to the disciples, he spoke within the hearing of the Pharisees. The lesson was for them, too, and it touched a sensitive nerve (v. 14). The emphasis was more on attitude than on acts. The Lord was careful to remind his hearers that he was not undercutting the law (v. 17) but was stressing its observance in both spirit and letter. Those who boast the most about keeping the law are often those who have the least devotion to the Lawgiver.
Stewardship of every gift from God is an awesome responsibility for the Christian. Christ made it clear in this parable that all would be judged on the same scale, regardless of the size of their trust.
Have something to add about this? See something we missed? Share your feedback here.
Our digital archives are a work in progress. Let us know if corrections need to be made.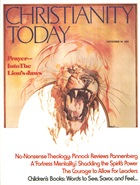 This article is from the November 19 1976 issue.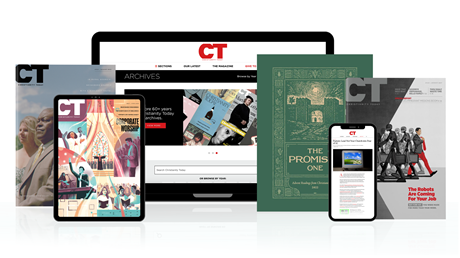 Subscribe to Christianity Today and get access to this article plus 65+ years of archives.
Home delivery of CT magazine
Complete access to articles on ChristianityToday.com
Over 120 years of magazine archives plus full access to all of CT's online archives
Subscribe Now
The Political Peak is Also the Brink
The Political Peak is Also the Brink