If you were to peer in our kitchen on a Sunday morning, you would see me pouring a liter of milk into a pan and putting it on a burner to heat while I put a spoon of salt, about half a cup of honey, a heaping spoon of brown sugar, and about three-fourths of a cup of margarine in a large mixing bowl. Then I cut a piece of soft, moist yeast and put it into a small bowl of lukewarm water and lightly beat three eggs in another bowl. Just before the milk boils over I pull it off the stove and swoosh it over the butter, honey, salt, and sugar, stir it a bit, and leave it to cool. Now I can do other jobs until the time comes to put the eggs and yeast into the mixture and add flour, mixing until it is just right for kneading. During the two or more hours we are to be away at church the dough will be left to rise, and a while later fresh rolls will come steaming to the lunch table.
Homemade bread gives us a sense of continuity with the past, whether the bread has been baked in an electric oven, a gas oven, a wood stove's oven, or an old plaster oven where the coals are raked out to make a place for the loaves. It helps us understand what Jesus meant when he declared that he was the Bread of Life (John 6:35). Those who stood there that day and heard him review Old Testament history for them should have already been taught that there was more than miracle connected with the manna that their ancestors had enjoyed in the wilderness. That manna had miraculously fallen morning by morning, to be gathered one day at a time, fresh every day except for a two-day supply once a week. Now the descendants of these manna-eaters were asking for a sign, a miracle as great as the manna. Jesus was telling them that he himself was greater than the manna. He, the Bread of life, had come, and those who came to him would never be hungry.
Back in Deuteronomy 8:2, 3 a clear explanation was given of the double purpose of the manna. The people of God were meant to know, and to pass down to their children and children's children, this explanation: "Thou shalt remember all the way which the LORD thy God led thee these forty years in the wilderness, to humble thee, and to prove thee, and to know what was in thine heart, whether thou wouldest keep his commandments, or no. And he humbled thee, and suffered thee to hunger, and fed thee with manna, which thou knewest not, neither did thy fathers know; that he might make thee know that man doth not live by bread only, but by every word that proceedeth out of the mouth of the LORD doth man live." People were meant to know that although the physical bread had been given by God to satisfy their physical hunger, God's word to them was the more important bread.
Come back to Isaiah 55:2, 3—"Wherefore do ye spend money for that which is not bread? and your labour for that which satisfieth not? Hearken diligently unto me, and eat ye that which is good, and let your soul delight itself in fatness. Incline your ear, and come unto me: hear, and your soul shall live.…" Are we in danger of spending our time and money to buy things, material or intellectual, that will diminish our supply of the true bread, and the possibility of our sharing it with others? The warning is there, but also the urgent invitation: "Eat ye that which is good … and come unto me."
After Jesus had fasted for forty days and forty nights, Satan commanded him to turn stones into bread to show that he was the Son of God. Jesus could easily have done this, not only to prove who he was but also to satisfy his hunger. However, it was then that Jesus quoted from Deuteronomy 8:3, "It is written, Man shall not live by bread alone, but by every word that proceedeth out of the mouth of God." Jesus was not only emphasizing the truth of this Old Testament statement but also showing that one way the Word of God is to be used is as a weapon against Satan.
Satan, who tried to make the Bread of Life turn stones into bread so that he could no longer be the Bread of Life, now himself turns bread into stones for many millions of people. It is a sobering thought. His goal is to cause people to break their spiritual teeth and have no nourishment in their spiritual bodies. He tried to make the Bread of Life turn stones into bread so that there would be nothing but stones forever. Thank God that Jesus said a forceful "no."
My husband and I had lunch with the late Bishop Pike some years ago in Santa Barbara, and after a long conversation we were standing in the hall ready to say goodbye. Suddenly a sad and serious look came over his face. "I remember that when I entered Union Seminary to study theology, it was with a search for truth and for the answers to life. You know, I was really searching for bread—but …" and he cupped his hand as if to hold something in it, "… when I finished my studies I realized all I had was a handful of pebbles." It was a sad moment, and we often prayed for him. He expected to visit us later. When word came that he had died without water in the desert, our hope was that he had found the water of life and the Bread of Life before he died.
"Or what man is there of you, whom if his son ask bread, will he give him a stone?… If ye then being evil know how to give good gifts unto your children, how much more shall your Father which is in heaven give good things to them that ask him?" (Matt. 7:9, 11). The One speaking here is Jesus, who himself is The Bread—the true bread, not stone. He is the one who when teaching us to pray says, "After this manner therefore pray ye: Our Father which art in heaven, hallowed be thy name. Thy kingdom come. Thy will be done in earth as it is in heaven. Give us this day our daily bread" (Matt. 6:9–11). He is clearly telling us to pray for our food, our physical bread. Later in the same chapter Jesus tells us to put first, or seek first, the kingdom of God, and all the material needs will be provided for us. Prayer is to include the request for the daily physical needs, but clearly it is to ask also for the daily spiritual bread from God's Word.
"And he took the bread, and gave thanks, and brake it, and gave unto them, saying, This is my body which is given for you: this do in remembrance of me" (Luke 22:19). "I am the living bread which cometh down from heaven, that a man may eat thereof, and not die. I am the living bread which came down from heaven: if any man eat of this bread, he shall live forever: and the bread that I will give is my flesh, which I will give for the life of the world" (John 6:50, 51).
Beware of the enemy who would put stones in place of bread and would try to hide them with a camouflage of crust! The Bread of Life has given us his Word to feed on day by day, and it is always fresh, always satisfying, always true.
Have something to add about this? See something we missed? Share your feedback here.
Our digital archives are a work in progress. Let us know if corrections need to be made.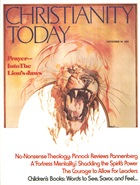 This article is from the November 19 1976 issue.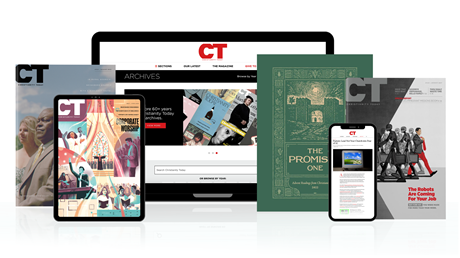 Subscribe to Christianity Today and get access to this article plus 65+ years of archives.
Home delivery of CT magazine
Complete access to articles on ChristianityToday.com
Over 120 years of magazine archives plus full access to all of CT's online archives
Subscribe Now
Fresh Bread for All
Fresh Bread for All