To predict the immediate future of American church music would require a high degree of clairvoyance. One might as well ask what will be the next cultural or philosophical or theological emphasis on the American scene. For the total value system of a generation and its art have always been closely linked.
During the past fifteen years our worship has experienced something of a revolution that could be called "ecstatic pietism." This revolution was spawned by existentialism and its espousal of "significant experience." Radical theologians like Sam Keene ("Manifesto for a Dionysian Theology"), Harvey Cox (The Feast of Fools), and John Killinger (Leave It to the Spirit) advocated a "fantasy and play" approach to liturgy in which we experience the transcendence of God in a personal emotional transcendence. "Celebration" was the overworked term and the elusive goal in liturgical structuring. Experts came up with multiple suggestions on how to let yourself go and how to help others get with it. "Manipulation is a fact of life," says John Killinger. "The best thing, then, is to recognize this fact and to focus instead upon the question of which are the most legitimate aims of manipulation in Christian worship.… If it is a manipulative gospel, it is so in terms of a manipulation to freedom, to a bondage chosen, not one bestowed" (Leave It to the Spirit, p. 76).
Of course, psychologists had already paved the way for this with their insistence that repression of one's deepest feelings was emotionally unhealthful. Sensitivity training and group therapy were commonly practiced to repair the psyche.
A fresh breed of church musicians contributed to this revolution. In the late 1950s and early 1960s, a new pop gospel sound appeared in Britain, patterned after the music of the Beatles. Soon it appeared in America, welcomed by the more liberal and liturgical churches but at that time shunned by evangelicals. By the late 1960s, though, our own young people were singing folk musicals (e.g. Tell It Like It Is), and older ones were holding their ears. Later our subteens and children added rhythmic counterpoint to sympathetic satires on Bible stories (One Hundred Percent Chance of Rain and Cool in the Furnace). In this they were encouraged, perhaps, by stage works like Godspell, which used fantasy and near-slapstick to tell the gospel story.
When it became obvious that the younger crowd was having a good time and possibly had found a valid contemporary expression for the faith, parents and grandparents joined the gospel rock band. Even though they couldn't necessarily reproduce the complex rhythms, they enjoyed popular recording artists like Andrae Crouch, Evie Tornquist, and Ken Medema, who combined more traditional words with a strong beat and a high emotional pitch. In a rather subtle vein, the Ron Huff cantata Alleluia (based on songs of Bill Gaither) induced an emotional worship experience through skillful arrangement and orchestration. Even with the more serious Reformed tradition of Robert Schuller and the "Hour of Power" telecast, it appears there will be no more sober tempos for "Holy, Holy, Holy" or even "O Master, Let Me Walk With Thee." Most hymns will be accompanied by trumpets and modulate to a higher key for the final stanza. Pentecostals are probably the only ones who will openly admit that their musical worship tends to be suprarational and ecstatic. But much American church musical activity for the past ten years has followed that score.
All this relates to a philosophy of art that is new in the West, but has a long tradition in the Orient. Wilfred Mellers of the University of York, England, suggests (in Caliban Reborn) that music can be revelation as well as expression—that it can induce an experience as well as express one. We find this in First Samuel 10, where the prophet Samuel sends the anointed king Saul on what could be called a "charismatic retreat": "Then when you reach the Hill of God, where the Philistine governor resides, you will meet a company of prophets coming down from the hillshrine, led by lute, harp, fife, and drum, and filled with prophetic rapture. Then the spirit of the Lord will suddenly take possession of you, and you too will be rapt like a prophet and become another man. When these signs happen, do whatever the occasion demands; God will be with you" (1 Sam. 10:5–7, NEB).
A minister who asks the organist to play a musical background for the call to worship uses this same approach. He thinks the music can help people feel God's presence.
The movement may have come full circle with the current conviction of some evangelicals that it is possible to formulate a theology that proceeds from the Spirit to the Word, and that this may be more valid for our day than proceeding from Word to Spirit in the Reformation tradition. Describing this view in an article in CHRISTIANITY TODAY, Robert K. Johnston writes, "The prescription for health that is increasingly being sounded from within evangelicalism is this: if the Church is ever again to set forth a relevant and adequate theology, it must begin not with reflection on the person of Christ but with reflection on our experience with him through the Holy Spirit" ("Of Tidy Doctrine and Truncated Experience," February 18, 1977). No doubt there will be many eager to debate this point. But they might first pause to ponder that evangelicals have often been pietists, at least in their musical expression. The modern version is only a little more intense than that which many Americans have sung for a century and a half!
This brief survey of recent worship history tends to support the theory that movements in Western culture begin with art, proceed to organized philosophy, and then move to theology (first liberal and later conservative). Furthermore, all three—art, philosophy, theology—are anthropological creations. Although they may be sincerely seeking truth, they are not necessarily or at all times divinely inspired.
Undoubtedly in many situations our worship had approached a solemnity and formality that bordered on sterility. And maybe we needed gospel rock music to shake us loose to see the value of freedom or even ecstasy. In a day when relational theology is in vogue, we should expect people to enjoy singing Doris Akers's "There's a Sweet, Sweet Spirit in This Place." When psychologists are reminding us that we need to express our love physically and worship leaders urge us to clasp one another's hands while we are praying, it is not surprising that Bill Gaither would write a song like "He Touched Me."
But where do we go from here? Is it too soon to predict that this romantic form of expression and experience will soon give way to a classic style that emphasizes correct form, rational expression, and objective theology? Some observers think the hyperemotional media have already gone flat (as they certainly will) and that it's time to turn to something else.
For now we may experience a stasis in church music that, according to Leonard Meyer (Emotion and Meaning in Music), is the norm in today's musical aesthetics: any and all historical styles (as well as the avant-garde) are equally valid for our time. Certainly there is little conformity among our churches; one clings faithfully to the classics (e.g., Palestrina, Bach, Vaughan Williams, and Britten), another will use functional composers (Austin Lovelace, Gordon Young, Dale Wood), yet another wants folk (Natalie Sleeth, John Wilson), and another modern gospel (Bill Gaither, Andrae Crouch, Ken Medema). Some congregations experience a thoroughgoing eclecticism: Victoria, Pachelbel, Heinz Zimmerman, John Peterson, and Buryl Red are combined in a seemingly congenial potpourri. That kind of musical pluralism may be logical, considering the many different musical tastes in the average congregation.
Today the evangelical community has many superbly talented and trained artists, a number of whom survey the church music of their own heritage with amused detachment. Others react with scorn from a position sometimes judged to be cultural arrogance. In the larger Christian community, that kind of attitude toward the recent revolution has well-nigh depleted the ranks of traditional musicians who aspire to be choirmaster-organists. It has threatened the future of church-music programs in some major universities. The prestigious School of Sacred Music at Union Theological Seminary has closed its doors because of money problems, aggravated by declining interest in church music as a profession.
If the evangelical church is to respond maturely to the swiftly changing patterns of musical expression, we need trained, concerned ministers of music who can guide us past the pitfalls of both aestheticism (worship of beauty) and hedonism (worship of pleasure). We need musicians who are first ministers. They must understand the spiritual, emotional, and aesthetic needs of ordinary people and help lead a church in its quest for the true Word and for a creative, authentic, and complete expression of its faith. This kind of a ministry is more concerned with training participants than with entertaining spectators.
The "minister of music" is still a new concept. Many churches have yet to decide on a job description. The Apostle Paul in Ephesians 4:11 and 12 provides some possibilities: "And these were his gifts: some to be apostles, some prophets, some evangelists, some pastors and teachers, to equip God's people for work in his service, to the building up of the body of Christ."
Admittedly Paul's emphasis is that each believer brings one of God's gifts to the Church. A musician may feel that his challenge is in one aspect of the ministry more than in another. But many find that their work includes most of the roles mentioned here.
The church musician should be concerned with the words of his hymns and anthems even more than with the music. The best church music has always been saturated with the Word of God, which means that the choir director should consider himself a musical prophet. To be true to his prophetic calling he must choose texts that bring the whole Word of God to the whole man. He will avoid a preoccupation with "favorite hymns," knowing that sentimental familiarity breeds intellectual contempt. He will use every means he can to increase the knowledge of the musical Word in his congregation.
The thoughtful musical prophet will also understand that music, like speech, is a language; it should be intelligible to those who are expected to participate and respond. He will remember that language changes from time to time, and that just as we need new versions of Scripture and new phrases and modes in preaching, we need new expressions of music for each generation. If he is realistic, he will not bow too long at the shrine of any current style. What we praise today we may ridicule tomorrow and reclaim the day after. It has happened with Bach and Mendelssohn as well as with Billings and Ives. But if he sincerely believes that the musical language common to his own fellowship is not helpful in building up the body of Christ, he will speak to his people as a prophet and show them alternatives, rather than retreating to the comfort of a culturally "more privileged" group with whom he has only a slight theological similarity.
Today's minister of music also ought to be an evangelist—and not only because his solo or invitation hymn may be the direct tool of the Holy Spirit in achieving a decision for Christ. The graded choir program, too, contributes to church growth. Young children are attracted by the musical activity, learn to sing the truths of God, and come rather easily to personal faith. The acceptance of youth musicals by skeptical adults was no doubt due in part to their potential to attract and hold young people in the church. There is strong appeal in the amateur show-business opportunity, in which many teens see themselves in the image of John Denver, Joan Baez, or Jimmy Brown. The challenge to the minister of music is to see that the message is not lost in the music, and that each performer is confronted with the claims of Christ.
I recently heard of a prominent church musician who declined to be personally involved as a pastor, explaining that he was called only to be a "proclaimer of the Word through music." He is not apt to find much opportunity in the typical evangelical church today. At a time when every believer is understood to be a priest, a minister of music may be expected to serve as shepherd, at least to all his choir members. In a larger sense, because music is said to be the language of the emotions, he ministers to the emotional needs of the whole congregation through anthems, solos, and instrumental music. Music helps heal the human spirit; the church musician can learn much from the science of music therapy, whether he is working with elderly people or with children, with the physically and emotionally handicapped or with the comparatively healthy.
But the central role for today's minister of music is as a teacher. He is primarily an educator, and may achieve the same satisfaction as the public-school or college music teacher in developing the musical gifts and tastes of others. Because he carefully chooses good texts, he also teaches theology and discipleship. And he teaches stewardship. God has a prior claim on a Christian's talents; he expects us to develop them to the utmost, and to use them for his glory.
Today's music minister is in a position to display balance in the creative expressions of the church. In our preoccupation with the people's music movement of the last decade, we should not forget that which has nourished the Church for centuries. With our excitement over star singers and multiple choirs, we should not ignore the more significant act of singing God's praise ourselves. We need to balance our emotional songs of Christian experience with thrilling expressions of praise of the numinous God as well as stirring presentations of his truth. And if we feel that our congregations can achieve a mature worship experience in the music of Bach, Handel, or Vaughan Williams that is not available in the works of more popular craftsmen, we should patiently and lovingly lead them in that direction.
If that challenge is not enough for some, a musician may follow in the train of the apostles—the one remaining role listed in Ephesians four. An increasing number of musicians today choose to be missionaries. They help the emerging churches to develop their own indigenous expressions of musical worship. The challenge abroad is much the same as at home, but perhaps it is easier to accept on foreign soil. In both circumstances the minister of music may need to sublimate his own cultural tastes to serve others. After all, he can always have his own best musical worship experience with the help of his record player and hi-fi system. Missionaries have done that for years!
Have something to add about this? See something we missed? Share your feedback here.
Our digital archives are a work in progress. Let us know if corrections need to be made.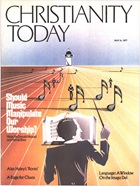 This article is from the May 6 1977 issue.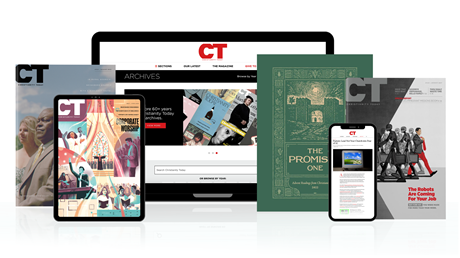 Annual & Monthly subscriptions available.
Print & Digital Issues of CT magazine
Complete access to every article on ChristianityToday.com
Unlimited access to 65+ years of CT's online archives
Member-only special issues
Subscribe
Music Speaks … But What Language?
Music Speaks … But What Language?