David Drew and his family live ten minutes away from the Mekong River in the far northern Chiang Rai region of Thailand. Across the river is Laos, now ruled by Communists. Drew is a doctor from Britain serving a year's hitch as a volunteer with the World Vision missionary relief organization. His job is to provide medical care to the thousands of refugees in the several camps in his area.
A Baptist, Drew became a Christian in 1967 through the witness of fellow students at the University of Bristol. Janet, who later became his wife, accepted Christ the following year as the result of the ministry of American street evangelist Arthur Blessitt. The Drews and their two small children live in a small wooden house perched on poles on the outskirts of Chiang Khong. They like it here. The lush flatlands give way to hills in the distance, accenting the remarkable tropical beauty that visitors to Thailand never forget. For the most part, the people around them are friendly and gentle-spirited. The Drews take special delight in Thai food, and they serve it like their neighbors, who eschew utensils and instead scoop up "sticky rice" with their fingers.
Drew is often frustrated but manages to maintain a bright spirit. Much of his time is spent training young men in the camps to be paramedics. The turnover among the intelligent and skilled refugees tends to be high; they are generally the first ones chosen by interviewers from the West for resettlement in their countries.
Infections are rampant in the refugee camps. Children are everywhere, and the majority have running noses. Sanitary facilities are woefully inadequate. Outdoor latrines and fly-covered food stalls exist side by side in many places. Water must often be carried great distances from an overused well. There is a shortage of good-quality rice, and signs of malnutrition abound in some camps, especially among the young. Chickens and dogs vie for existence with the humans.
Gloom hangs upon many refugees who have been waiting two years or more for resettlement. Some have given up hope of ever getting out, and they simply sit around waiting to die.
The camp hospital or clinic is primitive by American standards. It is usually a long wooden shed. There is a single ward of ten beds or so without screens or partitions, an examination room, a dispensary, and an operating room that is no different from the other rooms except for an occasional coat of white paint. Serious operations are handled in the government and mission hospitals outside the camps.
One of Drew's first tasks of the day at the 5,000-plus refugee Chiang Khong camp is to take his paramedics and practical nurses on rounds through the ward. He examines each patient and conveys his insight and conclusions to his entourage through an interpreter. Assignments are given, and then it is time to examine out-patients who have been screened by the paramedics. Almost always, the patients should have come much earlier for treatment, says Drew.
Outside he examines a small girl who has been brought piggy-back by a sister only three or four years older. The little one's right ear lobe is badly infected. In accord with tribal tradition her mother had pierced the child's ear, but without resard to sterilization. As is true of many of the hill people who have come over from Laos, she didn't know any better. Drew instructs a paramedic to apply some medicine. "She'll be all right," he says.
At times Drew wishes he could engage in a more spiritual-oriented ministry among the refugees, such as organizing a Bible-study group. The relationships, however, among the voluntary agencies that work in the camps, the Thai government officials who run them, and the United Nations High Commission on Refugees, which provides goods and services, are fragile. Agency field executives therefore have passed the word to their workers not to do anything that might jeopardize those relationships. Although Thailand is predominantly Buddhist, some workers—including Drew—feel that the field executives are oversensitive in drawing up policies governing religious activities.
There are fifteen refugee camps in Thailand. They are strung along the serpentine borders of Laos and Cambodia. Most of the nearly 100,000 refugees in them are from Laos: hill people from the Mhong (or Meo), Yao, and Haw tribes, along with the Laos. There are also camps for Cambodians and Vietnamese.
Churches have been organized in most of the camps. These are led by both ordained and lay leaders among the refugees, with assists from missionary workers, mainly from the Christian and Missionary Alliance, Overseas Missionary Fellowship, and Thailand Baptist Mission (Southern Baptist). Other groups, such as World Vision, supply food, medical and educational services, rehabilitation workers (who conduct sewing classes, for example), literature, and the like.
At the Chiang Khong camp there are at least three congregations: Yao (nearly 100 members), Mhong (a similar number), and Haw (about two dozen members). The Yao congregation is led by elder Chong Ling Young, 57, a Haw. He became a Christian ten years ago in Laos under the ministry of missionary Jerry Torgerson of the Christian and Missionary Alliance (CMA). Young is assisted by another elder, Beer Wong, 33, who was led to Christ in Laos in 1974 by his neighbors. They said they fled Laos because of Communist hatred toward Christianity. "It is dangerous for Christians and Mhongs there," said Young. The pair said that they had no late news about the churches in Laos (spawned mostly by the CMA) but that there were rumors the Communists were closing churches.
Tens of thousands of Mhongs have fled Laos. Many claim that the Communists are carrying out a program of genocide against the tribe. (The Mhongs have fiercely resisted the Communists, and during the Vietnamese war years the U.S. financed an army of Mhong guerrillas who fought against the Pathet Lao. Some fighting is still reported in certain hill districts.)
The largest Christian congregation is in the 12,000-refugee camp near Loei in the north central border region. It has some 2,500 Mhong members and is served by eight ordained clergy. Several pastors came to Thailand with their entire congregations from Laos. Pastor Nhia Sao Xiong, 27, confirmed the special danger to Mhong Christians in Laos.
The senior refugee pastor at Loei is Seng Pao Thao, 48. A minister since 1967, he accepted Christ in 1951 when a visiting pastor witnessed to him. Later, said Thao, his entire village of Phukabow became Christian. Thao, who often can be found witnessing to large crowds in the "streets" of the camp, disclosed that more than 300 Buddhists have been baptized at the Loei camp, "and many more are waiting." Thao recently received word that he has been approved for resettlement in the United States. (More than 170,000 Indochinese refugees are in the U.S.)
How should American Christians pray for the industrious, organized Mhongs at Loei? Should they pray about the food shortages, unclean conditions, and occasional brutality from Thai guards?
Yes, affirmed pastor Seng Yang Yong, 34. But a greater priority for prayer, he said, is for strength and wisdom to deal with all the people undergoing instruction as they await baptism and church membership. Also, said he: "Ask the Christians of America to pray that we might find a place in the world where we can all be resettled together."
Some CMA missionaries, including Reginald Reimer (coordinator of CMA refugee work) and Wayne Persons (resident CMA missionary at Loei who served for years in Laos), are working toward that end, along with relief and government officials in Thailand and Bolivia.
Mission-Mindedness In Europe
More than 900 young people from twenty-two nations and thirty-five Bible schools across Europe assembled last month on the campus of the 145-student Belgium Bible Institute at Heverlee, a town near Brussels. The occasion was the biannual meeting of the European Student Missionary Association (ESMA), an organization founded in 1955 at the European Bible Institute in the suburbs of Paris. The ESMA now has twenty-one member schools; three of them were added at Heverlee.
"God's dominant concern is the message of redemption for the whole world," declared American keynoter David Howard of Inter-Varsity Christian Fellowship. That message, he asserted, "was always intended for all nations."
One of the places where the message is needed most is Europe, other speakers suggested. They pointed to the ascendency of secularism and materialism and to the steady decline of the Protestant and Roman Catholic churches. Jeff Fountain of Youth With a Mission warned that persecution may be ahead if there is no significant Gospel advance in Europe within the near future. The answer lies with Christian young people, he affirmed.
Nearly everybody attended a Saturday-night prayer meeting in which the needs of the world were remembered. The meeting, led by Jonathan McCrostie of Operation Mobilization, lasted nearly all night—"a touch of genuine revival," reported correspondent Robert J. Campbell.
Platform sessions were translated simultaneously into the four main languages of the conference. Dozens of mission agency representatives set up displays in an exhibit area, handed out literature, and counseled prospective missionary candidates. Conference costs were underwritten entirely by the young participants, and they contributed to two offerings: $800 for a new missionary-placement information agency and $ 1,475 to help with outreach at the World Cup soccer championships in Argentina in July. Hundreds of young European Christians are expected to travel to Argentina to participate in the evangelistic project, which is being coordinated by Youth With a Mission.
Uncertainty In Afghanistan
The future of Afghanistan's only Christian mission, located in the capital city of Kabul, is uncertain following the recent coup in which the government of Mohammed Daoud was replaced by the Marxist oriented Republican Revolutionary Council.
Only days before the revolution, the Afghanistan government ordered all foreigners without permanent visas to leave the country because of increasing riots and demonstrations. That decree affected the eighteen members of Dilaram House, an evangelical mission which works primarily with tourists and does some individual evangelism among Afghan people. Most of the mission workers left before the coup. Early this month they were in Pakistan waiting for the border crossings to reopen in hope that the new government will issue them visas to continue their work.
Dilaram House, which is the Persian name for Place of Peace, was established as a youth hostel in the late 1960s by the Kabul Community Christian Church. The house is staffed mainly by North American young people who live in Kabul on tourist visas which are valid for six month periods. Many of the youths have been associated with Youth With A Mission.
Originally established to work with drug-oriented western youths traveling to India via Afghanistan, the mission now distributes Christian literature to tourists and provides medical care for those who become ill during the journey. It is estimated that several hundred thousand tourists, primarily Canadians, Americans, and Britians, travel through Afghanistan each year. There are also approximately 1,300 Americans living in Kabul year round working with the U.S. embassy.
A former director of the mission, who prefers to remain anonymous since he hopes to return to Afghanistan, said: "On any given day there are at least 1,000 tourists in Kabul. Behind the travel is a basic discontent with western values. Many people are not just on vacation but are searching for answers and running away from problems. We are here to provide a Christian alternative."
Although some of their work involves evangelism of Afghans, that aspect of their mission must be done discreetly since the country is predominantly Islamic. Afghanistan is the size of Texas with a population of more than 20 million, 90 per cent of whom adhere to a very conservative form of Muslim faith. Afghan Muslims have been very sensitive to any Christian presence in their country and have introduced a capital-offense statute forbidding its citizens to convert to Christianity.
Because of the strong Muslim faith one of the first announcements made by the new revolutionary government over Kabul radio assured the citizens it would "preserve the spirit of Islam." In the past the government has tolerated only two or three house churches, located in Kabul, to meet the needs of officials connected with foreign embassies. In 1970 the Kabul Community Christian Church obtained permission to erect a $320,000 church but the government tore it down in 1973 at the insistence of militant Muslims who were upset over the visibility of the church. The government also ordered the founding pastor, J. Christie Wilson, a United Presbyterian missionary, to return to the United States where he now teaches missions at Gordon-Conwell Theological Seminary near Boston.
VICTOR M. PARACHIN
Unreal
It happened on April Fools Day, but it was no joke. An Episcopal woman priest, Elizabeth Habecker, administered communion to several dozen Roman Catholic nuns and laypersons following a social-action conference at McAuley House, a mission operated by the Catholic Sisters of Mercy in Providence, Rhode Island.
In official Catholicism the communion administered by Mrs. Habecker was only an illusion. The Vatican's historic position is that Anglican and Episcopal clergy are not validly ordained—and therefore their administration of communion is invalid. Although modern policy permits Catholics to be involved in ecumenical meetings and activities, it does not permit them to partake of non-Catholic communion (and it does not permit Protestants to participate in Catholic-administered communion).
After Catholic bishop Louis E. Gelineau learned of the incident, he issued a letter to his priests and to his ecumenical-relations unit, reminding them about the rules and regulations of the church regarding ecumenical involvement.
The leader of the Catholic sisters expressed regret "for any harm that may have been caused," but the chairmen of the local Episcopal and Catholic ecumenical agencies issued a joint statement saying that no damage had been done to the relationship between the two church groups.
The chairmen, Catholic priest Lionel Blain and Episcopal clergyman Howard C. Olsen, acknowledged that intercommunion is not approved. Blain suggested that Mrs. Habecker had acted "wrongfully" in acquiring permission to speak in the Catholic diocese without divulging her wishes or intentions about communion. Olsen, however, may have had the last word. The Episcopal Church would not ban Catholics from receiving communion in Episcopal churches, he gently countered.
Have something to add about this? See something we missed? Share your feedback here.
Our digital archives are a work in progress. Let us know if corrections need to be made.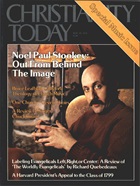 This article is from the May 19 1978 issue.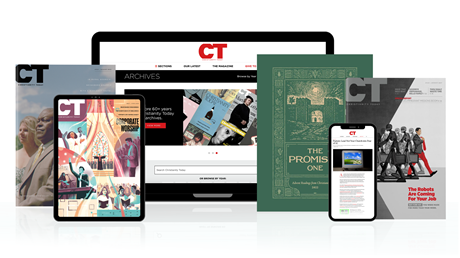 Subscribe to Christianity Today and get access to this article plus 65+ years of archives.
Home delivery of CT magazine
Complete access to articles on ChristianityToday.com
Over 120 years of magazine archives plus full access to all of CT's online archives
Subscribe Now
Ministering to Refugees in Thailand
Ministering to Refugees in Thailand