Chuck Girard, singer, composer, and keyboard artist, is mainly responsible for the legacy of music left behind by Love Song, the folk-rock group that revolutionized modern Christian songwriting. Often compared with the Beatles for the quality and influence of its music, Love Song disbanded in 1974, and Chuck started a solo career; he has released three albums so far. Although most of the tunes on Love Song's two albums, Love Song (1973) and Final Touch (1974), bear his name, Girard's influence on the group and on the contemporary Christian music scene can only be fully understood in retrospect, and through his solo recordings.
The members of Love Song, all new Christians, met and launched their short, fast-rising career at Calvary Chapel in Southern California in 1970. The songs weave powerful melodies with sensitively balanced keyboard, guitar, percussion, and background vocals—the style of the Beatles that is imitated primarily by groups from the East and the Midwest. Rarely does the California sound associated with the Beach Boys show itself; "Don't You Know" is an exception. Chuck's rambling yet controlled combination of piano and solo voice was already cropping up in songs like "Little Pilgrim." And they balanced biblical truths and experiences of young people, the blend of which has seldom been surpassed in Christian music. Scripture references were printed on the record sleeves next to the lyrics of each song.
Although Love Song was similar in style to the Beatles, the career and break-up of the group stands as a strong witness of the members' commitment to Jesus Christ. They felt that God wanted them to press on. They pursued separate careers, devoted time to establishing families, and sought spiritual growth and fellowship. No lawsuits followed the split, as with the Beatles, and they still occasionally work together.
Love Song had a reunion tour of the country in early 1976, which resulted in a live album. The group is in a God-ordained "dormancy," rather than permanently separated.
Chuck Girard is the one who is most involved in expressing his Christian faith through recordings. Chuck's songs are closely tied to his Christian and artistic growth. His three albums, Chuck Girard (1975), Glow in the Dark (1976), and Written on the Wind (1977), reveal, almost transparently, his daily spiritual walk and his musical experimentation. To listen is to know him.
Chuck's first two albums combine his usual captivating melodies with a variety of subtle, powerful rhythms. He has the backing of respected artists from the secular music scene: Jim Keltner and Jim Gordon on drums, Leland Sklar and Klaus Voorman on bass, and the group Ambrosia, on whose albums Chuck appears.
In Chuck Girard "Rock 'n Roll Preacher" is a high-paced, high-pitched, and somewhat quizzical song reminiscent of the more hard-driving Love Song arrangements. Girard jokes about the ironic direction of his life—a would-be rock star from the drug culture turned Gospel messenger to the youth of today. His assertion that he "still loves rock 'n roll music," is a plea for other Christians to recognize that it can present the Gospel to young people. "You Ask Me Why" describes the emptiness of men and women in a rapidly decaying world, and it provides a bridge for Girard to invite them to view his changed life. Through the expansive melody and rhythmically insistent refrain of "Evermore," he exults that God will "never let me go again." "Quiet Hour" reveals the intimate joy Girard finds with God, a recurring theme. Soft vocals rest on acoustic guitars to bring out the calm, yet energetic nature of his devotion. He offers the same peace to anyone who has "lost their way" in the haunting, open harmonies of "Everybody Knows for Sure."
Glow in the Dark is aimed at Christians. Opening with the multi-track voice of Girard in tight harmony on "Anthem," we hear the theme of the album in "Callin' You," "Return," "When I Was Ready to Listen," and "No, You're Not Afraid." These songs beckon Christians to a closer walk with God, lightly jest at some self-righteous habits, and characterize the firm but gentle work of the Holy Spirit.
The second side of the album experiments with musical forms previously untried by Girard. "Somethin' Supernatural" pulls no punches, either in describing a Christian through a non-Christian persona, or in its heavy, pulsating musical background akin to the best early works of secular artist Sly Stone. Girard uses the same persona technique in "I Remember." "Supernatural" and "Old Dan Cotton" venture into blues and ballad styles. "So Thankful," the best song on the album, was written before an Easter sunrise service. It captures the sad, rejoicing mood of the season. "So Thankful" anticipates his most recent album, with its quiet melancholy and often unrhymed lyrics.
Written on the Wind has fewer backup artists, which suits the more contemplative mood of the album. He experiments with harpsichord, synthesizer, electric piano, and a violin duet to express a range of emotions. The loneliness of a Christian facing a nonsympathetic world in "Fool for Jesus" seems to be an autobiographical account of Girard's involvement in the recording industry. "Peace in the Valley" and its sister song "Hear the Angels Sing" provide a respite from the more somber songs.
Former themes are prominent in "Plain Ol' Joe," and "Harvest Time"; they poignantly remind us of the importance of each person. "Mary's Song" and "The Warrior" depart from his former style. An almost listless melody conveys the heartbroken resolve that Mary may have felt in accepting Jesus' ministry and death. "The Warrior" is the most dramatic song produced by Chuck Girard. He alternates wailing with subdued vocals to symbolize the crucifixion. The tension in the album becomes the major difference between it and his earlier works. It is resolved with the final chords of the last song.
Chuck Girard sings about experiences that few Christian musicians have touched. He relates Scripture to his life, and he provides fresh insights for modern men and women. Christian music is trying to confront life without platitudes. Chuck Girard comes to the fore in meeting that challenge.
David M. Hazard works in the public relations department of the 700 Club, Virginia Beach, Virginia.
The Questions Of the Holocaust
The NBC mini-series "Holocaust" is a troubling presentation in many ways. For evangelicals it brings up an issue that is difficult to explain to our Jewish friends. At the particular screening I attended I seemed to be one of the few goyim present. My table companion after the screening was Jewish writer/historian, S. I. Shneiderman. I tried to point out that nominal membership in a state church did not really certify that a Nazi was a Christian.
He rared back, arched his eyebrows, hunched his shoulders, and gesticulated wildly while exclaiming, "Of course they were Christians! And you know it was only the Roman Catholics who protested. The Protestants preached sermons defending the state's treatment of Jews."
Round one lost.
The series raises a number of other questions: Is it valid to mingle fiction and history?; Does this drama represent the present day Jewish outlook?; Is it fair to the church?; Can continuing the television tradition of violence be justified even in a good cause?; Does the presentation offer any ultimate answers that might help prevent the future from repeating the immoralities of the past?
One of the reasons the presentation raises the questions so acutely is the fact that it is of such a high quality.
The acting is well above the level of the usual television fare. Fritz Weaver as Dr. Weiss is the family doctor everyone would like to have—gentle, humane, loving. His wife Berta played by Rosemary Harris is the quintessential upper class, aristocratic German hausfrau. And special note has to be taken of the performance of Meryl Streep (that can't be a stage name) who moves easily from being an elegant young woman to being the high-spirited girl next door. The rest of the cast achieves a generally high level of professional excellence. Obviously a great deal of time and expense went into the settings and staging of the series. All of this gives the dramatization a believability and level of audience identification lacking in less ambitious and professional efforts.
I asked my table companion if he felt that the mingling of history and fiction weakened or strengthened the presentation.
"Oh, definitely weakened it!" he responded without hesitation. "There's too much solid material for a totally factual documentary without having to make it a historical soap opera."
And who am I to argue with a historian? I think his point is well taken and it focuses on one of the problems of the new genre of fictionalized history. Historical fiction has been around a long time but that's different from the current technique of fictionalizing history. Historical fiction normally takes the known events of history and fills in the unknowns of dialogue, motive, and subcharacters. It does so for the purpose of showing something about human nature by placing the characters against an unfamiliar backdrop, or for the purpose of giving the reader some feeling for the ethos of a different time.
Fictionalized history rearranges or invents facts and events for the purpose of dramatic continuity or impact. My companion rightly pointed out that we have no lack of details about the whole phenomenon of the Holocaust. There is a cataract of repugnant detail. This mingling of fact and fiction for dramatic purposes raises questions of historical integrity that have not been fully or satisfactorily dealt with at this point.
I will leave to others the more authoritative decision about whether the series is fair in its treatment of the Christian church. I suspect that within the limitations of the author and director it is. There are several items that are obviously inserted to make the point that there are bad Jews and good Christians.
Inga, a Christian, is heroically loyal to her Jewish husband to the very end. Inga wears a cross throughout the series and it reflects the light in enough scenes to catch the eye of the most obtuse viewer.
In another scene Father Lichtenberg of Berlin attempts to lead his congregation in prayer for the children of Abraham. He later was taken to Dachau for his protests over the atrocities against the Jews. My historian friend assures me that this episode is historically accurate.
No doubt this was a sorry period for the church and we can all be thankful for men like Father Lichtenberg to whom we can point as courageous Christians whose eyes were focused beyond the powers of this world.
One of the really difficult matters to deal with is the question of violence. All of the devices of drama are used to make the viewer identify with the Jewish victims. Watching it I found myself so incensed at the Nazi atrocities that when the Warsaw ghetto uprising came I was cheering for the Jewish resistance forces to kill the bastards.
And that's just the trouble with the dramatic presentation of violence. It can set up a good guy/bad guy tension and manipulate us in applauding what, in our saner moments, we would know to regret or deplore. Since I'm not a pacifist I think there may be times when a Jew or a Christian can justifiably take human life. But I'm even more sure that it should always be done with sorrow and regret and not joy and satisfaction.
If this dramatization represents the feelings of Jews today the sentiment seems to be: Let us never go quietly again. If they come for us, let it be a life for a life—or if possible a dozen of their lives for one of ours. It's an attitude Christians can understand, in the light of these events, even if we cannot endorse it.
But worse than all of that is the fact that there is no answer for human sin. In a very telling scene, Frau Weiss, a cultured and talented woman, is being taken from her classroom to a death camp. Her final admonition to her students is to keep up with their studies, because "to be educated is to be a better person." At that point in the series we have seen more than five hours of inhuman and unbelievable atrocities by highly educated and cultured men.
There is in the drama no hint of the catharsis of forgiveness—of being freed and cleansed by the forgiveness of our enemies. And there is no sense of redemption—no suggestion that human nature can be touched by God and remade into his likeness. For the Christian those are tragic losses.
JOHN V. LAWING, JR.
John V. Lawing, Jr. is a free lance writer who lives in Bernardsville, New Jersey.
Have something to add about this? See something we missed? Share your feedback here.
Our digital archives are a work in progress. Let us know if corrections need to be made.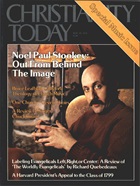 This article is from the May 19 1978 issue.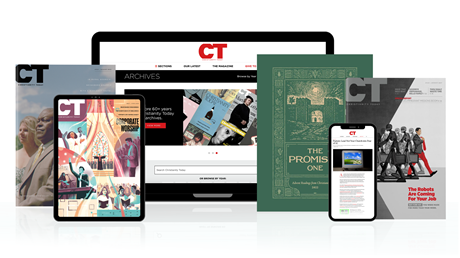 Subscribe to Christianity Today and get access to this article plus 65+ years of archives.
Home delivery of CT magazine
Complete access to articles on ChristianityToday.com
Over 120 years of magazine archives plus full access to all of CT's online archives
Subscribe Now
Refiner's Fire: Turn the Record Over
Refiner's Fire: Turn the Record Over