Even before the peace treaty between Israel and Egypt was signed last month, the realization was growing that it had been far easier to work out that agreement than it will be to develop general and lasting peace between Israel and its other Arab neighbors. (See news story, p. 40.)
The ancient children of Israel wandered in the Sinai desert but never coveted it. But the West Bank of the Jordan, which was part of biblical Judea and Samaria, carries deep emotional associations to modern Israelis, even though few of them prefer to live there. (A majority of the Jewish "settlers" in the West Bank live in dormitory villages, drawn by subsidized rentals, and commute to jobs in Jerusalem.)
That is not to say that the treaty commitments are insignificant. The state of war that has existed between Israel and Egypt for thirty years is now ended. Negotiations on Palestinian self-rule in the West Bank and Gaza begin this month. By Christmas, half of the Sinai Peninsula will have been returned to Egypt. By next January, Egypt and Israel will have exchanged ambassadors. The completion of West Bank-Gaza negotiations a year from now is an agreed-upon target.
The step that secured the treaty—clearing up minor outstanding issues unresolved at Camp David—was easier in substance than those which lie ahead. But in its effect it may prove to have been the most significant because it surmounted the emotional and psychological barriers and altered the terrain for the steps to follow.
We take satisfaction from the manner in which the treaty was achieved. In contrast to the Kissinger practice of realpolitik, avoiding moral judgments, and calculating how to exert power, President Carter has served as a true reconciler, willing to take risks in pursuit of a settlement based on principle. A frustrated President Ford once threatened to withdraw American support if Israel were not more forthcoming. Carter never applied this kind of leverage. Instead, he assured the Israelis that "With or without a peace treaty, the United States will always be at Israel's side.
President Carter's critics have seen this kind of negotiating as naive, weak, or indecisive. One commentator remarked that no president has borne such humiliation as Carter has borne in his quest for Middle East peace since President Lincoln was kept waiting standing outside the tent of the imperious General Sherman. Perhaps both men demonstrated that the biblical style of leadership is more effective than throwing one's weight around.
Others feel the dollar price tag for the treaty is exorbitant. However, compare it with the costs of even a short and limited war; then the price is a bargain. Prime Minister Menachem Begin, in his reply to President Carter in the Israeli Knesset, said it well: "We prefer sacrifices for peace to victims in war."
A fascination with predictive prophecy has led some quarters in Christendom to seem to banish the considerations of justice and compassion that they apply in other situations where the Holy Land is not involved. To them, those returning to the land can do no wrong; those who have been displaced can do no right. But we need to remember that God is able to bring events to his planned conclusion without requiring us to compromise his revealed standards of righteousness. Christians whose prophetic zeal leads them to wink at oppression by Jews or callously to ignore Arab suffering bring their Lord no glory by doing so. (The earlier excusing of persecution of Jews because of biblical prophecy is likewise reprehensible.)
Perhaps Western Christians can think more clearly about current Middle East issues if they recognize some facts about the region. Although Egypt is predominantly Muslim, the professing Christian minority in Egypt is more than twice the entire population of Israel. There are more Christians in the occupied West Bank than in Israel proper, and the great majority of Christians within Israel are Arabs. Jewish believers in Jesus as Messiah are, of course, just as precious as Arab believers. But an attitude that dismisses several million Christians as of little consequence while focusing exclusively on a lesser number of Jews who have yet to experience a national turning to Christ is a gross distortion of a true kingdom perspective.
When Christians begin to see the Palestinian issue in human terms instead of in terms of the maps in the backs of their Bibles, then they can fill a constructive role—helping to steer the Israelis beyond a short-sighted occupation policy and the Palestinian Arabs beyond a short-sighted all-or-nothing approach to self-determination.
On his return from the Middle East President Carter spoke of answered prayers. His subsequent evaluation hit the mark: "The leaders of Egypt and Israel have overcome major substantive obstacles, and they are now daring to break the pattern of thirty years of bitterness and war. They are following the advice of the biblical proverb, 'When a man's ways please the Lord, he maketh even his enemies to be at peace with him' (Prov. 16:7)."
Have something to add about this? See something we missed? Share your feedback here.
Our digital archives are a work in progress. Let us know if corrections need to be made.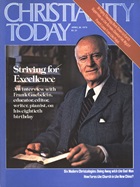 This article is from the April 20 1979 issue.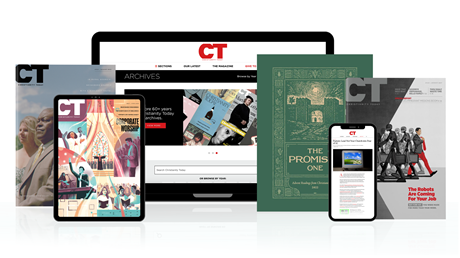 Subscribe to Christianity Today and get access to this article plus 65+ years of archives.
Home delivery of CT magazine
Complete access to articles on ChristianityToday.com
Over 120 years of magazine archives plus full access to all of CT's online archives
Subscribe Now
Israeli-Egyptian Peace Treaty
Israeli-Egyptian Peace Treaty