We heartily applaud efforts to improve the handling of money by fund raising organizations. The formation of the Evangelical Council for Financial Accountability (ECFA) is especially welcome since it concerns the ministries with which most of our readers are especially concerned. (See news story, p. 48.) We're constantly hearing blanket complaints that religious ministries are run by con men who are "just in it for the money." But up to now, it has usually been easier to find out about the financial affairs of secular companies (especially if they're publicly held) than about religious organizations that appeal to the public for their funds. Evangelical groups—most of whom already are conscientious and more or less competent stewards of the funds entrusted to them—can now more readily prove to the public that they have nothing to hide.
Among other requirements, ECFA members must have outside audits that are available to anyone. The majority of members of their governing boards are to be nonemployees, thereby allowing for more independent scrutiny and criticism.
In the background of the founding of ECFA was the fear of, and distaste for, impending government regulation. But proposed legislation, such as HR 41 (which did not pass), would have clamped a variety of awkward, and perhaps unworkable, stipulations on fund raising by charitable organizations. Credit must be given to the secular press for helping to bring about an atmosphere in which ECFA could emerge. We would only urge that responsible efforts at self-policing, such as ECFA shows promise of doing, be publicized by the same media that have called attention to deceit, or just to close-mouthedness, by some religious fund raisers.
It will be more than a year before ECFA machinery starts rolling, but it is important that it lay a solid foundation in its personnel and procedures so that it cannot justifiably be called a front set up for appearances more than realities.
It is understandable that evangelical agencies will be cautious. Groups whose finances have been known only to God and their officers (and, because of sloppy bookkeeping, not always to them) will be cautious about opening up their records even though they have little or nothing to hide. But we urge evangelical ministries to see the wisdom of joining the agency, qualifying for its seal of approval. It will cost something. But as Stanley Mooneyham of World Vision said at the organizational meeting of ECFA, "It's more expensive to do nothing—and be faced with legislation … to satisfy the government." More positively, the kind of accountability that ECFA intends to promote is a demonstration of responsible Christian stewardship.
Rooted In The Family
Strong family relationships have always been important, but are especially so today as more and more of society's institutions weaken.
This sense of family emerged once again for millions of television viewers last February on Roots: The Next Generations. The sequel to Roots followed the four generations of an African, Kunta Kinte, transported as a slave to America, from his grandson Chicken George to the latter's great-grandson, Alex Haley.
The struggle for equality characterized the sequel even as the struggle for freedom did its predecessor. Though each of the generations in Roots II suffered in various ways at the hands of white oppressors, they ultimately placed family relationships above their struggle for racial equality.
What makes the family aspect of Roots so strong is that in one week we are able to see the effects of family customs, habits, and attitudes—good and bad—as they are passed on from generation to generation. Tom Harvey approves of a black schoolteacher marrying the white son of a rich man—but then forbids his daughter Liz to marry her black boyfriend because his skin is too light. Simon Haley, Alex's father, ardently fights for the cause of black equality, but hardly notices his wife's long-time illness, of which she dies while still young. Simon also plans for Alex's future career, oblivious to his talents and interests. Finally young Alex drops out of college and joins the Coast Guard. Then he ruins his own marriage by being more concerned with his writing than with wife and children.
Yet something about the descendants of Kunta Kinte transcends the everyday shortcomings of family life. Whenever a child was born, or whenever someone died, the "family" again took on special meaning. The "family"—that sense of heritage and purpose—made life worth living for all the generations of Roots. The "family" made all the hardship and oppression bearable.
The lessons for all of us from Roots II operate on two levels. First, the lives of our own families can be enhanced by being more aware of our family history. Keeping a written record of names and old stories about parents and grandparents will enrich our family experiences over the years. But Roots II also shows that we shouldn't take our family heritage so seriously that we neglect the day-to-day attention our families need. Like Alex's father, we must eventually allow our children to make their own decisions, right or wrong. They alone can leave their mark in the annals of family history.
Second, the church is also a two-thousand-year-old family. Evangelical Christianity suffers from a certain shallowness today because it has failed to realize (in its worship and its tradition) its rich heritage, easily traceable back to the Reformation, to the church fathers, and to Christ himself, not to mention Israel's link to history. The New Testament writers were quite aware of their religious origins.
"There has to be a reason for Alex Haley," that man wondered aloud in episode seven. Christians need not wonder why we are here; the Bible says that we each have a special part in God's plan for the world. We need only determine how we can best carry out the purpose to which God has called us.
While the Bible consistently affirms our need to remember the past and to continue in the apostles' teaching, it does not call us to live in the past. It is our responsibility to deal with the needs and issues of today, perhaps in ways that may not have been done before. We do not have to imitate the stubborn strains in Tom Harvey, Will Palmer, and Simon Haley. By thanking God for our past and being open to new things he will teach us, we can most effectively deal with the present.
Roots II has brought home, both literally and spiritually, the importance of knowing our family heritage. We hope this will spur on more Christians to look back to their spiritual forebears with new interest, and then look ahead to their role in the world with fresh understanding.
Have something to add about this? See something we missed? Share your feedback here.
Our digital archives are a work in progress. Let us know if corrections need to be made.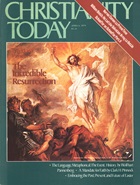 This article is from the April 6 1979 issue.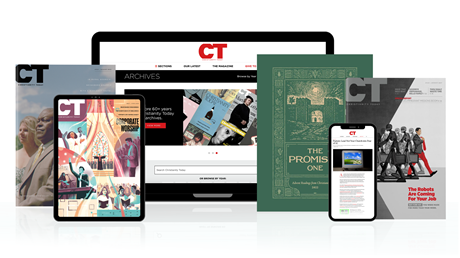 Annual & Monthly subscriptions available.
Print & Digital Issues of CT magazine
Complete access to every article on ChristianityToday.com
Unlimited access to 65+ years of CT's online archives
Member-only special issues
Subscribe
Accountability in Fund Raising
Accountability in Fund Raising