Now, Luke, I've asked you here today to discuss your manuscript. I realize it's unfortunate I don't have a definite answer for you yet, but trade houses as big as ours have bureaucracy to consider. Certainly I understand the timeliness of your story, but we just can't rush into print with everything that comes along. And there are some problems with the manuscript as it now stands.
Let's talk about the title first. I want it changed. We just can't have The Gospel of Luke by Luke. It's redundant and egotistical. We're after the religious market, remember. Perhaps we could call it Jesus. Obvious, but pithy and to the point. Perhaps Crucifixion for the Galilean would have a little more punch. Up From Nazareth hits the right dramatic note. Or, The Gospel Bandwagon. That might indicate Jesus' growth in popularity—except that it conflicts with the end of the story. Hm.
Well, be thinking about it. But you see the direction I'm after.
Now, about the structure. We've got to clean up the middle section. It needs a lot of heavy editing, plus some judicious cutting. You begin well. A nice build-up to the birth of Jesus with that stuff about John. Not bad poetry either. That should get the highbrow element. You say you didn't write that? You just recorded it? Oh.
Now, when you move back to John and into the baptism we've got some strong dramatic interest. Very visual writing there. But then you die with those chapters with nothing but sermons.
I'm not the writer, but I do know a manuscript that needs a sound editor.
Tighten up the narration. Once you get to the entry into Jerusalem things pick up again. But you need to spend more time on the actual death of Jesus. People need to feel it, to see it. You can't just say "he died," or words to that effect. And I question the ending. A little too pat. That stuff about Jesus ascending into heaven sounds too similar to an Elijah story we published a while back.
One more thing: all that stuff about the Pharisees, scribes, and Sadducees has got to go. We can't risk offending a big share of the market. And we need endorsements for the dust cover. We're in business to sell scrolls. There's a lot of competition out there for the religious shekel. Luke, believe me, I know what I'm talking about. Without these changes, no one will read your story, much less believe it.
EUTYCHUS IX
Long Overdue
Congratulations for the fine issue on the family (May 25). Your editorial on divorce was both courageous and long overdue. It is high time we in the evangelical church were taken to task for picking and choosing particular sins in order to condemn our brothers and sisters.
BRENDAN F. J. FURNISH
Westmont College
Santa Barbara, Calif.
Matthew 19:9 tells us, "Anyone who divorces his wife, except for marital unfaithfulness, and marries another woman commits adultery." The editorial says, "The fact that the original marriage is dissolved means also that the guilty party who remarries is not living in adultery." There is no way those two statements can be reconciled. I'll stick with the first.
REV. L. T. BOWERS, SR.
Nazareth Lutheran Church
Lexington, S.C.
As one who is himself divorced and remarried, I wish to thank you for the thoughtful and compassionate editorial on this subject (May 25). I must take issue on one point, however. In the Gospels it says that both the one who divorces and remarries (except for fornication) or the one who marries a divorced person "are committing adultery." The Greek tense is present, suggesting a continuing state of affairs (no pun intended).
Of course, this does not excuse a harsh, unforgiving attitude on the part of the church. It would not seem that dissolving such a marriage would serve much purpose, and Jesus did not directly address the question of whether it would be legitimized by repentance and confession.
ALAN DAVIS
Minneapolis, Minn.
Crucial Omissions
What creative or useful service was the article "Sex and Singleness the Second Time Around" (May 25) supposed to provide? This study merely provided good evidence that there is a large church in California which has many unmarried persons with confused perspectives on sexual morality, and little biblical understanding on how to deal with their guilt.
Furthermore, I was disappointed in Smith's solutions, because very little scriptural content was considered. Who would disagree that one should listen, comfort, encourage and shepherd those in need? How much more helpful to share biblical perspectives on how to pursue these ministry tasks. These crucial omissions render this article powerless in providing worthwhile ministry counsel for me.
REV. VINTON UPHAM
First Baptist Church
Red Bank, N.J.
'Latent Pacifists' Respond
I have found the series on concentration camps by Philip Yancey to be thoughtful and stimulating. In his second article, he asks if he is mocking God or showing his lack of faith by locking his door at night, or putting a new roof on his house. These analogies are weak and qualitatively different.
With one, a nation is preparing for nuclear overkill many times over. As a consequence the whole world faces possible annihilation. Controls for such an eventuality are very weak. Yet in matters of health and safety around the home only a few lives are involved and such safety is controllable. It is difficult for me to imagine myself being a follower of the Prince of Peace and "overcoming evil with good" while leaning on the safety of ICBM's.
REV. M. DEAN BROWN
King Community Fellowship
Federal Way, Wash.
Philip Yancey seems to believe that pacifists are not interested, or capable, or adequately responsive to injustice, and seems concerned about "latent pacifism" among evangelicals. But let us never forget that "latent pacifism," as Yancey erroneously calls it, is not held mainly by lazy, apathetic Americans who are refusing their "responsibility." The Anabaptists (Mennonites), the Quakers (Friends) and the Brethren make up the Historic Peace Churches, and they all suffered their own prison camps, their own "holocausts." Their nonviolence was a result of Christian obedience and not "latent pacifism."
Those who say that pacifists are largely those who have not known oppression and "holocausts" do not know history very well, or they would know the torture, murder, and exile that the Anabaptists suffered; the Quakers who sat in prisons ankle high in filth, being whipped even in "the land of the free" by the men of George Washington himself, who looked on as Quakers in Philadelphia were beaten for refusing to kill their brothers and sisters of England over taxes and mere business interests in the 1770s; the American Brethren movement suffering persecution for its peaceful convictions.
It is the apex of irrationality (not to speak of Christian disobedience) to respond to the horror of the camps with the horror of war.
DANIEL L. SMITH
Associated Mennonite
Biblical Seminaries
Elkhart, Ind.
Have something to add about this? See something we missed? Share your feedback here.
Our digital archives are a work in progress. Let us know if corrections need to be made.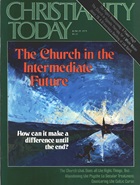 This article is from the June 29 1979 issue.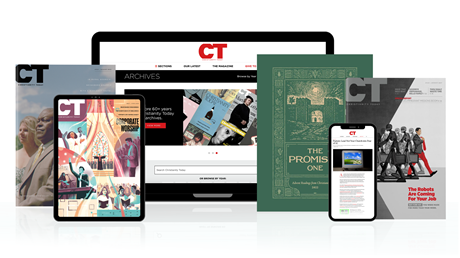 Annual & Monthly subscriptions available.
Print & Digital Issues of CT magazine
Complete access to every article on ChristianityToday.com
Unlimited access to 65+ years of CT's online archives
Member-only special issues
Subscribe
Eutychus and His Kin: June 29, 1979
Eutychus and His Kin: June 29, 1979