There are only so many ways you can't speak to someone.
Mrs. Brink didn't like neighborhood children to get too close to her property. When we did she swatted us. It happened to me one day as I was riding my bike.
A few seconds after she hit me Mr. Parsons stopped me and said, "Go back, and tell Mrs. Brink that you forgive her for hitting you."
"Say 'I forgive you?' To Mrs. Brink?"
Mr. Parsons smiled. "Forgiveness comes in many forms," he said, "You don't actually have to say, 'I forgive you.' A simple smile will do. You might just tell her that her daffodils are pretty."
It seemed like a dumb thing to do, but children in those days did what their elders told them to do. So, I went back and mumbled something about her daffodils being pretty.
Mrs. Brink looked shocked, but that's the last time I felt her broom.
The Parsons family often asked strange things of people in the community. And they quoted forgiveness Scripture. Something of an enigma, they were not particularly well liked, and they often wound up looking rather foolish.
Fighting, and not speaking were abhorrent to them. At least on one occasion two families were reunited because both families decided it was easier to forgive each other than it was to listen to the Parsons quote Luke 17:3 again: "And if he trespass against thee seven times in a day, and seven times in a day turn again to thee saying, I repent; thou shalt forgive him." But in their zeal to get people to forgive one another, the Parsons family often ignored the repent part.
One day several of us third graders put a handful of pencil shavings into the Parsons girl's sandwich. I'm not sure why we did it. Possibly it was like Psalm 37:32 says, "The wicked watcheth the righteous, and seeketh to slay him." I suppose we expected her to get mad. But she didn't.
Instead, she taught us a lesson that I doubt any of us has ever forgotten. The next day, without a sign of repentance from any of us, the Parsons girl brought every child in the class a large, beautiful, delicious, hand-decorated cookie. Each one said, "Jesus loves you."
Many Christians struggle with the problem of trying to forgive the wrongdoer who refuses to repent. And yet the person who benefits most from forgiveness is not the one who is forgiven, but the one who forgives.
Arnold Jones, who was highly regarded in his community became the object of attack by a small handful of people. One of them edited the local newspaper, and week after week, the newspaper printed lies, half truths, and innuendoes against him and his family. Finally he decided to sue. Arnold Jones won his case. His son said at his funeral several years later, "He won the court battle. But because he was a Christian, it always bothered him that he couldn't forgive those people in his heart. I think that's what finally killed him."
When a Christian is attacked by a person who really doesn't want to be forgiven, indeed delights in doing wrong, a Christian is subjected to all sorts of temptations for retaliation. Unless we're like the Parsons family, and ready to look foolish before men, we succumb.
As a friend in such a situation said, "If only I could have thought of some clever, debilitating thing to have said to that liar right then, I would have said it!" Then she smiled. "Only then I would have been right down in the sewer with him, wouldn't I?" And, of course, that is exactly where all too many of us wind up. It's very easy to forget Romans 12:17, "Recompense to no man evil for evil."
If a Christian can make it past the first temptation of leveling the wrongdoer with a verbal or physical punch, he may well fall into the second trap. That is where you can't quite bring yourself to speak to the wrongdoer who refuses to repent.
That is the stage where we become outraged that anyone could do such a thing and not repent. If we speak to that person civilly we have the feeling we are sanctifying all the evil he has perpetrated against us. Thousands of good people for this reason never again speak to their enemy.
Once I heard a mother with a scout troop say to her son, "I will not take any of you to the zoo, if you don't forgive Billy for stealing your candy bar."
"But Billy doesn't want to be forgiven," her son said, "He won't even listen."
"Then make him," his irate mother demanded.
Suddenly, her son chased Billy, knocked him to the ground, sat on him, and yelled, "I forgive you for stealing my candy bar, but I'd sure find it easier to forget if you'd wipe the chocolate off your mouth!"
Luke 6:37 says, "Judge not, and ye shall not be judged; condemn not, and ye shall not be condemned: forgive, and ye shall be forgiven." A Christian feels uncomfortable with the no speaking part. What if God refused to speak to us and kept a chip on his shoulder?
Charlie had not spoken to someone for almost twenty years. Then behind the counter of a fast food restaurant he saw his taunting, grinning enemy ready to take his order. "You know," he said later, "I never expected my pride at being right to hang on a cheeseburger. For a moment I almost went to the back of some other line. I had plenty of time. Then that prodigal son story struck me. It occurred to me that God wanted that enemy of mine more than he wanted me. So for the first time in twenty years I spoke to him. I said, 'Hi,' and ordered my cheeseburger. It was probably the best cheeseburger I ever ate."
Not speaking can become a lifetime habit. As Christians we should try to sell heaven, not hell. And the most mediocre salesman in the world knows that you hold out an olive branch to get a sale, not a law suit.
"Sure I'm speaking to them again," said Mary. "I was always running into them. I got bored. After all, there are only so many ways you can't speak to someone!" Even if a person refuses to admit a wrong, and you can't say, "I forgive you," you can always smile and tell him his daffodils are pretty!
G. Douglas Young is founder and president of the Institute of Holy Land Studies in Jerusalem. He has lived there since 1963.
Have something to add about this? See something we missed? Share your feedback here.
Our digital archives are a work in progress. Let us know if corrections need to be made.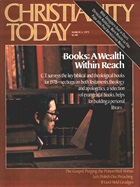 This article is from the March 2 1979 issue.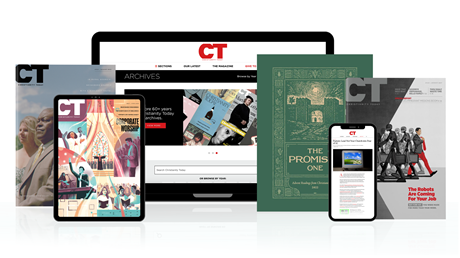 Subscribe to Christianity Today and get access to this article plus 65+ years of archives.
Home delivery of CT magazine
Complete access to articles on ChristianityToday.com
Over 120 years of magazine archives plus full access to all of CT's online archives
Subscribe Now
Your Daffodils Are Pretty: If God Held Grudges
Your Daffodils Are Pretty: If God Held Grudges