The Stanford University motto, "The wind of freedom blows," became a reality for 750 leaders from mainline Protestant denominations, the Roman Catholic Church, the charismatic movement, and evangelical churches. This diverse contingent showed remarkable freedom of dialogue and unity of spirit at the first National Convocation of Christian Leaders on the Stanford University campus in Palo Alto, California, August 27–31.
The ecumenical gathering explored the theme "Ministry for the 80s and Beyond." With no obligation to produce a conference consensus statement or to defend doctrinal or ecclesiastical positions of their respective churches, these Christians, who represented a variety of geographical and spiritual backgrounds, listened openly to biblical preaching and teaching, shared their burden to bring Christ to the world, discussed creative new means of ministry, and pledged themselves to God and each other.
The "Stanford '79" convocation was initiated by Lowell Berry, a 77-year-old United Presbyterian layman, Stanford alumnus, and retired industrialist.
David Hubbard, president of Fuller Theological diocese of San Francisco and the Diocese of Oakland, charismatic leader David du Plessis, and the Stanford Memorial Church, planned and coordinated the program. It consisted of 17 major addresses by a galaxy of pastors, priests, theologians, church executives, and 40 seminars and workshops in church strategy conducted by Christian scholars. As dean of the convocation, Hubbard provided an introduction and insightful expositions of Psalms 49, 141, and 147, in which he emphasized that "God has left nothing to chance, not where the welfare of his people is concerned."
Ecumenical pioneer and Pentecostal leader David du Plessis said of "Stanford '79": "I have never in America been able to attend a more ecumenical conference of national Christian leaders with a more complete Christian abandon to the Holy Spirit for unity and mission."
Participants seemed untouched by the old mind-set which convocation worship leader and Stanford Chaplain Robert Hammerton-Kelley described as "Christians peeping at each other from their theological bunkers."
From the opening address by Jesuit theologian Herbert Ryan of Loyola Marymount University of Los Angeles to the closing celebration of commitment led by Hollywood Presbyterian pastor Lloyd John Ogilvie, the convocation's focal point was on Jesus Christ as the Lord of the church.
Father Ryan declared, "We have come here because we share the same faith in Christ, are moved in the same spirit to love the same God our Father, and are filled with the same hope that the risen Christ may enkindle every human heart with the warmth and light of the good news of salvation."
Berry, who made his mark in the fertilizer business, underwrote most costs of the week-long conference through his Lowell Berry Foundation. Now retired and a member of Walnut Creek Presbyterian Church in Oakland, he spends his time and money on a variety of religious and philanthropic projects. However, his "basic mission in life is strengthening ministry at the local church level." With this idea in mind, he planned the Stanford gathering.
Berry specifically wanted local pastors to attend the conference. Businessmen and executives are able to attend idea-challenging seminars where they can get and exchange ideas, "but the average pastor doesn't get this," said Berry. Instead, he explained, pastors go only to denominational conferences, where they conduct elections and pass resolutions. As a result, the pastor doesn't get "a whole lot of inspiration," any helps for his own local ministry, or the necessary "cross-fertilization of ideas."
Berry, who says "the church should be the most important institution in the community," has promoted local church ministry for years. He gave evangelist Billy Graham the idea for, and then helped finance, the Schools of Evangelism—which are now a central part of local preparation for all Graham crusades. Berry estimates that 68,000 pastors and their wives have attended the schools over the years.
Convocation speakers called the conferees (most of them pastors) to assume in their parish ministries the role of a servant whose loving lifestyle will lead to personal involvement with suffering humanity and give opportunity for Christian witness. Kenneth Chafin, Baptist pastor from Houston, challenged the church "to overcome the sense of distance from the world."
San Antonio Lutheran minister Guido Merkens declared there is "no such thing as a nonsocial gospel … parishes are the vehicle of mission for accomplishing [God's] purpose …" Roman Catholic professor of catechetics Christianne Brusselmans from Louvain, Belgium, stated that in view of Western society's materialism, "when you become a Christian today you sign up to become a member of the counterculture." University of Notre Dame chaplain William Toohey called for balance in the church's ministry: struggle both for interior transformation and social reform in a total mission that involves the spiritual, the social, and the political.
Concern for evangelism permeated most of the addresses. United Methodist preacher Charles L. Allen of Houston said, "Evangelism is the main business of the church." Verbal witness was seen as emerging within the context of the Christian's total life witness.
United Methodist executive for evangelism George Hunter observed that since the Jim Jones tragedy, the sleeping giant—mainline American Christianity—is awakening to the fact that it matters who wins the souls of people. He called Christians to recognize that God by his prevenient grace is making people receptive to the gospel. He said Christians should pray to be led to receptive people; they should seek to reach people in transitional periods of life and those in groups where religious interest is growing; they should study the characteristics of people already joining the church in order to discover the felt needs of people today for which the gospel offers solutions.
Dr. Alvin Illig, executive director of the National Conference of Catholic Bishops' Committee on Evangelization, conveyed excitement about strides in Catholic evangelism. He outlined four essential elements of evangelism: (1) personal discovery of Jesus Christ: "the evangelist himself must first be evangelized"; (2) the finding of those who do not know Christ; (3) creatively overcoming obstacles so that witness may be made; and (4) stepping back and leaving the matter "in the hands of the Lord since he is the one who brings about conversion." Illig, a convocation favorite, enlightened the Protestant conferees regarding the 23,000-word Apostolic Exhortation of Pope Paul VI, "The Gospel Must Be Proclaimed."
Brusselmans said that Catholics have progressed in their Christian education programs for adults: "The restoration of the catechumenate and the rite of Christian education in the Catholic church is probably the most radical and revolutionary document we have received from our leadership.… It leads to radical new concepts of what the church, the ministries in the church, … evangelism, and Christian education are all about."
Leaders in the church growth movement were optimistic about the increasing responsiveness in American churches. Television minister Robert Schuller said: "The church is just coming into a new historical age—the age of church growth." He encouraged creative ministry and said his missionary efforts in Garden Grove, California, are patterned not after policies, but people. In order to reach American non-Christians, Schuller said he preaches Christ as the crucified Son of God, the ideal One who can give self-dignity to guilt-ridden people.
National Church Growth Research Center executive Paul Benjamin said the mood is right for a Christian harvest in America: believers should use available church growth resources for winning the lost and "forget about who has the reputation for being the greatest harvester."
Lutheran Hour speaker Oswald Hoffman and his thundering sermon on the Good News, Episcopal rector Dennis Bennett with his heart-warming message on the living water of the Spirit, the eloquent, alliterative gospel treatise by San Diego Baptist pastor Shadrach Lockridge, Marilyn Van Derbur's session on motivation, and Jimmie McDonald's soul-stirring singing were other high points of "Stanford '79."
A special attraction arranged by Lowell Berry was an appearance by entertainer Tony Orlando. Orlando said, "I am proud to say without shame that I am a Christian today." Then to the delight of conferees he put on a fast-paced nightclub type show with band, singers, and special effects. Remarked Hollywood Presbyterian's Paul Cedar, "If only we ministers gave ourselves in preaching the way Tony does in entertaining!" The audience responded to Orlando by singing "God Be with You Till We Meet Again."
Observations on stereotype breaking "Stanford '79" were enthusiastic:
• "There is dynamic life in the major denominations that I never saw until coming here; this gave more depth in my perspective of the body of Christ"—Mark Buckley, pastor of a charismatic "Jesus People" church, Novato, California.
• "Proof to ourselves that we have one faith, one Lord, one baptism"—Lloyd Galloway, black Congregational pastor of Los Angeles.
• "A better understanding on the part of all parties with reference to the place of Scripture, preaching, and music in the life of the church"—Michael Daniel, ecumenical staff officer, the Archdiocese of San Francisco.
• "The ease with which we entered into in-depth conversations with each other"—Richard McFarlin, Presbyterian pastor, Kingman, Arizona.
• "For the first time a gathering, other than for a prayer rally, of evangelical, charismatic, and Roman Catholic Christians sharing concerns about mission"—Thaddeus Horgan, Catholic priest, Codirector Graymoor Ecumenical Institute, Garrison, New York.
• "A more unanimous spirit of appreciation than I've ever noticed before in similar conferences for ministers"—Lowell Berry.
Have something to add about this? See something we missed? Share your feedback here.
Our digital archives are a work in progress. Let us know if corrections need to be made.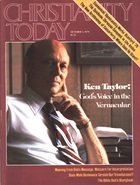 This article is from the October 5 1979 issue.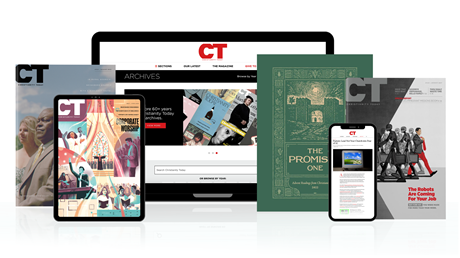 Annual & Monthly subscriptions available.
Print & Digital Issues of CT magazine
Complete access to every article on ChristianityToday.com
Unlimited access to 65+ years of CT's online archives
Member-only special issues
Subscribe
Freedom, Unity Make Stanford '79 a Truly Ecumenical Experience
Freedom, Unity Make Stanford '79 a Truly Ecumenical Experience