It is his testimony that possibility thinking works.
The weight of the massive stonework is gracefully and deftly carried aloft in slender rods that race and meld into cross ribbing of balanced geometric patterns. My eye is carried always upward. The thickness of walls remains cleverly concealed behind roods, screens, and arches. Soft, ambient colors of light filter through translucent walls of stained glass that murmur of parables and saints.
I could be standing beneath the nave of the Cathedral of Chartres, of Rheims, or any score of others erected during Europe's Middle Ages. I vaguely suspect the richness and depth of theology enshrined for centuries in the quiet majesty of these monuments. They speak of an earlier time, a Christian time. It was a time when people sacrificed their lives and fortunes to erect these formal manifestations of a Christian world view, an ordered harmony of form and function repeated over and over again, in proportional geometric patterns of stone, echoing the order of God's creation. Light, forced through the walls in rosetta patterns, reconciled the transcendent with the imminent—the medieval essence of beauty. Light was seen with a unifying quality that could carry the tentativeness of temporal existence into the eternal dimension. The cathedrals were at once a model of the medieval universe and an image of the celestial city.
The cathedral was physically, socially, and spiritually prominent in the cities and towns of the Middle Ages. It was a source of civic pride, a seat of civil government; it provided lodging for the transient, and gave substance to the religious faith of its parishioners. But just when cathedrals had risen to the supreme expression of a Christian civilization it seemed they became irrelevant as man chose to place himself first in the order of things.
During the intervening centuries, religious buildings have not regained a sense of theological unity. The attempts to recapture the lost spirit of cultural dominance for our own time, by fabricating artifacts (e.g., The National Cathedral in Washington, D.C., or the Cathedral of Saint John the Divine in New York City), demonstrate a nostalgia for a lost consensus and the lack of courage—or at least an ineptitude—to translate the gospel into icons that will speak of faith to our post-Christian culture.
Then, in the mid-fifties, Dr. Robert Schuller began to sweep up the dusty cobwebs of our spiritually diffident age and infuse it with "possibility thinking." His supersaturated mixture of self-esteem and success crystalized into a current-age cathedral. Its 10,500 two-foot by six-foot glass cells, held together with sinews of filigreed steel, soar to a height of 128 feet. Its horizontal dimensions are 415 by 207 feet.
Schuller began by trying to sell unchurched Californians on the promises of an afterlife and other-worldly "fantasies." Californians seemed preoccupied with their inner hurts and the loss of esteem sustained in the here and now. Taking cues from his potential "customers" and rethinking the "sales" approach Jesus used, Schuller decided some product modification, or at least the use of more competitive packaging and a new psychologized sales strategy, were in order. He followed the lead of his mentor and fellow Reformed Church of America clergyman, Norman Vincent Peale, and coined "possibility thinking" as the way to make things happen: a marketing modernization of the Christian "faith concept," but one that allows the user a greater sense of participation.
Schuller employs the marketing metaphor to undergird all aspects of his current ministry at Garden Grove Community Church. He calls the building complex a "22-acre shopping center for Jesus Christ." The sparkling, 10,500-window "showroom" merits the label "cathedral" if only because it serves as an icon of Schuller's theology. The saga of its financing also reflects the values and temper of our time.
The space enclosed by its shimmering façade exceeds that of Notre Dame; yet, explains Schuller, "the doors are deliberately kept small at the entrance. We want the average person to identify with this place. If the door were 30 feet high, it would have been out of correspondence. The ceiling of the foyer is only seven feet, ten inches. I can put my hands flat on it without standing on tiptoes. It signifies that God is concerned about a little guy like me." So, initially, at the entrance, the inward looking "me" generation is accommodated, even invited. But once inside the huge rhomboid prism, the sky is the limit. Says Schuller, looking up through the walls and ceilings of one-way glass, "Finally we have a church where the heavens can do their thing and declare God's glory." And, although the geometry of the structure may not symbolize the theological patterns with which God imbued the universe, renowned architect Philip Johnson, who has won prizes for this dazzling four-pointed star, calls it the crowning achievement of his career. He says, "It is what a church ought to look like in California." In a more telling comment, Johnson said of doors opening to the drive-in portion of the sanctuary outside, "They're 80 feet high and 12 feet wide. And the opening of those doors will look great on TV. Dr. Schuller knows exactly what he's doing."
Garden Grove's associate pastor, Dr. Raymond Beckering, succinctly describes exactly what Schuller is doing. "He has been eminently successful in whetting the appetite and bringing people to Christ, and then from that point on, entrusting the nurturing process … to the staff here."
Herein lies grist for the controversy that swirls about Schuller's feet. He believes people today are biblically illiterate. Weighty theological teaching—any preaching that assumes biblical knowledge—Schuller avoids. He says, "I am something like a show barker who cries out to the unchurched, 'Come in here, there's something good inside for you.' " Billing the Crystal Cathedral as "the most talked about religious building of the twentieth century" sets it up as Schuller's symbol of success in the American tradition. He wants it to be talked about. It is testimony that his "possibility thinking" works.
Certainly the expense and financing of the Crystal Cathedral contribute to Schuller's image of success for service. Begun, finished, and paid for in less than four years, the $16.5 million cathedral confirms Schuller's claims that "possibility thinking" can relieve the impatience, anxiety, and financial frustrations from which our culture and its people suffer.
But, as with much of Schuller's image making, the financial success of his cathedral casts a long shadow. "Wasteful," "indulgent," are some of the labels applied. Yet by comparison, the cost of the cathedral is a mere pittance against that spent to build the great cathedrals of Europe. The sacrifices of time and money made to erect those expressions of faith—often commitments made with the realization that their fruits must wait to be enjoyed by grandchildren and great-grandchildren—were also called "wasteful" and "frivolous" by some of the saintly. Yet, because of their magnitude, those undertakings were perhaps larger statements of faith focused, and, in that sense, were less wasteful.
On the other hand, the Crystal Cathedral, while a minority statement culturally speaking, does herald hope for those who have passed beyond innocence, who are broken and in pain. For a practical apologetic, Schuller points to the "4,100 income-producing seats" with which he plans to finance other service ministries. "Only a materialist, not a Christian, would be reluctant to invest money in people service," says Schuller.
Perhaps, in the end, neither architecture, nor fundraising, nor packaging the gospel are the bedrock issues. Debates between devotees of Gothic cathedrals and the Crystal Cathedral rarely result in conversions. However, what some evangelicals might wish for is foundational theological certainty—especially regarding man's sinfulness—articulated by Schuller himself. If he has downplayed some of the more unpalatable (to the man in the street) aspects of biblical doctrine in order to attract worshipers, his critics might be somewhat mollified if, along with statements about how his new church fits his evangelistic strategy, he would at the same time come forth with some bold—shall we call them Gothic?—affirmations of classic Christian theology.
Beneath the doctrine of "possibility thinking" and beneath the rationale for the Crystal Cathedral lies the possibility that some of the multitudes might be either misled or spiritually tranquilized, rather than being confronted to repent. Of course, the medieval Gothic cathedrals in themselves did not bespeak a pure gospel. It is fitting, therefore, for evangelicals to examine their own theological roots, to see if their buildings, their liturgy, their packaging of the message—whether it be Schuller's or the country preacher's with his tiny flock of 50—truly conform to the whole counsel of God.
Have something to add about this? See something we missed? Share your feedback here.
Our digital archives are a work in progress. Let us know if corrections need to be made.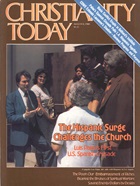 This article is from the August 8 1980 issue.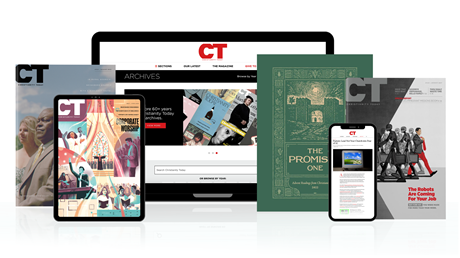 Subscribe to Christianity Today and get access to this article plus 65+ years of archives.
Home delivery of CT magazine
Complete access to articles on ChristianityToday.com
Over 120 years of magazine archives plus full access to all of CT's online archives
Subscribe Now
Refiner's Fire: The Crystal Cathedral: Reflections of Schuller's Theology
Refiner's Fire: The Crystal Cathedral: Reflections ...