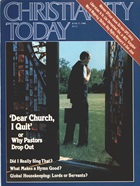 This article is from the June 27 1980 issue. Subscribers can read all of CT's digital archives.
In the year 2000, the supplies for the earth's seven billion inhabitants will have to come from the same planet Adam and Eve's supplies came from. Because there will be so many needing food, clothing, and shelter, just living will be far more difficult for some than for others.
Currently Americans have it easier than people on other continents. The United States is sprawled out over 3.5 million miles of the earth's surface. The density of our population is 60 people to every square mile—as opposed to Bangladesh where the density is 1,461 per square mile. The Republic of Singapore houses ten thousand people per square mile.
We have not only room, but we also have the energy we need. According to a survey, energy consumption for the average middle-class family in our part of the world is equivalent to 200 personal servants for every citizen! Yet this is true for just 6 percent of the world's population.
Out of all of this affluence has come a startling statistic: Today, in the industrialized countries of the world, man himself does less than 1 percent of the total work. Machines do the rest.
How many adults do you know who do not drive? For every square mile of land in our country there is a mile of paved roadway. America is crowded with an unbelievable flow of traffic. Every weekday fifty million cars carry the driver alone. Transportation uses one-fourth of all our energy.
We buy things that are convenient. We eat more than we need. Expensive packages and containers become trash. And so it goes. As victims of an easy lifestyle we have unthinkingly perpetuated a problem that is fast becoming a crisis.
Somehow, we have to convince ourselves that even though things seem right, something is very wrong. ...
1
Our digital archives are a work in progress. Let us know if corrections need to be made.
Entering the Twilight Age
Entering the Twilight Age