(The following story is based on reports from CHRISTIANITY TODAY correspondent Mark Komaki in Japan, journalist Roger Palms, and CT interviews.)
Because numbers don't always tell the whole story, church leaders avoided drawing overly enthusiastic conclusions about evangelist Billy Graham's October meetings in Japan. But with record crowds attending in every city and unusually high numbers of Christian commitments, the crusade showed them something is happening spiritually in Japan, a nation where fewer than 1 percent of the 120 million population are Christians.
"The Japanese pastors feel there is a new openness to Christianity," said Donald Hoke, former missionary educator who founded Tokyo Bible College in 1955 and served as its president until 1972. Hoke gave Graham background ideas and information gained during his many years in Japan, as he circulated among church leaders and former acquaintances during the month-long campaign. He found a "new interest" and a "seriousness of response" to Christianity among the Japanese.
Results from the October 4–26, six-city Japan Billy Graham Crusade seemed to confirm that observation:
• Statistics showed an aggregate attendance of 330,000. More than 25,000 persons inquired further about making a Christian commitment (an almost 8 percent response).
• In Fukuoka, a city with only 1,000 church-going Protestants, a total of 36,000 persons attended two nights of meetings in a local baseball stadium, despite driving rains.
• New cooperation between Japanese evangelicals resulted in a well-organized, well-publicized campaign. Local churches finished raising the entire $970,000 crusade budget before the meetings ended. The local Osaka and Tokyo committees even made sizeable donations to the Billy Graham Evangelistic Association.
The Graham crusade fit into a three-pronged initiative first conceived two years ago, primarily by evangelical pastors from the Osaka area. They set goals of (1) mobilizing 100,000 prayer companions for evangelism; (2) emphasizing church growth among the local congregations; and (3) holding a crusade to serve as a catalyst for reaching the other two goals.
Crusade planning received the strong support of missionaries from U.S.-based agencies. Ken McVety, a 31-year Japan missionary veteran, and Verner Strom, both of The Evangelical Alliance Mission (TEAM), served on the Tokyo committee.
Crusade planners recognized ties that continue to block Japanese openness to Christianity. The Graham organization bought ads in evangelical magazines prior to the campaign, requesting prayer for the meetings.
The tiny Christian church in Japan historically faced government obstacles. Roman Catholicism arrived in the mid-sixteenth century, and widespread acceptance made it the strongest unifying Christian force in feudal Japan. However, Japanese rulers, fearing the church's influence, imposed harsh restrictions. Newspaper historical studies tell of Christian martyrs. Not until 1873 was the law repealed that forbade persecution of Christians; prior to that, people received awards for informing on secret Christians. Those days have long since passed, but the memories remain.
Many of the materially rich Japanese care little about spiritual things, and others lack any awareness of the Bible. Many Japanese have no consciousness of sin, and think it's something "only criminals do," commented one Graham team official.
Japan's Buddhist and Shinto followers are among the most devout in the world. Strong devotion to family remains, with roots in the once-strong practices of ancestor and emperor worship.
In many Japanese families yet today, the older son gets the inheritance, and parents arrange their children's marriages. Decisions are often made by the family, not by the individual. The non-Christian whose family is Buddhist might fear making a Christian commitment since that would seem a betrayal, and perhaps lead to ostracism.
Because a Christian commitment may involve far-reaching consequences, crusade organizers hoped the thousands of inquirers truly meant spiritual business and that they didn't act from a herd instinct. Advisers had asked Graham to make clear in his messages all the possible implications of accepting Christ as Savior.
He did; for example, in one sermon he stated specifically that following Christ may lead to difficulties with family, friends, and business associates: "But you must say, 'Yes, I am willing to face it and do anything to have Christ in my life.' "
Graham kicked off the Japan campaign with a news conference in Tokyo, which was designed to begin whetting the interest of the mass media-conscious Japanese. Throughout the crusade, organizers promoted the meetings with television and radio spots, advertisements in newspapers and on trains, and with posters and literature handouts.
The evangelist made Okinawa his first stop. The October 4–5 meetings attracted the highest rate of inquirers of any of his stops: about 4,400 out of a total attendance of 34,000—a 13 percent response. Graham next spent five days (Oct. 8–12) in Japan's commercial center and second largest city, Osaka, where a total of 115,000 attended the meetings in Nissei Stadium.
In the week before Graham's next stop, evangelist and associate Leighton Ford led two-day crusades in the cities of Nagoya (Oct. 14–15) and Hiroshima (Oct. 16–17). A typhoon's rains dampened the meetings in Nagoya, called the "Valley of the Gospel," with more than 160 churches in and around Japan's third largest city.
The same inclement weather hit Fukuoka when Graham arrived for October 18–19 meetings. Torrential rains fell even as the audience came, and continued through the meetings. But attendance still ran high.
Planners attributed the success to advance prayer. The national crusade committee promoted the Operation Andrew program, in which Christians promised in writing to pray for non-Christian friends, and to bring them to the meetings. They also cited thorough publicity: three movie theaters in Fukuoka, for instance, ran commercials saying, "Billy Graham has preached the Word of God throughout the world and has now come to Fukuoka." Organizers planned a "Graham tour" for Christians in Kagoshima, 240 miles away. They came by airplane and returned home by sleeper train.
Graham concluded his Japan outreach with five days of meetings (Oct. 22–26) in Tokyo's 50,000-seat Karakuen Stadium. More than 1,100 local churches supported the Tokyo meetings, and more than 43,000 persons packed the stadium for the final Sunday afternoon service. Church leaders called the response higher than that in Graham's Tokyo meetings in 1967, his last preaching campaign in Japan.
Speculations vary about the past and future of evangelism in Japan. Osaka Governor Masuru Kishi speculated that Japan has remained only 1 percent Christian because "Christians have not made their message clear." Perhaps with that in mind, Graham fully explained scriptural terms and steps of salvation in all the meetings. He often said, "I want to make the teachings of Jesus so clear that every one of you will understand." Many attributed Graham's clarity to the skill of his interpreter, Evangelical Free Church pastor Yosuke Furuyama of Osaka.
Through the Graham meetings, Japanese church leaders gained hope for the future, said TEAM missionary McVety. "People are realizing that their Japanese countrymen are winnable."
Church leaders eyed the high response of Japanese young people. A 1975 poll had shown that 60 percent of the Japanese young have no interest in seeking any religious affiliation. Yet in Tokyo more than 40 percent of the 11,000 inquirers were between the ages of 16 and 29. At Graham's first meeting in Osaka, two-thirds of the 900 inquirers were under 30 years old.
Individual Christians give more money to the local church now than when he was in Japan in the middle 1960s, said Hoke. In addition, he said, Japanese evangelicals seem to have broken the pattern of small churches of 30 or so members. Now, some churches have from 100 to 300 members.
Some evangelical congregations have shown 100 percent growth since Graham's 1967 meetings in Tokyo. During the same period, the liberal United Church of Christ in Japan (formed when the Japanese government during World War II forced all the churches into a single body, and which still comprises about two-thirds of the nation's 800,000 Protestants) increasingly lost members.
As with any Graham crusade, the ultimate impact depends on the incorporation of inquirers into existing churches, but especially is this so in Japan. One Osaka pastor, for instance, got 300 referrals to his church. The national crusade committee, headed by Osaka pastor Yukio Nagashima, trained local church pastors in the same follow-up procedures as those used in Graham's U.S. crusades. A Graham team member noted, "If the new Christians don't get into the churches, they might drift away—especially since there aren't cultural reinforcements for being a Christian in Japan, as there are in the U.S."
Catholics
Bishops' World Synod Ends; Traditional Views Upheld
From the outset no one figured the world synod of Roman Catholic bishops, meeting in Rome during October, would try to nudge the church into uncharted doctrinal waters. And as the meetings wound down last month, that appeared to be how things turned out.
As the final reports to Pope John Paul II were being written, the bishops were expected to reaffirm the 1968 encyclical "Humanae Vitae" (Of Human Life), written by Pope Paul VI, which condemns all forms of artificial birth control. American Catholics, hoping to see some small sign of softening by the bishops on this most nettle-some of Catholic doctrines, were likely to be disappointed.
John Paul called his first synod to address the subject, "The Role of the Family in the Modern World," and it was attended by more than 200 Catholic church leaders, including 16 Catholic lay observers. The synod, the body that advises the Pope on matters of his choosing, was the sixth since 1967 on various topics.
Although they didn't challenge doctrine, the bishops in their floor speeches did signal the need for a more "pastoral" approach to the deep cleavages brought about by the contraception issue, as well as by the church's teaching on divorce and remarriage. To the surprise of many, the bishops openly stated that most Catholics do not obey the church's ban on artificial birth control. They asked for a more loving approach on the whole subject of sexuality, although just how that is to develop remained unclear.
The depth of concern about birth control surfaced on the first day of the synod when Archbishop John Quinn of San Francisco, speaking as president of the National Conference of Catholic Bishops, called for a "new context" for the church's teaching on birth control, while remaining carefully within the bounds of the 1968 encyclical. He spoke forcefully in spite of the fact that Pericle Fellici, head of the church's highest ecclesiastical court, reminded the bishops that because of the encyclical the issue was closed and need not be discussed.
In his closing speech to the bishops, the Pope seemed to dash the hopes of divorced, remarried Catholics who would like to be readmitted to Holy Communion. The Pope said only those remarried divorced Catholics who abstain from sexual intimacy can be welcomed back. The bishops were in a more conciliatory frame of mind, however. In one of their 43 recommendations to the Pope, they suggested that the church study how in some cases the Eastern Orthodox church found a way to readmit divorced, remarried members to Communion.
There were some odd moments during the synod, brought on by misinterpretation of remarks. San Francisco's Quinn was widely reported to have challenged the Humanae Vitae encyclical, and the on looking press thought it glimpsed some hierarchical dissent. Only after a clarification was issued in five languages was it clear that Quinn was not departing from doctrine.
The Pope twice told the bishops in his speeches that a husband could even commit the sin of adultery by lusting after his own wife. In context, the Pope was actually saying that even within the bounds of marriage a husband may not use his wife for his own physical pleasure only, at the expense of his other responsibilities to her.
Israel
Name Has Ancient Ring but Modern Purchasing Power
Israel completed its switch from pounds to shekels last month. By changing the currency to the Old Testament-era shekel, government officials hoped to restore confidence in the nation's currency, and help return the land to its biblical roots.
However, it's tough trying to compensate for 3,000 years of inflation. Scripture notes that King David bought the site of Solomon's Temple in Jerusalem for 50 shekels of silver. A national wire service pointed out that 50 of today's shekels, at six to the dollar, wouldn't buy hamburgers for a family of four.
Have something to add about this? See something we missed? Share your feedback here.
Our digital archives are a work in progress. Let us know if corrections need to be made.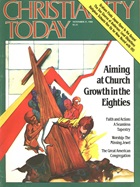 This article is from the November 21 1980 issue.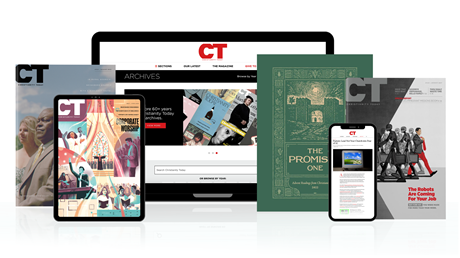 Subscribe to Christianity Today and get access to this article plus 65+ years of archives.
Home delivery of CT magazine
Complete access to articles on ChristianityToday.com
Over 120 years of magazine archives plus full access to all of CT's online archives
Subscribe Now
The Billy Graham Japan Crusade: Large Crowds in a Spiritual Void
The Billy Graham Japan Crusade: Large Crowds in a Spiritual Void